MLB Handicapping: Don't Trust Padres To Continue Hot Streak
by Trevor Whenham - 05/27/2009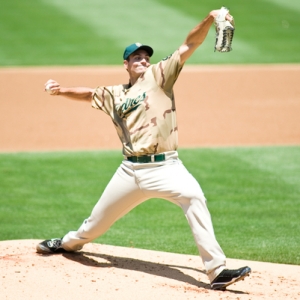 The Padres are the hottest team in baseball. I have had to read that sentence over a hundred times because it just doesn't seem right. But it is. They had a 10-game winning streak snapped yesterday. Ten wins is impressive at the best of times, but especially for a team that had only won 13 of their first 35 before this crazy streak started. So, how in the world have the Padres pulled his off and, more importantly for bettors, can they keep winning at a profitable rate? Let's take a look:
Schedule - I don't want to take anything away from what the Padres have accomplished, but they have certainly been aided by the schedule makers. The first nine of the ten games they won were at home. Coming into the streak the Padres were 8-4 at home, compared to a pathetic 5-18 on the road. They also didn't have to play a murderer's row of teams over the streak. They started with Cincinnati, a respectable opponent. They get credit for beating the Reds given how they are playing this year. They followed that, though, by hosting the Giants - a team that is as incompetent on the road as the Padres, and which was going through some serious pitching issues at the time. Next up was the Cubs, another lousy road team that was in the midst of an eight-game losing streak when they hit San Diego. San Diego still won the games, but they may not have done the same if they had played stronger opponents. Things don't get easier for them now - they are in the midst of six in a row on the road, and then they have to return home to host Philadelphia.
Pitching - On paper, the rotation should be one of the few strengths that this team has. The top of their rotation - Jake Peavy and Chris Young - should be shoulder-to-shoulder with any in the league. So far, though, the rotation hasn't been as good as they probably should be. They have combined to go just 12-15 in 46 starts. Young, at 4-2, is the only starter with a winning record. Peavy is at 4-5, and he's giving up more runs, home runs and walks than he has in recent years. He hasn't been helped by the distraction of his team trying to dump his salary. Beyond those two, they just don't have much pitching that is worth trusting. They give up too many runs - Peavy is the only starter with an ERA below 4.75 - and that forces their offense to do more than it is capable of doing.
Hitting - There are highlights here, but not a lot to get excited about it. Their best batting average over a meaningful number of at-bats comes from Chris Young. Yes, a pitcher is leading the way. Now, he's hitting .333 in 10 games, but that's still not a good distinction. They have just one regular position player hitting better than .300. That's Scott Hairston - a 29-year-old journeyman who is playing so far above his head right now that they'll hear him crash back down to earth all the way to China. He already has started to underperform, dropping from .390 in April to .291 in May. The bright spot in the lineup is first baseman Adrian Gonzalez. He's tied for the league lead in home runs with 17, and he's in the Top 10 in slugging percentage as well. He's the gas that fuels this offense. The team might not want to get too used to it, though - given the team's desire to dump anything of value, it would be a real surprise if Gonzalez is still playing in Petco by September. Beyond him, things look dim - they have six players with more than 110 at-bats who are hitting .242 or worse. In short, they just don't score enough runs to make their pitching acceptable. Only two teams have scored fewer runs, no team has a worse combined batting average, and they are dead last in hits. Offense wins games, so it's hard to figure how this team has won so many lately.
Overall - Baseball is a great sport for a lot of reasons. One of the big ones is that absolutely anything can happen at any time. Teams can go from the cellar one year to the World Series the next. Good teams can lose, and bad teams can win, and you can't always explain it. That's certainly the case here. What the Padres have done is as inexplicable as it is impressive, and there is almost no reason to believe that it can continue for any meaningful time. In baseball you are supposed to trust streaks, but this might be an exception. This team is a lot more like the one that lost 16 of the 19 games they played before this winning streak than the one that won 10 straight. You can trust them if you want, but I sure don't.