MLB Handicapping: Phillies are Road Warriors
by Trevor Whenham - 06/25/2009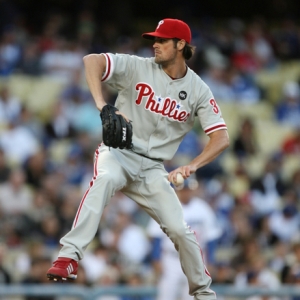 I'm not sure I've ever seen anything as strange as the record that the Philadelphia Phillies have put together this year. They have played reasonably well this year - their .536 record is good enough for a 1.5-game lead in their division, as of this writing. It's how they have amassed that record that is is puzzling. They have the best road record in the league at 24-10. Not only that, but that road record is better than all but two teams - the Red Sox and the Dodgers - have at home. A team which is that good away from home should be almost unbeatable at home, shouldn't they? Not so much. In fact, their 13-22 record is better than just one team - the truly pathetic Washington Nationals. It's also well below the league-wide home winning percentage of .549.
That's right - Philadelphia has the best road record in the league, and the second worst home record. And let's put some historical perspective on it - since the league expanded to a 162 game season in 1960 no team has ever had a bigger differential between home and road records than the Phillies do this year. How in the world does that happen? Let's see if we can shed some light on it:
Schedule - This can explain some of it - they have won the games they need to win on the road. Eighteen of their 34 road games have been against teams that I wouldn't consider to be very good this year - Colorado, Washington, Florida, Cincinnati and San Diego. The Phillies have gone 15-3 in those games. They have played those same teams at home in 12 games, and have gone 7-5 in those games. That's not as good as it probably should be, but it's better than they have done against everyone else. The issue, then is when they play against better teams. The Phillies are just 4-10 at home against teams that can be considered contenders. It's not as simple as saying that they wilt against good teams, either - they are 2-4 at home against the Braves, and they were swept in Philly by the Orioles. It doesn't make much sense, but it's clear - they just don't play well at home.
The American League - The Phillies are terrible against the American League - last year they went just 4-11 in Interleague Play. This year they have continued that trend, and most of those games have been at home. Their last nine home games have been against AL East squads. They have won just one. Ouch. Thankfully, they play no more home games against the AL.
Fly balls - This is a significant factor. Citizens Bank Park is a home run park - it consistently ranks in the Top 5 of the league. In a park where balls like to fly you want your pitchers to keep the balls on the ground. The team hasn't done a good job of that. Due to injuries and general issues, the rotation hasn't been effective and it shows in the numbers. Last year, 53.6 percent of hit balls thrown by Phillies pitchers at home were fly balls. This year that has jumped all the way to 57.1 percent. This goes a long way towards explaining a strange anomaly in the team's stats - they are allowing 1.52 more runs per game at home this year than they were last year, but just 0.06 more runs per game on the road. The problems, then, have to have more to do with location than the struggles with the rotation.
Offense - The Phillies are scoring well - their 5.31 runs per game are the best in the National League. As I'm sure you expect by now, though, this isn't consistent home and away. They are scoring six runs per game on the road, and just 4.69 at home. Given that they are allowing 5.69 per game at home it's not hard to see why they are struggling. So, why don't they score at home? There's no single answer, but two likely possibilities are fly balls and luck.
The team is hitting ground balls at a higher rate than they were last year, and they are hitting a lot of line drives, so a lower percentage of their fly balls are leaving the park. Because of the park they play in, the high proportion of ground balls is more of a disadvantage at home than it is on the road.
The luck factors in in two ways. First, the sample size is small enough that the problems they are having could be magnified. Over the course of the season the sample size will grow, and it seems likely that the numbers will become closer to what we expect. Luck has also had an impact on the play of their lineup so far. Jimmy Rollins, for example, has been terrible so far. His struggles have seen his numbers plummet. He was particularly effective at home the last couple of years, so his troubles have had an obvious impact on the rest of the team. If he can get his act together then he's likely to boost his whole team at home.
The bottom line - You never want to bet against a streak, and the Phillies are in the midst of a bad one - they were just 1-8 in their last nine home games. In the longer term, though, you have to imagine that this team will start to turn things around. Too much of what has happened to the team at home can't be completely explained, so it only makes sense that things will get better for them. They had better hope that it does if they want to defend their World Series title - only one team has made the playoffs in the modern era with a home record below .500, and the 2001 Braves were very close at 40-41. The worst home record a pennant winning team in that era has had is .531. The Phillies have a lot of work to do.