NFL Handicapping: Correlation Between QB play and ATS performance
by Trevor Whenham - 06/25/2009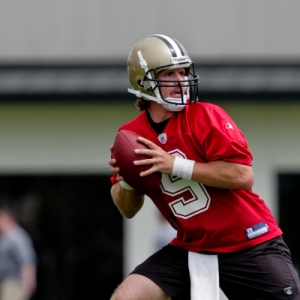 We are in the one true dead time in the NFL. Most teams are on a break before training camp, most of the significant roster moves have been made, and there is really not much to get excited about - unless you are one of the seven people who aren't sick of hearing about Brett Favre yet. Because there is not a lot of pressing news to absorb, now is as good a time as there is to look back at what happened last year to see what we can learn and apply to this year. One of my favorite things to do in this dead zone is to look at different areas of the game and see if they had a significant and useful impact on betting results. For example, let's look at quarterback passing performance - did having players at the top of key QB passing statistics lead to betting success at a higher-than-expected rate, or vice versa? Keep in mind as we look at this that there were just 11 teams that were profitable on the season last year (and one of those, Indianapolis, was barely better than break even at 8-7-1 ATS).
Passing yards - Of the Top 8 passing teams - the top quarter of the league - just four of them were profitable on the season last year. Those eight teams were a combined 64-60-4 ATS. That's better than .500, but totally useless from a betting perspective. There's no particular consistency, either. The top two passing teams, New Orleans and Arizona, are both profitable on the season - good bets. The third passing team, though, was a different story - Denver was the second worst ATS team in the league at 4-11-1. On the flip side, three teams - Baltimore, the Giants, and Tennessee - were tied with the best ATS record at 12-4. New York was 18th in passing, and Tennessee and Baltimore were at 27th and 28th. In short, passing yardage by itself isn't of much help.
QB Rating - The rating is derived using a mostly incomprehensible formula, but because it's a fairly comprehensive formula there is at least a chance that it could be a better indicator of ATS success. Not much better as it turns out, though. Again, four of the Top 8 teams in QB rating were profitable, though they were collectively at little better ATS - 67-58-3. That's profitable, but not profitable enough to get too excited about. Tennessee again gives us problems - they were tops in ATS but just 24th in QB rating. Let's keep looking.
Passing touchdowns - We'll look at the Top 10 teams here, because there are three teams tied for 8th with 23 touchdowns. It's probably not surprising that the results here are no more conclusive than any other stats have been so far. A remarkably consistent five of the Top 10 aerial scoring teams were profitable on the season. The ATS mark was similar to the others as well - 83-73-4 is only barely above water. Two teams were tied for the top spot in touchdowns with 34 - San Diego and New Orleans. The results of hat were mixed - the Chargers were 7-8-1 ATS, while while the Saints were a very nice 10-5-1 ATS.
Interceptions - Interceptions might be the best indicator we have seen yet - they are clearly mistakes, and those mistakes are often costly. But does that sloppiness lead to more betting troubles? Let's take a look. This time we'll look at both the top and the bottom of the interception list. It would seem to make sense that the teams with the most interceptions would be less likely to be profitable than those than can protect the ball. Finally we are getting somewhere. The nine teams that threw the most interceptions (tie for eighth) combined to go 62-78-4 ATS. That's the closest thing to useful we have seen. Even more significantly, just one of those nine teams, New Orleans, was profitable. If a team looks like they will throw a lot of picks, then, you'll want to have a good reason for betting on them. Now the flipside - the eight teams that best protected the ball combined to do even better. They covered 56 percent of their games - 70-55-3 ATS. It's not as compelling as it might seem, though - only four of the eight teams were profitable. Still, it's pretty clear - teams that protect the ball are much more attractive to bettors than those that don't.
YPA - Yards per attempt is my personal favorite offensive stat. In order for a team to excel here they not only have to be good at passing the ball, but they need a more complete game as well. If they don't have a good offensive line then they won't have the time to pass effectively. If they don't have a sound running game then they are too predictable to regularly unleash the big bomb. It's as comprehensive a stat as we have widely available to us. The theory would be that the high YPA teams should be significantly better ATS than the lower YPA ones. That holds, but only to a point. Four of the top eight YPA teams are profitable, and the eight teams combine to be barely profitable at 68-573. The problem, though, is that pesky Tennessee team again. They are the most profitable team in the league while being way down at 25th in this category.