UFC 103 Predictions
by Trevor Whenham - 9/17/2009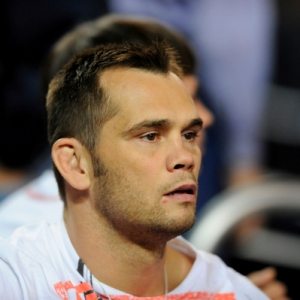 There are two kinds of UFC cards - those that can't get here soon enough, and those that just aren't that thrilling. UFC 100, with its three world-class headline matches, was definitely an example of the former. UFC 103, which takes place on Saturday, September 19 in Dallas, definitely falls into the latter category.
I just can't get too excited about a single match on the main card, and the preliminary card doesn't have nearly the opportunities or intrigue that most of them have. Maybe part of the problem is that, for once, the UFC isn't the biggest combat sporting event happening on the night. That honor goes to Floyd Mayweather's comeback against Juan Manuel Marquez. That fight has the more glamorous location - Vegas as opposed to Dallas - and has higher-profile fighters and far more intrigue. That fight has everything going for it. It's hard to find a match in the UFC 103 card that has anything going for it.

Because of my general distaste for this card (Dear Dana White - why do you insist on having more cards than you have good fighters to fill those cards?), and because I think that UFC betting volume is going to be comparatively light because of the lack of big names and the impact of the boxing, I'm going to avoid handicapping the preliminary card this time around and just concentrate on the main card. Without further ado here are my UFC 103 predictions for betting (all odds are from Bodog):

Rich Franklin (-145) vs. Vitor Belfort (+115) - As a main event this match drives me crazy, and is the main reason I am so annoyed by this card. There is absolutely no point to this showdown.
Main events are supposed to either be title shots, or fights that clearly set up a title shot, not catchweight fights between two guys who are only barely relevant. Belfort was once seen as a huge future part of UFC, but since then he has bounced around different organizations, been suspended for illegal substances, and even tried pro boxing.
He'll likely get a shot at Anderson Silva at some point if he looks good here, but that has more to do with the lack of viable opponents for Silva than anything else.
The most intriguing thing going for Belfort is that he had an absolutely vicious knockout early in the first round of his last fight against Matt Lindland, so maybe he's back to the old form that earned him the nickname 'The Phenom'. Franklin is presumably trying to position himself for a light heavyweight title shot down the road, but I don't see how that will happen if he keeps fighting below that weight class.

In most cases I can justify the odds that have been set. I struggle to see how Franklin has the edge that the prices suggest here, though. Belfort is a striker who can swing with the best of them if he is on form. Franklin hasn't shown a strong ability to handle that in the past, and certainly can't step up and match Belfort swing for swing. I can see this match going a lot of ways, but the most likely seems to be an early-ish TKO or KO by Belfort. That makes him a solid value pick at this price.

Pick: Vitor Belfort.

Junior dos Santos (-135) vs. Mirko 'Cro Cop' Filipovic (+105) - dos Santos is one of the more promising young heavyweights there is. Cro Cop used to be on the verge of greatness, but that magic has been fleeting for years now.
Neither fighter has any particular skill on the ground, and neither is comfortable being there, so this one will stay on the feet. Cro Cop says that he is finally healthy and comfortable, and if that were really the case then he would be in a good spot here. I find it hard to trust him after his last disappointing performances, though.
Youth wins out over experience here, then. Besides, I have to imagine that the UFC would be much happier if dos Santos wins and continues to develop as a viable contender, so they wouldn't likely put him in too tough of a spot.

Pick: Junior dos Santos.

Josh Koscheck (-500) vs. Frank Trigg (+300) - Both guys have very similar styles - both started as wrestlers but now seem to favor striking more. The difference is that Koscheck is stronger, faster, and more athletic.
I love backing an underdog in MMA when the opportunity presents itself. This is not one of those cases. Anything Trigg can do Koscheck can do better, and he has a clear edge - at least as much of one as the price suggests.

Pick: Josh Koscheck.

Tyson Griffin (-285) vs. Hermes Franca (+235) - Griffin has been around seemingly forever, and he sports a 13-2 record. However, he has never ad a title shot, and still is nowhere near one now. That's all you really need to know about him.
Franca was a fighter on the rise before a positive steroid test at UFC 73 derailed his career. He hasn't fought since UFC 90, but that was an impressive win. I don't paint a flattering picture, but these guys often have exciting fights, and this one could be no exception.
I don't see a lot to choose between the two fighters, and I really don't see why Griffin is so heavily favored. That makes Franca a nice value pick here in a fight that is little more than a coin toss.

Pick: Hermes Franca.