UFC 106 Predictions
by Trevor Whenham - 11/20/2009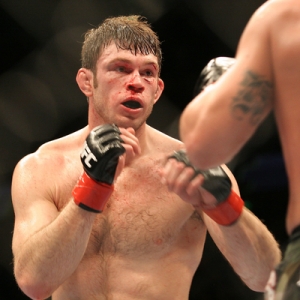 If it seems like just a couple of days since we had the last UFC event, that's because it was. UFC 106 comes just one week after UFC 105. There are a couple of bg differences, though - UFC 105 was on free TV while UFC 106 is a good old pay-per-view event, and last weekend's fights were in England while they return to the cozy confines of Las Vegas this time around.
The most striking similarity between the two events is that both rely on guys far beyond ther primes to headline the cards - Randy Couture last weekend, and Tito Ortiz this time around. The card has been cursed. Brock Lesnar was originally supposed to headline in a fight with Shane Carwin, but that bout was first delayed and then cancelled because of Lesnar's illness. Ortiz got moved up into the headline, but was supposed to be fighting Mark Coleman. Coleman had to pull out because of a knee injury, and will now fight Couture at UFC 109. That opened the door for Griffin, and he cut his honeymoon short to train for the fight on short notice.
The main card also lost the Karo Parisyan - Dustin Hazelett fight when Parisyan pulled out the day before weigh-ins - a move that likely ended his UFC career, Despite the problems, the main card is actually pretty interesting - far more than last weekend. Here's how I see the top matches playing out (all UFC odds are from 5Dimes):

Forrest Griffin (-145) vs. Tito Ortiz (+125) - This is a rematch of a fight at UFC 59 that Ortiz won in a controversial split decision. That fight was in April of 2006. Since then, Ortiz has fought just five times - two wins against a washed up Ken Shamrock, a loss and a draw, and then a unanimous decision loss to Lyoto Machida that marked Ortiz' departure from the UFC. He's back now, but it's very hard to believe that he is anywhere near his best physically. Griffin hasn't exactly been hot recently, either - he lost to Rashad Evans and then was brutally knocked out by Anderson Silva. Whoever you go with in this fight requires a leap of faith because both guys have their issues - age and injuries in one case, and a lack of focus at the wrong times in the other. In the end, I think you have to go with Griffin. He's closer to his prime, and he's a better striker. Ortiz used to be great, but I think that that is in the past. He's coming off back surgery and a long layoff now, and I just don't believe he is ready for this challenge.

Pick: Forrest Griffin.

Anthony Johnson (-125) vs. Josh Koscheck (+105) - Koscheck is an interesting character. He's one of the best wrestlers in the UFC, but he seems determined to avoid using those skills whenever possible. He seems to want to be an aggressive striker, and that doesn't always work out in his favor. If Koscheck tries to stand and deliver against Johnson it won't go well for him. Johnson punches at least as well as Koscheck does, and he is significantly bigger and has a significantly longer reach. Koscheck is outmatched on their feet, and I don't see Johnson letting it get anywhere else. I struggle to see this one lasting past the first round.

Pick: Anthony Johnson.

Amir Sadollah (-220) vs. Phil Baroni (+180) - This fight shows just one thing - that the UFC wants to give Sadollah a good chance to succeed. He was the winner of "The Ultimate Fighter 7," but his first UFC fight after the show ended in just 29 seconds with Sadollah the victim of a relentless barrage of punches from Johnny Hendricks. Sadollah needs to salvage his reputation, and he'll get a start on that here. Baroni was told by Dana White that he should retire all the way back in 2005, and he left the UFC then. He's back for this fight, though - handpicked as a patsy for Sadollah. If this one is even remotely a contest then Sadollah has no future in the sport at all.

Pick: Amir Sadollah.

Antonio Rogerio Nogueira (-150) vs. Luiz Cane (+120) - Nogueira may seem familiar, but he's actually making his UFC debut. He's familiar to even casual fans though because he is the identical twin brother of Antonio Rodrigo Nogueira, a former UFC heavyweight champion. Cane has won his last three in the UFC, and had a nice win over Steve Cantwell last time out at UFC 97. One word describes how this match will likely play out - vicious. Cane is a powerful striker who will be looking to stay close to Nogueira and knock him out. Nogueira is nothing more than a competent boxer, but he is about as good as you can get as jiu-jitsu, and he will be relentless in his attempts to get Cane down to the mat. Cane hasn't had much experience defending against a guy as good as Nogueira, and he will be outmatched on the ground. This one has the definite potential to be the best of the night.

Pick: Antonio Rogerio Nogueira.