UFC 108 Predictions
by Trevor Whenham - 12/31/2009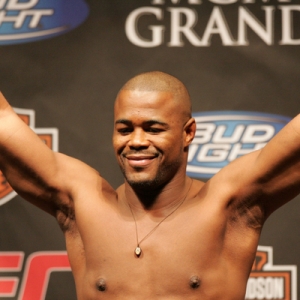 The UFC starts off what is going to be a very busy year on Jan. 2 with UFC 108 at MGM Grand Garden Arena in Las Vegas. The name for this event is Evans vs. Silva, but the story of the event is unquestionably the injuries. This card seems to be cursed. Just look at the fighters who were announced to be a part of it before an injury forced a change - Anderson Silva, Brock Lesnar, Antonio Rodrigo Nogueira, Shane Carwin, Gabriel Gonzaga, Tyson Griffin, Sean Sherk - it goes on and on. The injured fighters would lead to a much better card than the one that is on offer here. Here's a look at the main card that we are unfortunately left with (odds are from 5Dimes):

Rashad Evans (-210) vs. Thiago Silva (+175) - This fight was originally supposed to be Evans vs. Quinton Jackson. That was going to be a very interesting fight, but then Jackson decided he was an actor instead of a fighter, and we were left with Silva. That doesn't hold the appeal or charisma, but in a lot of ways it makes for a better fight. It also makes for a better betting opportunity in my eyes. Evans lost the first fight of his career last time out, and I think he'll have to be careful to avoid doing that again here. He's the better puncher, and he's reasonably competent on the ground. He got caught by Lyoto Machida last time out with a big punch, though, and was knocked out. Silva doesn't have the same big punch power, but he is deadly with short inside punches, and is the much stronger strategist. Evans will be looking for the big punch, but I like Silva's chances of controlling the action and setting the tone. Evans will likely win if it ends in a knockout, but Silva would take a decision. It will be close, but Silva represents very nice value at this price, so I'll do what I rarely do in main events and take the underdog.

Pick: Thiago Silva.

Dustin Hazelett (-125) vs. Paul Daley (+105) - Hazelett has missed more than a year with a torn ACL. He was supposed to return at UFC 106, but his fight against Karo Parisyan was a late cancellation. He probably should have hoped for that fight, because Daley is a tougher opponent. Daley has fought just once in the UFC, but it was impressive - he dismantled Martin Kampmann at UFC 103. There is a clash of styles here. Daley is a striker who throws punches by the bunch. Hazelett is a submission specialist who is better than average at taking an opponent down. Daley will do some damage to Hazelett, but I ultimately doubt his ability to adequately defend against Hazelett, and I expect the favorite to pull off the win.

Pick: Dustin Hazelett.

Joe Lauzon (-270) vs. Sam Stout (+230) - This is a battle between two lightweights with very different styles. It's almost as if Lauzon has sore feet, because he certainly hates being on them. He'll try to get this fight to the mat as quickly as he possibly can, and he'll be relentless in trying to do that. Stout is a striker who likes to be on his feet, and is far better when he is. The fight will come down to Stout's ability to defend against the takedown while making Lauzon suffer at the same time. That's a lot to ask for Stout, and I'm not at all convinced that he's up to it.

Pick: Joe Lauzon.

Jim Miller (-450) vs. Duane Ludwig (+360) - In a fight with odds like this all you need to do is decide if the underdog is worth the risk. That's certainly not the case here. Ludwig is a one-trick pony - he throws a brutal knockout punch. Miller is better at absolutely everything else. Miller will be able to get inside on Ludwig and take him down, and once he does he's far superior on the mat. Miller is clearly the better fighter, and certainly justifies this price.

Pick: Jim Miller.

Junior dos Santos (-300) vs. Gilbert Yvel (+250) - dos Santos is a young heavyweight clearly being groomed to be a serious contender in the not-too-distant future. Yvel is an absolute lunatic who can probably see his best days in his rearview mirror. I don't want to suggest that Yvel isn't a good fighter - his muay thai is among the best in the UFC. He's not the most disciplined fighter, though, and dos Santos is smart and tactical and will be able to exploit the weaknesses that Yvel will present. This seems like a fight that was set to help dos Santos climb the ladder.

Pick: Junior dos Santos.