Bookmaker's Corner: NBA Finals Game 4 Odds and Props
by Richard Gardner, Bookmaker, Bodog Sportsbook - 6/10/2010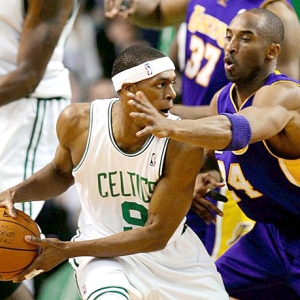 History shows that the NBA Finals are over – at least as far as the series result. Since the NBA switched to a 2-3-2 games format in the Finals in 1985, there have been 10 previous series that were 1-1 after the first two games as this year's L.A. Lakers-Boston Celtics matchup was. The 10 teams that won Game 3 after that split won all 10 series. Of course the Lakers won Game 3 on Tuesday night 91-84. When you add that previous series stat to the fact that Phil Jackson-coached teams are 47-0 when winning Game 1 and things don't look good for Boston.
However, those numbers have little bearing on our Game 4 odds at Bodog's online sportsbook with the Celtics opening as 3.5-point favorites. That's a point more than Boston was favored by in Game 3. Bodog bettors were backing the Celtics -2.5 for Tuesday's game, so the Lakers' winning was a good result for the book. L.A. has now won three straight in Boston (playoffs and regular season) after getting dominated in three games there in the 2008 Finals.
One concern for Boston has to be finding offense at home. The Celtics put up 106 points at TD Garden in Game 2 of the first-round series against Miami but haven't hit triple digits in any other home playoff game. And the Lakers are money when holding teams to less than 100 points, improving to 8-0 with the Game 3 win. And yet everyone says Boston is the defensive team.
No one could expect Boston's Ray Allen to match what he did in Game 2 when he hit a Finals record eight three-pointers and scored 32 points. He was historically bad in Game 3 by missing all 13 of his shots from the field. You can't also expect him to do that again, so that should bode well for Boston on Thursday night.
And Paul Pierce is going to prove prophetic if he doesn't snap out of his funk. Remember after the Game 2 win at Staples Center when he said the Celtics "ain't coming back to L.A."? The Lakers may end this in Boston if Pierce doesn't start showing like he did in the '08 Finals when he was MVP. He missed his first six shots and was 5-for-12 for 15 points in Game 3 and is just 13-for-36 from the field in the series. He won't admit it, but Ron Artest gives him fits. Pierce opened as our third-favorite to win Finals MVP but that's not happening now.
Our two major Game 3 player prop results at the book involved Kobe Bryant and Pierce. We listed Kobe at over/under 29.5 points and the players were hugely backing the over. That sure looked a big win for the bettors when Kobe had 25 points through three quarters. But he didn't score for the first 10 minutes of the fourth and finished with 29 – a great result for the book. However, players got their win on Pierce, as heavy action came in on him under 20.5 points. That was our biggest prop loser of Game 3.
All of our team props favor a Lakers victory in six game. The Lakers winning 4-2 is the 7/4 favorite (five games is at 4/1) and under 6.5 games in the series is now the big -175 favorite. The series game spread of L.A. –1.5 is also the -120 favorite. Obviously many of these props will change drastically if the Lakers win Game 4 as most will then expect a sweep through Boston. But I don't expect much movement if Boston wins Game 4 and assures a return to Staples Center – that venue is currently -200 to be where the series ends. Obviously that prop would be closed if Boston wins Thursday so jump on it now if you feel confident.
I will be posting weekly articles including betting previews, matchups and the inside scoop from a bookmakers point of view right here at Doc's Sports. Read my past articles - Click Here, and learn more about Bodog sportsbook - click here. If you're ready to set up an account and start playing I'd like to offer you a Sign up Bonus - Click Here. Enjoy the Bodog Experience.