MMA Odds: UFC 118 Betting Picks and Predictions
by Trevor Whenham - 8/27/2010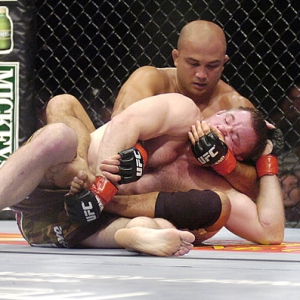 UFC 118 is a card marked by two extremes - a main event lightweight championship fight that couldn't be more interesting, and a heavyweight tilt that couldn't be more ridiculous. the event takes place on Saturday, Aug. 28 in Boston, and it marks the first time the UFC has appeared in Massachusetts. Here's a look at how the main card breaks down along with my predictions for betting (all MMA UFC 118 odds are from Bodog):
Light Heavyweight Championship - B.J. Penn (-325) vs. Frankie Edgar (+250) - This rematch follows one of the most surprising - and poorly judged - upsets in recent UFC memory. Penn came into the last fight at UFC 112 as a seemingly unbeatable force, but Edgar shocked everyone, including himself, when he took the decision. The odds indicate just how much respect the current champ has when matched up against the former one - not much. Last time out Penn was the more effective power puncher, but Edgar just threw as many punches as he could and the volume was too much for Penn - at least in the eyes of the judges.
What was so odd about that fight was that Penn let Edgar dictate the tone of the fight, and let him turn it into a boxing match. The champ should never let the challenger dictate anything, and it's a good bet that Penn isn't going to let it happen again.
It's important not to take too much away from Edgar. He wasn't favored to win, and his reign likely won't be long, but the indisputable fact is that he took on a better fighter and beat him in the burning heat of the spotlight. We can be sure that Edgar is going to come out swinging and give a full effort from the first bell to the last one. I just expect Penn to be more prepared for that last time, and now that he has realized how much better having the title is than not having it he should be ready to have a big fight.
Pick: B.J. Penn
Randy Couture (-575) vs. James Toney (+350) - The last fight is one of the best of the year n the UFC, and this is easily the stupidest. We have an ancient legend with not much left in the tank, but a whole lot of drawing power, against an ancient former boxer making his MMA debut. This fight would be more at home at a circus than on this card. I suppose Toney could catch Couture with a knockout shot, but Couture is so much more experienced, and in so much better shape that the fight is just a farce. I won't waste my time saying more.
Pick: Randy Couture
Demian Maia (-250) vs. Mario Miranda (+190) - This is a late addition to this card. Maia was supposed to fight Alan Belcher in the main event of Fight Night 22, but Belcher was hurt so Maia moved here and Marquardt - Palhares was moved from here to that main event slot. Miranda is a nice fighter, and he probably has an edge when the two are on their feet, but this is a big step up in class for him, and Maia has a big edge on the mat, so it's hard to imagine Miranda coming out on top. Maia has a lot at stake here - he lost a close decision to Anderson Silva last time out, and he can't afford a loss here if he wants another shot at Silva at some point. That motivation will be a big factor.
Pick: Demian Maia
Kenny Florian (-155) vs. Gray Maynard (+125) - Penn and Edgar will be keeping an eye on this one - or at least watching it on Tivo, because the winner will get the next shot at the lightweight title. The best bet on this one isn't on one fighter over the other, but on this fight being the fight of the night.
This one should be good because both guys will be hungry. What makes this fight so intriguing is that neither guy is really at their best and hardest to beat when they are on their feet, but there's a good chance that the fight will stay there for a long while. Florian is the better striker, and the more strategic fighter as well, but can put himself in a vulnerable position if Maynard is in position to take advantage of it. Maynard's biggest problem in this fight is that, while talented, there is really nowhere where he has a clear edge over Florian.
This will be a war, but Florian should come out on top.
Pick: Kenny Florian
Nate Diaz (-200) vs. Marcus Davis (+160) - I've picked all of the favorites so far, so I really want to pick the underdog here. I just can't. Davis has dropped two of his last three, he struggles with injures, and he's essentially a boxer who doesn't have a knockout punch. Diaz has a very strong chin, is much better on the mat, and has looked better in his career against better opponents. Diaz is just the better fighter no matter how the fight turns out, and has a clear edge here. I'm actually surprised that his price isn't worse than it is.
Pick: Nate Diaz
If you like to bet on UFC and other sports be sure to get your free $250 BONUS from Betus Sportsbook. Betus bonus code - Click Here