NFL Regular Season Odds: 18-Game Schedule Good for Books & Bottom Line
by Richard Gardner | Bodog Sportsbook Manager - 8/27/2010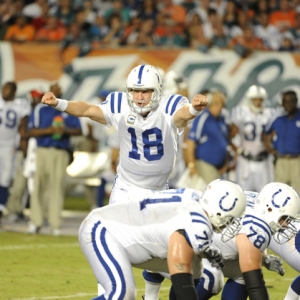 "I think it's a win-win all around."
Those are the words of Bob Kraft, owner of the New England Patriots, referring to the idea of increasing the NFL's regular-season schedule from 16 games to 18. At Bodog, we couldn't agree more with Kraft. The more NFL games that actually mean something and are televised nationally, the better for us. Obviously there's a limit to how many games a football player's body can survive, and you don't want to water down your product, but even an additional two games would mean a lot for our bottom line.
Instant $250 Free Bonus Bet from Bovada -
CLICK HERE
Of course, an 18-game NFL schedule won't be happening tomorrow. There are still a number of issues to be ironed out, but it looks like the enhanced schedule will be a go in the near future.
"There's overwhelming support (among the owners) for it," says Indianapolis owner Jim Irsay. "But there are still an awful lot of questions that need to be asked. I think we really need to take a detailed look at it. I'd like to see an (extensive), thorough study of it ... but we're certainly committed, I think, to making it happen."
Until then, we'll keep pushing our exhibition betting, which isn't insignificant to our bottom line. Week 3 of the preseason is typically the big one for us, with most of the starters playing at least half the game, sometimes more. I expect particularly strong action for Week 3's four nationally televised games: Thursday's matchup between Indianapolis and Green Bay (ESPN), Friday's game between New Orleans and San Diego (CBS), Saturday's all-Texas affair between Dallas and Houston (CBS), and Sunday night's contest between Denver and Pittsburgh (FOX). For what it's worth, the Denver starters are expected to play into the third quarter of the game versus the Steelers.
"We'd like to go through a halftime where they're going to go back out there," Denver coach Josh McDaniels said on Thursday. "I think we want to go through our normal process of halftime, like we would during a (regular season) game, so that's the plan right now."
We've got the Broncos as two-point underdogs at home, but this news might change things. As might the news that inexperienced Pittsburgh quarterback Dennis Dixon will see some time with the starters.
"I intend to give Dennis some looks with the first group against some good people. I think he's earned that. And that's what this preseason is about," said Steelers coach Mike Tomlin, adding, "I don't know what (Denver's) intentions are, but our intentions are of course to work and to work the first group in for an extended period of time."
I will be posting weekly articles including betting previews, matchups and the inside scoop from a bookmakers point of view right here at Doc's Sports. Read my past articles - Click Here, and learn more about Bodog sportsbook - click here. If you're ready to set up an account and start playing I'd like to offer you a Sign up Bonus - Click Here. Enjoy the Bodog Experience.