NFL Week 11 Betting Recap at Bodog
by Richard Gardner | Bodog Sportsbook Manager - 11/24/2010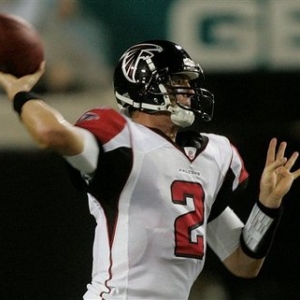 So apparently bettors didn't think too highly of Carolina coach John Fox's surprise decision to start Brian St. Pierre at quarterback versus the Baltimore Ravens. Despite getting 13.5 points at home, the Panthers received just over 15 percent of the action on Sunday. Obviously, the Ravens' 37-13 victory meant a considerable loss for the book.
To be fair, things were actually looking pretty good for Bodog in the fourth quarter. At one point in the final frame, the Panthers trailed by just a touchdown. But two late Ravens interception returns for touchdowns were the final nails in our coffin.
It wasn't all bad for us on Sunday. We did quite well when the Jacksonville Jaguars scored a late touchdown to beat the Cleveland Browns, 24-20, and cover the 2-point spread. Leading up to the game, bettors were predictably supportive of the Browns, who were coming off an overtime loss to the Jets, which followed impressive wins over New England and New Orleans.

We had another good win later in the day when the Tampa Bay Buccaneers (+3.5) hammered the 49ers, 21-0, in San Francisco. Bettors have so far been hesitant to back the Bucs, who moved to 7-3 but still haven't beaten a team with a winning record. I also think there was some excitement around 49ers quarterback Troy Smith, who had led his team to consecutive victories after replacing the injured and much-maligned Alex Smith.
One final game that's worth mentioning is Atlanta-St. Louis, which didn't turn out so well for us when the Falcons (-3) came out on top, 34-17. I think we're going to see more and more support for the Falcons, who host the Green Bay Packers (+3) on Sunday at the Georgia Dome. Of note, Atlanta is 5-0 at home this season.
Looking ahead to Week 12, I anticipate we'll see the most action on the San Diego-Indianapolis game on Sunday night. (Unfortunately, the Monday night affair between San Francisco and Arizona won't be getting many people excited.)
The Chargers have sure been a tough team for bettors to get a handle on this season. After a 2-5 start that included losses to Kansas City, Seattle, Oakland and St. Louis, Philip Rivers has led his squad to three straight victories and right back into the race for the AFC West.
The Colts, meanwhile, are coming off a disappointing loss in New England, but will be happy to return home where they boast a perfect 4-0 record. Peyton Manning always gets strong betting support when he plays at Lucas Oil Stadium and I don't think it will be any different this week.
I will be posting weekly articles including betting previews, matchups and the inside scoop from a bookmakers point of view right here at Doc's Sports. Read my past articles - Click Here, and learn more about Bodog sportsbook - click here. If you're ready to set up an account and start playing I'd like to offer you a Sign up Bonus - Click Here. Enjoy the Bodog Experience.