UFC 115 Odds, Picks and Predictions
by Trevor Whenham - 6/10/2010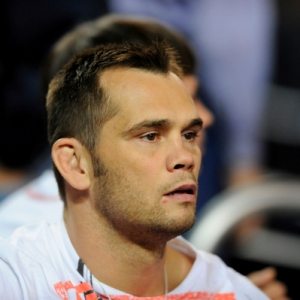 The UFC is agan opening new territory this week when it heads to Vancouver for UFC 115. The Olympic city is their first outpost in English-speaking Canada, and the response has been strong. Vancouver residents should be a bit insulted by this one, though. While their compatriots in Montreal have enjoyed one pretty good card and one that was truly epic Vancouver has been handed a bit of a dud.
The main event would have been far more interesting 10 years ago, and the undercard isn't the most riveting collection of likely drama ever seen. The theme for this card is a bit sad - fighters trying to prove that they aren't completely washed up. Here's a look at how it all plays out on the main card, with odds from 5Dimes Sportsbook:

Rich Franklin (-145) vs. Chuck Liddell (+125) - This fight was supposed to be Liddell vs. Ortiz, but thankfully an injury to Ortiz means that we only have to watch one washed up fighter. The problem, though, is that while Franklin might still have some gas in the tank he just doesn't seem to be that interested in fighting these days.
The fight is a clash of styles. Liddell has one gear and one tactic - to land a knockout punch. Franklin's chin is vulnerable to a big punch, but he has a clear advantage in strategy and skills if he can manage to avoid that. The deciding factor, then, will be Franklin's kicks. If he can use his legs to keep Liddell at a distance then Franklin can find his spots and make the most of this opportunity. Franklin also needs to be faster than Liddell to avoid getting caught in a corner, but Liddell's age and general lack of speed and Franklin's swiftness should make that easy.
The fundamentals all point strongly towards Franklin. The only thing standing in the way of a very sound endorsement, then, is Franklin himself. He's hinted at wanting a break after each of his last three fights, and he was a late replacement for this fight, so it's uncertain that his head and heart will be fully into this one. Still, it's a gamble worth taking.

Pick: Rich Franklin

Patrick Barry (-160) vs. Mirko Cro Cop Filipovc (+140) - Cro Cop is getting one last chance to prove that he belongs in the UFC - a chance he probably doesn't deserve after a disappointing run in the organization. At one time there was no one who could strike better than Cro Cop, but time hasn't been kind, and now he's only the second best striker in this fight - and the margin is fairly wide.
Barry can likely punch with more power right now, and he certainly is faster and more capable of getting inside and landing a whole string of blows. The best hope that Cro Cop has here is to make this fight go deep because Barry's stamina is a question. Sadly, I don't think it will be an issue.

Pick: Patrick Barry

Paulo Thiago (-225) vs. Martin Kampmann (+175) - Some fighters get an easy path from the UFC so that they can succeed and look good doing it. Thiago is not one of those fighters. He keeps facing tough opponents that test his immense skill, and this is no exception.
The winner here could arguably be just one more win away from a shot at Georges St. Pierre for the title, so the stakes are high. Kampmann faces a tough puzzle here - he needs to get inside to land damaging blows, but if he gets caught in a headlock then he's in serious trouble. I don't think that he is as outclassed as this price would suggest - he's a solid, proven fighter with the ability to be dangerous - but I still find it hard to overlook Thiago's skill advantage in most areas, and a tactical edge if the ground is a big factor.

Pick: Paulo Thiago

Ben Rothwell (-150) vs. Gilbert Yvel (+120) - Rothwell was beaten up by Cain Velasquez in his UFC debut. My read is that this fight is an attempt to make Rothwell look good and salvage his reputation so he is useful fodder for other rising heavyweights in the future.
Yvel was impressive in the past, but those days are gone. He doesn't have the strength or stamina that he once did, and he's clearly the second best fighter in this one. The loser will likely see their UFC career end after just two fights. So long, Gilbert.

Pick: Ben Rothwell

Rory MacDonald (-140) vs. Carlos Condit (+110) - The UFC always puts a homeland fighter on their international cards, so MacDonald is the token Canadian here. The also like to make the home boys look good, and I think this is an example of that.
Condit is a good fighter, but he's in a very rough matchup here. He's very tall for his weight class, and as a result he doesn't defend low takedown attempts well. MacDonald is going to be able to get past Condit, and to control the pace once the fighters hit the ground. Condit will be forced onto the defensive, and he has had real troubles shifting from defense to offense in past fight.

Pick: Rory MacDonald