BYU Loses Davies. Lose Hope, Too?
by Richard Gardner | Bodog Sportsbook Manager - 3/4/2011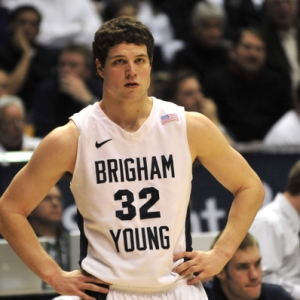 The Cougars didn't fare so well in their first test without Brandon Davies. Not very well at all.
On Tuesday, the sophomore forward was banished from the BYU basketball team for the rest of the season after it was revealed he violated the university's strict honor code. The next day, the No. 3 Cougars fell 82-64 to New Mexico in Provo.
Why Davies was banished is the big topic of conversation in Utah and across the country. According to reports, he engaged in premarital sex, which is a big no-no at the Mormon school. But for college basketball bettors the only real question is how it will affect the team's performance.
Davies was a key contributor to BYU's success. He was the team's leading rebounder prior to his dismissal and was fourth in minutes played. You don't just lose a player like that and move on easily.
Perhaps the loss to the Lobos was just a bad game for the Cougars and a good one for their opponents.
"It was everything," star guard Jimmer Fredette said. "We didn't play well. They shot the ball very well. They played very good."
Or perhaps it was a classic letdown after beating San Diego State in a huge game on the weekend.
Still, you have to wonder if the Cougars' chances of winning a national championship are doomed, even if its best player denies it.
"We're going to be fine," Fredette added. "Lots of good teams come off emotional games and lose the next one no matter [who they're missing]. We're going to be all right.
"[Davies] told us he was sorry and let us down. We told him it's OK. Sometimes in life we make mistakes. We've got to play through it."
The Cougars close out the regular season on Saturday at home to Wyoming, after which they'll participate in the Mountain West tourney next week in Las Vegas.
As an odds maker, it will be interesting to see how the public reacts to the Davies dismissal. Certainly the news will increase the interest in betting on BYU games. But which way will most people bet?
So far as futures are concerned we've got the Cougars at 20/1 odds to win the 2011 NCAA men's basketball championship. If they continue to struggle in the lead-up to March Madness that number could go higher.
Of course, there's always a chance the Cougars could use this adversity as a rallying point. Davies was a well-liked member of the team, not to mention there's a lot of negative attention being paid to the school and its beliefs, and the players could use that for motivation.
I will be posting weekly articles about betting previews, matchups and the inside scoop from a bookmaker's point of view right here at Doc's Sports. Read my past articles – Click Here, and learn more about Bodog sportsbook – Click Here. If you're ready to set up an account and start playing I'd like to offer you a sign up bonus Click Here and enjoy our services.