Phillies Favored to Win World Series According to Futures Odds
by Richard Gardner | Bodog Sportsbook Manager - 2/15/2011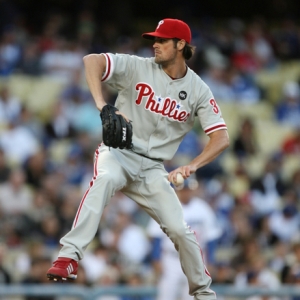 The San Francisco Giants might be the defending MLB champions, but their manager thinks the Philadelphia Phillies are the team to beat in 2011.
"Because of track record, I think you would have to look at their staff as the best in baseball," Bochy told the San Francisco Chronicle, referring to pitchers Cliff Lee, Roy Halladay, Roy Oswalt, Cole Hamels and Joe Blanton. There's talk that the Phillies might have the best starting rotation in history.
"I think everybody in the National League would tell you the road to the World Series has to go through Philadelphia, with the quality of their staff."
Instant $250 Free Bonus Bet from Bovada -
CLICK HERE
Our odds makers over in the Bodog Sportsbook think the same thing. The Phillies are getting 13/4 odds to win the 2011 World Series on our MLB futures board. The Giants, meanwhile, are at 14/1.
After the Phillies, we've got the Boston Red Sox at 5/1, the New York Yankees at 13/2 and the defending AL champs, the Texas Rangers, at 18/1.
Philadelphia was upset by the Giants in last year's NLCS, but adding Lee to the rotation means expectations are higher than ever in the City of Brotherly Love, and that includes expectations from the players.
"I'm not one to sit here and make predictions or make bold statements to stir the pot," outfielder Shane Victorino said, "but I think if you look on paper, we're the favorites to win it all.
"We understand what it takes to get there. We're hungry. I don't think this team could be any hungrier than we are right now. Going out and getting Cliff Lee, the buzz that surrounds this team. We're itching. I'm itching."
Of course, no team is perfect, and there will be bettors who don't see much value in banking on the Phillies, a team that lost Jayson Werth to free agency and has a former MVP in Jimmy Rollins that needs to stay healthy and get his numbers back to where they were a few years ago.
We've seen good support for a number of teams that aren't among the favourites to shine in October. Bettors need only look to the Giants to see what underdogs can accomplish.
"Last year, I don't know when we were favored to win, ever, and we got it done," he said. "For us, it's not what other people think. It's what we think. We certainly believe in ourselves, in what we're capable of doing. We're not caught up with what the expectations are or the predictions."
I will be posting weekly articles including betting previews, matchups and the inside scoop from a bookmakers point of view right here at Doc's Sports. Read my past articles - Click Here, and learn more about Bodog sportsbook - click here. If you're ready to set up an account and start playing I'd like to offer you a Sign up Bonus - Click Here. Enjoy the Bodog Experience.