UFC 132 Odds and Betting Predictions
by Trevor Whenham - 7/1/2011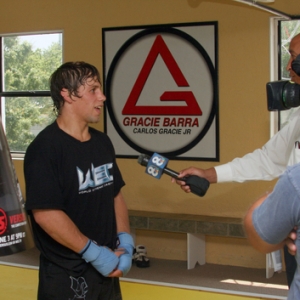 It's time for another UFC event. UFC 132 enters the octagon on Saturday, July 2 at MGM Grand Garden in Las Vegas. The most notable feature of this card is that it features the first-ever defense of the UFC Bantamweight championship -- and a heck of a fight is expected. At 126 to 135 pounds these are the smallest fighters in the UFC, but certainly not the least entertaining.
Beyond that, though, this fight has been hit hard by injuries. Jon Fitch and B.J. Penn were set to be a feature match, but both fighters were injured. Evan Dunham and Cub Swanson both were injured as well. Despite that, though, we're left with a pretty solid card. Here's how the main card breaks down with UFC 132 odds for each fight:
Bantamweight Championship - Dominick Cruz (-147) vs. Urijah Faber (+105)
This is going to be one heck of a fight. Cruz has been slightly under-the-radar because he has been outside of the UFC, but he deserves to be a true star in this sport. If he has a couple of fights like he is capable of then he will be.
He faces a huge challenge in Faber, though. Cruz is a very technical fighter, and he is capable of changing his approach on a whim, so he is a very tough guy to fight against. Faber is a former WEC featherweight champ that is now fighting at a lower weight. He has already fought once in the UFC and won easily. He's an incredibly tough fighter, and an aggressive one. That aggressiveness represents his best chance here.
If Cruz is allowed to control the pace and attack while the fighters are on their feet then the fight will be over. Faber needs to be the one advancing, and he needs to keep him off balance. In other words, if Faber wants to win he has to win ugly.
Either way, this is going to be an incredible fight, and it is going to help the reputation of the winner immensely. In my eyes that likely winner is Faber. He's not going to get knocked out, and he can absorb enough abuse early on to frustrate Cruz and find his opportunity.
Pick: Urijah Faber
Wanderlei Silva (-189) vs. Chris Leben (+137)
This is another fight that should be fantastic, if, that is, your definition of fantastic is brutal and violent. These guys are both very aggressive punchers, and both will be headhunting from the start here. The only strategy involved will be trying to avoid the big punches while landing your own. The fight shouldn't last past the second round.
Leben needs to win it early because the more tired he gets the more flat-footed he will be, and Silva can exploit that.
Pick: Wanderlei Silva
Ryan Bader (-556) vs. Tito Ortiz (+330)
I won't waste my time on this fight. The Huntington Beach Bad Boy is so far beyond his prime that it is laughable. He has no business still fighting, but he didn't get that memo. Bader is much younger, and is stronger, more versatile, and just plain better right now. This fight is a joke, and I hope it is finally the last for Ortiz.
Pick: Ryan Bader
Dong Hyun Kim (-120) vs. Carlos Condit (-115)
This is a clash in styles. Condit likes to be on his feet where he is aggressive and effective. Kim has no standup game at all, and instead excels at getting his opponents down and essentially boring them to death. Condit will have to try to score some points before he gets taken down and smothered. That's going to be tough to do against an unbeaten fighter like Kim.
I expect Kim to win a fight that I would be happy to miss.
Pick: Dong Hyun Kim
Dennis Siver (-152) vs. Matt Wiman (+110)
Both guys are fighting well right now, and both are well matched -- tough chins, aggressiveness, and tactical effectiveness. The difference at this point is that Siver just seems like the better fighter. In his last fight he faced George Sotiropoulos, and he dismantled him in fine fashion. I expect him to put on a similar show here en route to a decision win.
Pick: Dennis Siver
Recommended Bets
For each UFC card I invest a mythical $500 bankroll and try to make it grow. The last card was not successful, but 2011 has still been a very good year. Let's keep it going.
$300 parlay - Siver, Bader, Silva - potential profit of $600
$100 parlay - Siver, Bader, Silva, Kim - potential profit of $448
$100 parlay - Siver, Bader, Silva, Faber - potential profit of $514