UFC 133 Picks: Evans vs. Ortiz Predictions
by Scott Johnson - 8/3/2011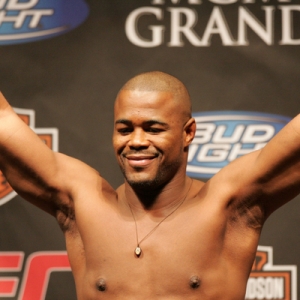 This weekend's UFC 133 card features a main event (Rashad Evans vs. Tito Ortiz) that looks pretty lopsided on paper. However, as we always do here at Doc's Sports, we will try and see if there is any value here for UFC picks. As always, we will have a full slate of UFC 133 predictions on our homepage on Friday. In the meantime, let's take a closer look at the main event.
Taking a look at Tito Ortiz, he is most effective when he is aggressive. Against Matt Hamill he came out strong, however he was unable to sustain the pressure for the entire fight. Also, despite his best efforts against Lyoto Machida he wasn't able to get his hands on the elusive former champ. What this leaves me to believe is that his victory over Ryan Bader wasn't the product of a rejuvenated Ortiz, but an Ortiz that was able find success early and not be required to fight bell to bell.
When Evans and Tito first met, Ortiz was still able to implement his game plan with success. He wanted to cut off the cage and keep the pressure on. Since that fight the combination of his opponents' skill, Tito's age, and injuries has limited his success.
Rashad Evans has improved in a number of areas since their last meeting, but the aspect that I feel will have the greatest impact on this fight is his use of speed and movement. Evans' footwork and lateral movement have made it difficult for his opponents to keep pace. Against Rampage Jackson, Rashad was elusive and, as a result, Jackson spent the majority of the fight chasing him.
If you go back one fight earlier, Thiago Silva actually landed more strikes than Rashad, but he also had to throw more. The key to that fight was Evans' takedowns; he continually put Thiago on his back attempting sixteen and completing eight. Simply put, Evans dictated the pace in those fights, something he didn't do against Ortiz.
Combining Tito's track record against opponents that he was unable to get a hold of and Evans' success with evading and outworking his adversaries, Evans should be in control of this fight bell to bell.
Look for Rashad to stay on the outside, bouncing in and out to attack and then retreat. When Tito becomes frustrated with his inability to put his hands on Evans he will take chances, which will create openings for Evans to score takedowns and even further frustrate his opponent. So I'll be taking Rashad Evans to pick up the win over Tito Ortiz.
UFC 133 Picks: Evans vs. Ortiz Predictions for Betting
So we have our prediction, now let's figure out how to maximize our potential financial return with the right bet. Bodog has Evans at -400. Most sites have odds in this neighbourhood with the return on $100 at roughly $20-$25, so it's a high risk with a low return.
Some people might suggest betting on Tito because of a significantly higher payout, somewhere around 4-1. The approach I take to that line of thinking is no matter how high the odds are, anything multiplied by zero doesn't put money in back your pocket. Basically, if I don't feel the dog has a chance to bark no matter how good the return, you're better off holding onto your cash as I feel the case is here.
So back to Evans you can put a bet on him to win straight up and take the low return, but there are other options. The first is a betting on the final outcome and even though the odds aren't posted yet, we can still consider the facts. Tito has only been stopped twice in his career, and since being knocked out by Machida, Rashad has picked up back-to-back decisions.
Based on the odds I would suggest considering a bet on Evans to win by decision. My guess is that it will be the lowest odds of the three outcomes, but still a better return than the straight up win.
The other option is to parlay Evans with a second bet as I feel there are a couple worthwhile upsets on the card.
We will offer our full list of UFC 133 picks for every match on the card and these will be on our homepage on Friday and will include a recommended $500 bet for the full fight card..