UFC 135 Odds and Betting Predictions
by Trevor Whenham - 9/22/2011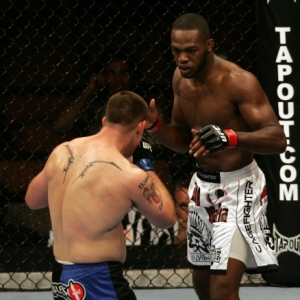 The last time the UFC was in Denver was 1995 for an eight-man tournament -- the first UFC event ever to use judges. Dan Severn won that day in front of a crowd of 2,800. When the UFC returns to Denver on Saturday for UFC 135, there will be a whole lot more than 2,800 people in the Pepsi Center, with millions more watching on pay-per-view.
Severn obviously won't be on this card, though at 52 he is still active in MMA and earned his 100th-career win in April.
This card won't be the best we have ever seen, but it does have a much anticipated defense of the light heavyweight title to offer. Here's a look at how the main card plays out with betting predictions for each match. All UFC 135 odds are from Bodog:
Jon Jones (-600) vs. Rampage Jackson (+400)
This is the first title defense for Jones, and it has taken longer to come around than expected because of a hand injury. Jones obviously needs to defend the title several times before he becomes one of the elite champions of the UFC, but it sure seems like he has the talent to be one of the greats.
Hype doesn't mean much in the Octagon, though, so Jones will have to prove himself here, and Jackson is a tough opponent. He's the kind of guy who can end a fight with one shot, and if he's focused on his game and not on being a star then he's a real threat here. Jones has never had to take a big shot like Rampage can deliver, so that's a real unknown commodity here.
It's far from certain that Jackson will be fully focused, though. He's not the most mentally sound guy, and he has been complaining about spies in his camp and other conspiracy theories leading up to this one.
Jones does have some major advantages. His biggest is his length -- Jones is so tall and long that he can keep opposing fighters away from him with ease. He's also a far more versatile fighter, and at this point seemingly a better prepared and more mentally focused one.
I'm worried about the potential Jackson has to win it with that one punch, but Jones is much better and will be able to frustrate and confuse Jackson. Rampage is far from his best when he is frustrated. Jones will get his first successful title defense.
Pick: Jon Jones
Josh Koscheck (-600) vs. Matt Hughes (+400)
Koscheck was humiliated by GSP last time out, so he needs to find a way to revive his confidence and get back on track. He has landed in a perfect spot to do that here.
Hughes used to be a solid fighter, but he has looked less than impressive recently, and he's definitely on the downhill side of his prime. The only way Koscheck will lose this one is if he isn't focused and ready.
Pick: Josh Koscheck
Travis Browne (-450) vs. Rob Broughton (+300)
Browne is a monster of a heavyweight – 6-feet-7 and 250 pounds. He's undefeated in 12 career fights and has a real chance to be a serious heavyweight contender in the UFC.
Simply put, Broughton doesn't have any meaningful potential. This is just another rung on the ladder for Browne. If he loses this one then he has some serious issues.
Pick: Travis Browne
Nate Diaz (-250) vs. Takanori Gomi (+190)
Despite sporting just an 8-5 record in the UFC, Diaz is an impressive, well-rounded fighter. He is very strong on his feet -- shifty and hard to catch, yet able to strategically land big shots. He can take a hit, he's strong on the ground, and he's fit. I like him.
I don't like much about Gomi, on the other hand. This will be the 40th fight of his career, and the wear and tear is certainly showing. He's happy to mix it up, but I'm not sure that that's a good idea for him here.
Pick: Nate Diaz
Ben Rothwell (-340) vs. Mark Hunt (+260)
This fight does nothing for me. They are both journeyman heavyweights with no meaningful future. They should probably have an exciting fight because they both like to throw the punches, but it will be instantly forgettable.
Rothwell doesn't have nearly the advantage that these odds suggest -- especially if he gives in to the temptation to move away from his game and punch like crazy.
This card has been very chalk heavy so far, so we might as well take a shot at the underdog here.
Pick: Mark Hunt
Recommended Bet
Each card I invest a mythical $500 bankroll. We're up overall, though last card didn't turn out as well as it could have. Given all the chalk here there's sadly only one thing to do:
$500 parlay - Jones, Koscheck, Browne, Diaz - potential profit of $664.51