UFC 139 Odds and Betting Predictions
by Trevor Whenham - 11/18/2011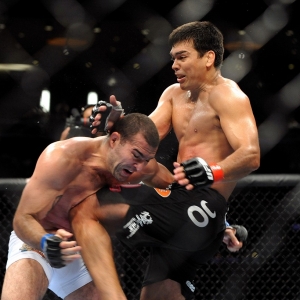 Another week, another UFC event — this one is in San Jose on Saturday night. The UFC has had a ton of events in the last month, and I really don't understand why we are seeing this one now.
The card isn't the most interesting by any means, and there can't be a ton of hunger for it after so many events in a row. Maybe the organization wants to capitalize on the momentum of the event on Fox last week, but I can't imagine that anyone who was introduced to the sport by that network broadcast will be won over for life by this card.
Regardless of my whining, this is a card to bet on, and that means it is at least somewhat worthwhile. Here's how the main card breaks down (all UFC 139 odds are from Bodog):
Mauricio Rua (-140) vs. Dan Henderson (+110)
Two legendary fighters meet here in what will be a light heavyweight title eliminator. That means that stakes are high in this one.
Rua lost that title two fights back, and he will be hungry to get another shot at it. He was incredibly impressive last time out against Forrest Griffin and will hope to carry that momentum forward.
One potential concern is that he has moved his training base back to Brazil despite his recent success. It seems strange to change what clearly was working, so hopefully there isn't more to it.
Henderson returns to the UFC for the third time after a successful run in Strikeforce in which he won the light heavyweight title and then likely all but ended the career of Fedor Emelianenko with a decisive win.
He's 41 years old, but his crushing right hand is still as deadly as ever. That should make this one entertaining because both guys excel at the knockout.
Rua will throw far more punches than Henderson, so the fight rests on Henderson's ability to be patient and avoid trouble until he gets his chances. While that will be tough, I ultimately have faith in his ability to do so, and more faith in his stamina than in Rua's.
These fighters are reasonably well matched, but I like Henderson a touch better, so at this price it is a no-brainer.
Pick: Dan Henderson
Cung Le (-145) vs. Wanderlei Silva (+115)
Silva is here as a replacement for the injured Vitor Belfort. Silva badly needs a win here as six losses in his last eight fights, including a massacre at the hands of Chris Leben last time out, has his career on life support.
Le has been more interested in acting than MMA recently, and he hasn't fought since June of 2010. Rust is a concern, but he has never really fought at a high volume, and he seems healthy and focused.
I certainly can't say the same about Silva. The Brazilian should have been put out to pasture by the UFC long before this point so he doesn't get hurt.
Pick: Cung Le
Urijah Faber (-250) vs, Brian Bowles (+195)
There aren't many guys in the sport who are more entertaining to watch than Urijah Faber. The bantamweight is desperate for a third shot at Dominick Cruz, and a win here would get him much closer to another shot at the bantamweight title — a fight that a lot of people would love to see.
Bowles is an impressive fighter with a stunning upset of Miguel Torres to his credit, so he can't be overlooked. His fists seem to break in every fight he is in, though, and this one should be brutal, so it is hard to trust him here.
Faber is bigger, faster, and stronger, and has a clear edge here.
Pick: Urijah Faber
Rick Story (-145) vs. Martin Kampmann (+115)
This is an important fight in the careers of both fighters because a loss here would make them all but irrelevant in the long-term plans of the welterweight division.
Kampmann comes in off of two straight losses, though neither has been without some controversy. He is a very aggressive fighter, and sometimes that leaves him vulnerable.
Story is talented enough to exploit those situations, and he can take a beating while waiting for his opportunity.
This is another very close fight, but I think Kampmann will be especially hungry, so he is a bargain at his price.
Pick: Martin Kampmann
Kyle Kingsbury (-150) vs. Stephan Bonnar (+120)
Kingsbury has won his last four fights in the UFC and could become a bit more of a factor in the light heavyweight ranks if he wins again here.
He's up against Bonnar, a guy who has been up and down throughout his time in the UFC and sports just a 7-6 record in the organization.
Both guys love to throw the punches, and they both can take a punch like a man, so this one should be fun to watch.
Ultimately I have to go with the favorite. Kingsbury is the guy on the rise, so he should be able to handle this test if he is for real. He has given us no real reason to doubt him.
Pick: Kyle Kingsbury
Recommended Bets
Each card I recommend $500 worth of parlays to keep things interesting.
$500 parlay — Take Kingsbury, Faber, and Le. Potential profit of $1471.26.