UFC 141 Predictions and MMA Betting Picks
by Trevor Whenham - 12/29/2011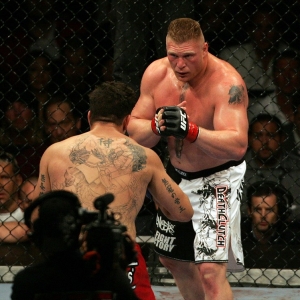 On Saturday night at the MGM Grand Garden in Las Vegas it's time for the 18th and final major event of a very busy year for the UFC.
There's no title on the line for this one, but the main event sure doesn't lack intrigue. Brock Lesnar finally returns to action for the first time since October of last year. He has been hit hard by health issues — and a couple of legal ones as well — but he's back in form and ready to go. He faces Alistair Overeem, with the winner in line to face Junior dos Santos for the Heavyweight Championship.
The rest of the main card is not star-studded, but certainly interesting. Here's how it breaks down with some MMA betting picks (all UFC 141 odds are from Bodog):
Alistair Overeem (-150) vs. Brock Lesnar (+120)
Overeem is making his UFC debut here, and there is some controversy and uncertainty surrounding that.
He is riding a 10-win streak, including winning the Dream and Strikeforce Heavyweight Championships. He left Strikeforce in controversial circumstances after being pulled from a tournament and having issues with a urine test.
Of more concern, his last fight against Fabricio Werdum was far from impressive. He really needs to prove that he's still a major factor and that he is ready to move past his issues and contend on the biggest stage.
He's well matched with Lesnar because the former UFC champ also needs to prove that he is still ready for prime time, and that the division hasn't passed him by.
When Lesnar destroyed Frank Mir at UFC 100 it seemed like he was an unstoppable force. His last two fights have been unimpressive, though — an underwhelming win against Shane Carwin and the loss to Cain Velasquez. In both fights he really didn't handle being hit well, and that has to be the biggest concern going against a striker like Overeem.
I have real concerns about Lesnar's health. He says he is as healthy as he has been in years, though, so he might just be okay.
Overeem had serious stamina issues in his last fight, and Lesnar's best skill is his ability to pressure and overpower fighters. I don't really trust either fighter, but I have a bit more faith in the heart and desire of Lesnar, and am willing to take a gamble at this price.
Pick: Brock Lesnar
Donald Cerrone (-300) vs. Nate Diaz (+230)
These are two exciting fighters — they have won 10 Fight of the Night awards between them.
Diaz has just one win in his last three outings, though, and he has shown some real weaknesses in those losses.
Cerrone has fought four times this year and won each time. He's extremely confident right now, and fighting the best he ever has.
The biggest problem for Diaz here is the matchup — there is nothing that he can do that Cerrone doesn't have an answer for.
This should be a good fight, but the favorite should win relatively easily in the end.
Pick: Donald Cerrone
Jon Fitch (-250) vs. Johny Hendricks (+195)
Fitch, the wily veteran, is returning to action after a shoulder injury suffered 10 months ago against B.J. Penn required surgery. He may not have another title fight in his future — I would bet against it — but he needs to start winning often and impressively to give himself a chance.
Hendricks won two NCAA Wrestling Championships at Oklahoma State, and he has lost just once in 12 career fights. This is a big step up in class for him, though — a chance to see how he measures up against the next level of competition. I don't like his chances.
Fitch is smart and hungry, and will be the strategic equal of Hendricks.
Pick: Jon Fitch
Alexander Gustafsson (-325) vs. Vladimir Matyushenko (+250)
Matyushenko has been around for a very long time — he fought Tito Ortiz for the light heavyweight title at UFC 33. He's five fights into his second tour of the UFC at 40 years old, and his only loss in that time was to Jon Jones in 2010 — hardly something to be ashamed of.
Still, I don't have a lot of faith in his ability to handle Gustafsson here.
The Swede is 16 years younger, has been fighting very well recently, and is a fighter on the rise. His stamina is better, he's stronger, and he's going to come out on top. In his last fight he absolutely humiliated Matt Hamill and forced the veteran into retirement.
Pick: Alexander Gustafsson
Nam Phan (-230) vs. Jim Hettes (+180)
Hettes is an intriguing prospect — he is unbeaten in nine career fights, and has never fought past the second round. He's taking a big step up here, though, and I don't think he's ready for it.
Phan is a warrior. He fights a lot, he can take a punch like few others, and he is technical on his feet and sneaky on the ground. He's also extremely hard to submit.
Hettes will make it interesting, but this will be the first humbling experience of his career.
Pick: Nam Phan.
Recommended Bet
Each card I make a mythical $500 bet — typically a parlay — to keep things interesting.
$400 parlay — Take Cerrone, Fitch, Gustafsson, and Phan. Potential profit of $1000.94.
$100 parlay — Take Cerrone, Fitch, Gustafsson, and Hettes. Potential profit of $583.49.