UFC on Fox Betting Predictions and Odds
by Trevor Whenham - 11/11/2011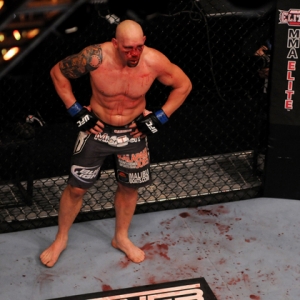 When the UFC took their show to cable with "The Ultimate Fighter," they saw their popularity and influence grow dramatically. Now they are gambling that a move to the next level will cause their popularity to grow even more.
On Saturday the UFC will fight on broadcast television for the first time with the inaugural UFC on Fox card. To call it a card is actually misleading — only Cain Velasquez' heavyweight title defense against Junior dos Santos is guaranteed to be broadcast on Fox, and anything else that is shown if that fight runs short won't be live.
There are other fights on the same night, of course, and you can catch those online on Facebook.
Here's a look at how the main event and the better undercard events shape up (all odds are from Bodog):
Heavyweight Championship
Cain Velasquez (-200) vs. Junior dos Santos (+160)
This is not going to be your typical heavyweight battle. Neither of these guys are massive monsters, and they both have excellent fitness and serious stamina.
Heavyweights typically struggle to go past the second round, but these guys can both handle five rounds if they have to.
It has been a long time since we have seen Velasquez fight, so it's almost hard to remember what he can offer. He took the belt off of Brock Lesnar a year ago, but then has dealt with a shoulder injury since. He is completely healthy now, though, and he has trained very well.
What Velasquez will have to deal with, though, is a new look — he has not faced a guy who stands up as effectively as dos Santos does. Dos Santos is a very strong technical fighter as well, and he has all the stamina he needs to stay in this one until the end.
Every way you break this one down it should be a good one. Both guys are very talented and well matched, and though this fight doesn't have the hype of a Lesnar fight it should be the best heavyweight contest we have seen in a long time.
I can see either guy winning this one in several ways. When it's that close it only makes sense to take a shot with the underdog at the far better price.
Pick: Junior dos Santos
Ben Henderson (-250) vs. Clay Guida (+195)
Both of these guys have really stepped their game up recently and shown that they want a piece of Frankie Edgar for the lightweight title. An impressive win here may very well earn that title shot.
Guida is a very tough fighter to go up against because he has such a unique fighting style. The best way to address that, though, is with strength, and Henderson has that in full supply.
Guida will shoot for takedowns from all angles, but Henderson can stop the charge. These guys are reasonably well matched, and this one should go the distance.
I'd love to take Guida at that price, but Henderson has too many ways to score points and he gets the edge.
Pick: Ben Henderson
Dustin Poirier (-280) vs. Pablo Garza (+220)
Both of these guys have won their first two UFC fights, so now is when they need to start distinguishing themselves and proving they have a future in the organization.
There is lots of room to shine at featherweight, so the stakes are high.
Garza is an entertaining fighter and could win it, but, as the odds suggest, Poirier is the far more well-rounded guy and should have a solid edge in this one.
Pick: Dustin Poirier
Norifumi Yamamoto (-370) vs. Darren Uyenoyama (+280)
Yamamoto is an impressive fighter with a strong reputation built outside of the UFC, but in his first UFC fight he was a big disappointment. Now he needs to redeem himself — especially if he wants to fight in front of the home crowd in the spring when the organization invades Japan.
It goes deeper than that, too — After starting his career 17-1 Yamamoto is 1-3 in his last four. His nickname is "Kid," but he has been fighting like a washed-up old man recently. He needs to shake that trend.
Luckily, he has landed in a very god spot to do so. Simply put, he outclasses Uyenoyama. Anything can happen, but Yamamoto has a huge edge here.
Pick: Norifumi Yamamoto
Mike Pierce (-350) vs. Paul Bradley (+265)
I'll be brief on this one. Pierce beat Bradley in 2009, and he'll do so again here. Bradley needs to exert his wrestling strength to win, and Pierce can match him there and exceed him elsewhere.
Pick: Mike Pierce
Recommended Bets
Each card I make a mythical $500 bet — typically a parlay. Last time around we had a nice winner. Let's look for another one here:
$300 parlay — Take Pierce, Yamamoto, and Poirier — Potential profit of $364.95
$200 parlay — Take Pierce, Yamamoto, Poirier, and dos Santos — Potential profit of $952.58