UFC on Fox Predictions: Velasquez vs. Dos Santos Odds
by Scott Johnson - 11/8/2011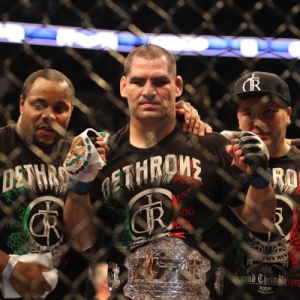 Headlining the first instalment of the UFC on Fox, Heavyweight Champion Cain Velasquez -155 will put his title on the line against Junior Dos Santos +125. Velasquez is returning after his victory over Brock Lesnar while Junior defeated former interim-champion Shane Carwin to earn this title opportunity.

Cain's victory over Lesnar finalized a dominant run to the title that left many defeated UFC heavyweights in his path, including; former interim-champion Minotauro Nogueira, top contender Cheick Kongo, and veteran Big Ben Rothwell. Despite only nine career fights, Cain still has an impressive resume, earning eight TKO or KO victories and a perfect 7-0 record inside the Octagon.

Junior Dos Santos has been equally as impressive with an identical 7-0 record in the UFC. In his last two appearances Junior dominated bell to bell against top heavyweight contenders Shane Carwin and Roy Nelson. Prior to his wins over Nelson and Carwin, JDS has stopped four of his five opponents inside the first round, including a huge upset victory over heavily-favored Fabricio Werdum in his debut at UFC 90.

This clash of heavyweight titans will be the UFC's first venture into the world of mainstream sports, and it has a lot to offer to both the casual and hardcore fans. Velasquez and Dos Santos are young, talented and athletic. Each man possesses knockout power along with the technique to deliver. Junior Dos Santos showed the difference between a heavyweight with power and a heavyweight with power and speed by continually beating Shane Carwin to the punch. While Cain overwhelmed Lesnar with a furious barrage of fists until the ref called for a stoppage, prior to that bout he knocked out Minotauro Nogueira with a lightning-fast combination.

Velasquez has been out of action for just more than a year, which could impact his performance. Either way, the champion is a former NCAA Division 1 wrestler and presents a skill set that Dos Santos has yet to face in the cage. Velasquez averages almost seven takedowns per fight, and when he gets his opponent to the ground he is unrelenting. He uses a similar technique to that of Chael Sonnen; when Cain takes his opponent's back he opts to not put his hooks in. Most fighters will use their legs control their adversary, but by not doing this Velasquez is able to react and continually move with his opponent, always maintaining a dominant position.

Junior Dos Santos has proven incredibly difficult to take down. During his rise to title contention many fighters have attempted to put JDS on his back, with limited success. Gabriel Gonzaga and Shane Carwin were both able to take Junior off his feet, but neither man was able to establish any form of control as the big Brazilian quickly got off the mat. Dos Santos is a Brazillian Jiu Jitsu brown belt training under the Nogueira brothers, which would suggest he is equipped with the skills to handle himself should the fight spend a prolonged period of time on the mat.

Despite their dominance, both men have had moments of vulnerability. Cheick Kongo tagged and buckled Cain twice with a left hand. Instinctively, Velasquez scored the takedown, but if Kongo had been able to create separation he could have done further damage. Dos Santos's has made a career on finishing opponents quickly, but Roy Nelson was the first to really push the Brazilian and it clearly took a toll on Dos Santos's cardio as he noticeably slowed in the second half of the bout. Both men have the skills to exploit their opponent's potential weaknesses; Velasquez has arguably the best cardio in the division and Dos Santos is the most gifted all-around striker the Champ has ever faced.
This is an incredibly tough fight to predict, but what it comes down to is dimensions. The striking and speed is close, the grappling favors Velasquez until proven otherwise, and the cardio is also favoring the champ. If Dos Santos can't end it early, Cain will wear him out with his work rate. And if Velasquez is able to take JDS down early it will give the champion an even greater edge.
In reality, this is a fight that could go either way. I really like Velasquez here. However, any time you can put money on an underdog as talented as Junior Dos Santos it is hard to pass up. As this fight draws closer look for the odds to move closer together as people jump get behind the talented challenger. Following this line of thought, grab a bet on JDS early or if you want to back the champion and wait for the value of Velasquez to increase closer to fight day.
The obvious prop bet to consider would be the fight to finish within the distance. Conversely, a wager on the fight to go the full five rounds would be worth a look. This selection should have a decent payout based on the combined knockout total of the two fighters, with the majority finishing inside the first round. Considering that JDS has gone to decision in each of his last two bouts and the last time Cain faced a talented striker in Cheick Kongo he used his wrestling to grind out a decision win. A bet on the fight going all five round isn't that unreasonable.
This fight has all the makings of an epic heavyweight battle, with a couple intriguing betting options. Good Luck this weekend and make sure you check out the full card of UFC predictions for this event on Doc's Sports homepage later in the week.