2012 Belk Bowl Picks: Cincinnati vs. Duke Betting Odds and Predictions
by Trevor Whenham - 12/12/2012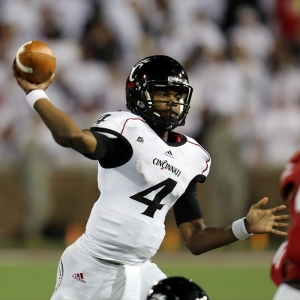 2012 Belk Bowl
Cincinnati (-7) vs. Duke
Dec. 27, 2012, 6:30 p.m. ET
Charlotte, North Carolina
Duke is a heck of a basketball school — one of the very best. At football, though, they just don't excel. The fact that they are in this game at all is remarkable — this is their first bowl appearance since 1995 and only their third since 1961. In other words, they qualify for a bowl about once every 17 years. They have lost their last two games as well, so they are 51 years away from their last bowl win — a 7-6 thriller over Arkansas in the 1961 Cotton Bowl.
The Bearcats, on the other hand, are playing in their sixth straight bowl game. They are 3-2 in the last five, and the two losses they had came in BCS games, so they have been a solid team recently. It's no surprise, then, that their biggest recent export has been head coaches — Brian Kelly went on to Notre Dame, and now Butch Jones is at Tennessee.
The Basics
Cincinnati - The Bearcats started the season 5-0, faltered with two straight losses, then closed out strong at 4-1. Their schedule wasn't particularly strong, though — they do play in the Big East after all — so their biggest wins came against Pitt and Virginia Tech, two disappointing teams. An overtime loss at Louisville hurt, and a win there would have really improved how the season turned out. They were a solid 8-3 ATS, and they were 5-1 ATS in their last six, so they were kind to bettors. After following Brian Kelly at Central Michigan and Cincinnati, Butch Jones landed his own big job at Tennessee. The team landed a big name in Tommy Tuberville to replace Jones, but he won't take over until after the bowl game. Defensive line coach Steve Stripling will be the interim man in charge for the bowl game. He's familiar with the role, having won the 2009 GMAC Bowl as Central Michigan's interim coach after Jones left for Cincinnati. The key player on offense for the team is senior running back George Winn, who averaged more than 100 yards and a touchdown per game.
Duke - The Blue Devils wound up at 6-6, but they actually sewed up their bowl eligibility after just eight weeks. Their last month was a disaster, lacking both a win and a cover. It was a brutal stretch of games, though — Florida State, Clemson, Georgia Tech and Miami — so the failure isn't as bad as it could be. Every time they won they covered and every time they lost they didn't, so they wound up just 6-6 ATS. Coach David Cutcliffe is in his fifth year with the program despite a 21-29 record — clear proof of how little Duke cares about football. This is obviously his first bowl game with this team, but he was 4-1 in bowls at Ole Miss.
Key Factors
Cincinnati coaching change - The Bearcats could easily feel like they are stuck in limbo. Jones couldn't get out of town fast enough — he was so desperate to move that he almost took the Colorado job. Tuberville presents an intriguing future to look forward to. With all of that it could be tough to focus on the task at hand — especially since Stripling is likely gone as soon as the game ends as well. If the Bearcats were completely focused and prepared for this game then it wouldn't be a contest. They won't be, though, so the task for bettors is to determine what impact this will have, and how far off their game they can be while still covering the spread.
Duke giddiness or inexperience? - Duke is going to be very happy to be in this game. Despite their struggles down the stretch, this is a huge accomplishment for the team. The question, though, is whether the enthusiasm and excitement will be a positive and if it is if it will be enough to overcome their inexperience and talent deficit.
Duke's lousy defense - There is one unavoidable fact — Duke is terrible at playing defense. The Blue Devils are 106th in the country in total yards allowed, 105th in points against, 104th in rushing yards, and 99th in passing yards. They can't stop any competent offense. Cincinnati isn't a wildly-potent offense, and they have faced uncertainty at QB in the second half of the year. However, they did score 31 points per game, and they should be able to exceed that here.
2012 Belk Bowl Picks: Cincinnati vs. Duke Predictions
I don't feel great about the effect the coaching change will have on the Bearcats, but they are still the simple pick here. Duke is underwhelming offensively, they are terrible defensively, they are inexperienced, and they have struggled against decent teams. There is no good reason to consider picking Duke.
Doc's Sports wants to give you a great offer to try out our expert college football handicappers for free with no obligation, no credit card required and no salesman ever! These are the same college football picks that our clients receive from any of our Advisory Board handicappers and you can get $60 in picks credit in minutes. Click here for more details and to take advantage of this free $60 picks credit today.