NCAA Bowls Fantasy Matchups Odds and Betting Picks
by Alan Matthews - 12/27/2012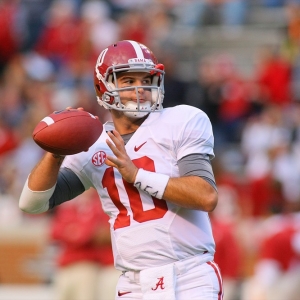 My last college football story of 2012 – wow, that still is hard to fathom – takes a look at Sportsbook.ag fantasy matchups in terms of highest-scoring team in bowls from Dec. 28 through the National Championship Game. I will simply list each option below and give you my thoughts.
Ohio (+0.5) vs. Georgia Tech (-0.5): The Bobcats take on Louisiana-Monroe on Friday in the Independence Bowl, while the Jackets, the only under-.500 bowl team in the postseason, face Southern Cal in the Sun Bowl on Monday. I'm sure we all saw how that USC defense was shredded at times this year, to the point where head coach Lane Kiffin's father, defensive coordinator Monte, won't be back next season. Georgia Tech and that triple-option averaged 34.5 points per game. Ohio, of the MAC, averaged 30.6 per game and faces a UL-Monroe unit that allowed 27.8. The pick is Georgia Tech because USC won't be used to that offense, even with a month to prepare. Plus, I'm not sure how motivated the Trojans will be to play in the Sun Bowl after being a preseason No. 1 team.
Rutgers (+2.5) vs. Minnesota (-2.5): The Scarlet Knights face Virginia Tech on Friday in the Russell Athletic Bowl, while the Gophers play later Friday against Texas Tech in the Meineke Car Care Bowl. This one is easy to me: Minnesota isn't great offensively. But TTU's defense stinks (allowed at least 50 points in four of final six games), and the Red Raiders are still reeling from Tommy Tuberville leaving.
Virginia Tech (-0.5) vs. TCU (+0.5): As noted above, the Hokies play Rutgers while TCU plays Michigan State on Saturday in the Buffalo Wild Wings Bowl. Both games should be pretty low-scoring, but Virginia Tech still has QB Logan Thomas. Young TCU, meanwhile, faces a Spartans defense that is one of the best in the nation. Virginia Tech is the pick.
Rice (-0.5) vs. Oregon State (+0.5): The Owls play Air Force in the Armed Forces Bowl, while Oregon State faces Texas in the Alamo Bowl. This one also seems easy: AFA will give Rice problems with its option offense, but the undersized Falcons have trouble stopping people. Texas, meanwhile, not only has tons of defensive talent but will have a massive home-field advantage.
Arizona State (-0.5) vs. Syracuse (+0.5): The Sun Devils face Navy on Saturday in the Kraft Fight Hunger Bowl, while the Orange take on West Virginia on Saturday in the Pinstripe Bowl. Have you seen that pathetic Mountaineers defense? SU has an excellent QB in Ryan Nassib. The Orange are the easy choice.
Texas (-0.5) vs. Mississippi State (+0.5): The Horns face Oregon State, while Mississippi State plays Northwestern on New Year's Day in the Gator Bowl. Texas will be facing possibly the best defense it has seen all year and now has QB questions again. Northwestern gave up at least 29 points in all three losses. And since I expect it to lose, MSU is the choice.
Michigan State (+1.5) vs. Wisconsin (-1.5): The Spartans have struggled to score all season, and TCU will load up to stop Le'Veon Bell. The Badgers found a new gear in their Big Ten title blowout of Nebraska, and I think they will be able to run on that excellent Stanford defense in the Rose Bowl. UW is the pick.
NC State (+0.5) vs. Northern Illinois (-0.5): This one is tough. NIU has an explosive offense led by QB Jordan Lynch. But I think the speed the Huskies will see in Florida State in the Orange Bowl will be like nothing they have seen before. Thus, NC State against Vanderbilt in the Music City Bowl is the call even though Vandy's defense is pretty good.
Vanderbilt (-2.5) vs. Stanford (+2.5): The Commodores have home-field advantage in Nashville against NC State, but they still have major trouble scoring. Stanford should be able to score at least 21 against Wisconsin in the Rose Bowl. It's the pick.
USC (+1.5) vs. Texas A&M (-1.5): It is looking more and more like Matt Barkley will not be able to play against Georgia Tech in the Sun Bowl If he could, I would consider the Trojans here. But take "Johnny Football" and the Aggies in what should be a Cotton Bowl shootout against old Big 12 foe Oklahoma.
Iowa State (+0.5) vs. South Carolina (-0.5): I won't pretend to know a ton about the Cyclones, but they scored 38 points in a Week 1 win over Tulsa, the foe in the Liberty Bowl. South Carolina won't be able to throw much on a terrific Michigan pass defense, and, thus, will be one-dimensional. I can't see the Gamecocks approaching 38 points like ISU did, so the Cyclones are the pick.
Tulsa (+1.5) vs. Purdue (-1.5): Tulsa scored 23 in that season-opening loss to Iowa State, and that was one of its lows of the year. I don't know what to make of Purdue with head coach Danny Hope out, although the Boilers face a porous Oklahoma State offense in the Heart of Dallas Bowl. Thus, Purdue has to be the pick in what should be a high-scoring game.
Clemson (-2.5) vs. Nebraska (+2.5): You see Clemson and automatically think it would be the pick with that Top-5 offense. But it struggled against two SEC teams this year and faces a Top-5 defense in LSU in the Chick-fil-A-Bowl. At the same time, the Huskers face a very good Georgia defense in the Capital One Bowl. Take Clemson in what could be QB Tajh Boyd's final game.
LSU (+1.5) vs. Kansas State (-1.5): Oh, you have to love KSU against Oregon if only because the Wildcats will have the ball so much with the Ducks' quick-strike drives. They should score 30 … but still lose by two touchdowns.
Northwestern (-0.5) vs. Pittsburgh (+0.5): I will rarely take an offense against an SEC defense, which Northwestern faces in Mississippi State. Oh, wait, Pitt plays Ole Miss. Still, the Rebels aren't nearly as good as MSU defensively (despite winning the Egg Bowl). Take the Panthers, as their offense improved under Paul Chryst as the season went on.
Michigan (+4.5) vs. Alabama (-4.5): Of course, these two faced off in the season opener. I definitely think Denard Robinson – in his final game – and Michigan will score more against South Carolina by a long shot than Alabama will against Notre Dame's top-ranked scoring defense. This might be my favorite matchup of them all.
Georgia (+0.5) vs. Florida State (-0.5): If the Seminoles are motivated to face Northern Illinois, they will put up at least 40 – I mean, Army scored 40 on NIU. No way Georgia approaches that against Nebraska. Take the Noles.
Louisville (-0.5) vs. Notre Dame (+0.5): This might be the toughest matchup of them all. The Cardinals against a terrific Florida defense that Louisville head coach Charlie Strong used to run. Notre Dame against Tide defensive coordinator Kirby Smart with all that time to prepare. Remember what Smart's group did to LSU in last year's title game? Louisville is the pick.

Florida (-1.5) vs. Ole Miss (+1.5): I don't have a very high opinion of the Rebels and expect the Gators to reach at least 27 against a so-so Louisville defense. UF is the choice.
Doc's Sports wants to give you a great offer to try out our expert college football handicappers for free with no obligation, no credit card required and no salesman ever! These are the same college football picks that our clients receive from any of our Advisory Board handicappers and you can get $60 in picks credit in minutes. Click here for more details and to take advantage of this free $60 picks credit today.