2013 Outback Bowl Picks: Michigan vs. South Carolina Odds and Predictions
by Trevor Whenham - 12/13/2012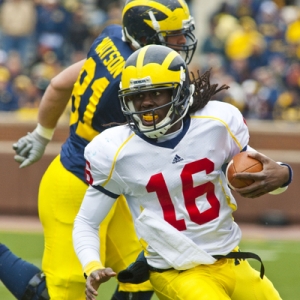 2013 Outback Bowl
South Carolina (-5) vs. Michigan
Jan. 1, 2013, 1 p.m. ET
Tampa, Florida
It has been a disappointing year to be a Michigan fan. As a diehard Michigan fan, I can say that without question. The defense has been sound, but the offense was rocky. And as a result the team lost to their four best opponents of the year. There was really no excuse for them not to be in the Big Ten Championship Game - especially when you consider that it was Nebraska that beat them out, and the Huskers Championship Game performance was as humiliating as any performance can be. This will be an interesting test. The Gamecocks are a big step up in class compared to all of the Big Ten opposition except for Ohio State, so Michigan needs to be on their game to come out on top.
For South Carolina the biggest concern may be finding a way to care about this game. They started the season with six wins, they dismantled Georgia, and they looked to have a big opportunity to break through and disrupt the traditional power structure in the SEC. Two weeks later, after they had lost at LSU and Florida, their national aspirations were dead, and they were just playing out the string. They weren't the same team after that, and now they have to get motivated for a team they have no reason to hate in a bowl game that won't really prove anything if they win. Steve Spurrier has a major motivational task ahead of him.
The Basics
South Carolina - You have to wonder how differently things would have turned out if South Carolina hadn't lost to LSU by two points. They certainly wouldn't be in this game. That loss shook them up, and they didn't even show up the next week against Florida. They were 8-4 ATS on the year, but they covered only one of four starting with the Florida game. Their season-ending win - and cover - at Clemson was a sign that they are back on track, but it's hard to know if it will last. This is Steve Spurrier's eighth year in South Carolina. He has been in a bowl in all but one year, but he has lost four of six games, including his last visit to the Outback. The key player on the team is QB Connor Shaw. He's very talented, but inconsistent, and he missed the Clemson game due to injury. He's expected to be back, but nothing is certain.
Michigan - Michigan has a unique distinction - they lost to the top three teams in the final regular season AP Poll. That's makes those losses a little more acceptable - at least until you look at how the losses happened. They were crushed by Alabama. They handed the game to Notre Dame with true incompetence on offense. They did the same thing in the second half of the Ohio State game. The fourth loss was to Nebraska. Denard Robinson was hurt early in that one, and the team didn't have a feasible backup, so they essentially forfeited. The closest thing they have to a respectable win was over a struggling Michigan State, and they needed a miraculous finish to pull that off. Their 5-7 ATS record is a clear sign of how underwhelming the season really was. Coach Brady Hoke is in his second year at Michigan, and he is coming off a nice Sugar Bowl win over Virginia Tech last year. The offensive key for this team is going to be Denard Robinson. His role isn't yet clear in this game, but whatever it is there is one sure truth - this team thrives when he thrives and sputters when he struggles.
Key Factors
Big Ten bowl woes - The Big Ten has been disastrous in recent years in bowl games, and I can only assume that they are going to struggle again this year. Michigan has lost five of their last seven bowl games, though they have won two of their last three, and they have won two of their last three against SEC teams. Given the regular struggles of the conference in the bowls, and their weakness overall this year - especially compared to the SEC - the Wolverines have a lot to overcome in this one.
Michigan QB? - Coach Brady Hoke doesn't talk a lot, so we aren't likely to get a firm answer on who will start at QB, or how much he will play, much before game time. Denard Robinson has struggled with an elbow injury and hasn't thrown a pass in a game for four weeks. Devin Gardner is the QB of the future, and he has been strong in relief. Robinson is a senior, though, so if he is able to play you can be sure he'll get some opportunities to do so. South Carolina is going to have to prepare for both quarterbacks - and bettors will have to do the same.
Can USC score? - South Carolina has managed to average a respectable 31.4 points per game, but they have done that despite struggling to pass and really struggling on the ground after Marcus Lattimore was hurt. They are just 89th in the country in total yards. Michigan's defense was elite - particularly against the pass, and coordinator Greg Mattison will be on top of his game with more than a month to prepare for this opponent. South Carolina's defense is going to face a lot of pressure because their offense isn't going to be an overwhelming force.
2013 Outback Bowl Picks and Betting Predictions
If it sounds like I am down on Michigan, it's because I am - it's been a trying year, and offensive coordinator Al Borges is a moron. Despite that, though, when you get this many points you have to take the Wolverines. South Carolina isn't going to score, and Michigan has some speed on offense - especially if they use Denard Robinson effectively. Michigan's defense is very good, and it will be able to contain South Carolina. I won't be surprised if the Gamecocks win, but they won't win by a lot, and Michigan has a good chance.
Doc's Sports wants to give you a great offer to try out our expert college football handicappers for free with no obligation, no credit card required and no salesman ever! These are the same college football picks that our clients receive from any of our Advisory Board handicappers and you can get $60 in picks credit in minutes. Click here for more details and to take advantage of this free $60 picks credit today.