UFC 142 Predictions and Betting Odds
by Trevor Whenham - 1/13/2012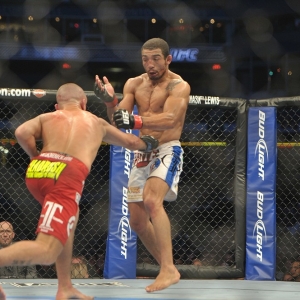 The UFC is heading back to Brazil for the second time and for the first since UFC 134 last August, on Saturday for UFC 142. The last card was a rousing success with rabid crowds and strong matches.
They are back again with a very Brazilian-heavy card. Every single fight on the card has at least one Brazilian, and there are 12 in total in the t0 bouts. The most famous of Brazilians — Anderson Silva — won't be in action, but featherweight champion Jose Aldo is a solid replacement.
Here's how the five fights on the main card shape up with my UFC 142 predictions (all odds are from Bovada):
Featherweight Championship - Jose Aldo (-300) vs. Chad Mendes (+230)
It's an exciting development for the UFC that a division that has only been in the organization for a short time is now headlining an event. Aldo is as good as any fighter under contract, and this is his opportunity to prove that.
Mendes is making some history here as the challenger — this is his first main-card fight in the UFC and it is in the headliner for a title. He deserves the chance, though, thanks to an 11-0 record, including 2-0 in the UFC.
He's got a serious problem here, though.
His strength is when he has a fighter on the ground, and there are few guys who are harder to take down than Aldo. His striking is outstanding and he is very evasive, so fighters find it very tough to get a chance to take him down. Mendes would have to exhaust the champ to win, and I just don't see him getting the takedown enough times to do that.
I'd pick Aldo happily at this price regardless of where the fight was being held, but given that Aldo is fighting in front of a home crowd that will be overwhelmingly on his side he has a particular boost. If Aldo loses this one it would seriously rock this division — far more than when Frankie Edgar first won the lightweight title.
Pick: Jose Aldo
Anthony Johnson (-125) vs. Vitor Belfort (-105)
Belfort has a lot on the line here. First, he needs to win at least his next two fights to have any hope of another title shot. He also could use a win to go into his upcoming role as a coach in the next season of "Ultimate Fighter" on a high note.
Johnson is making his debut at middleweight after previously toiling at welterweight. He's a big fighter, so the change should suit him well. He and Belfort both have some clear assets. Johnson has a huge edge in reach, but Belfort is much faster. Wrestling is Belfort's weakness and Johnson's strength.
As the price suggests, this is a close one. Belfort will be looking for the submission, and he is very capable of getting one. Johnson will be able to control on the ground, though, so submission opportunities will be limited. That means that the prices are about right.
Pick: Anthony Johnson
Rousimar Palhares (-600) vs. Mike Massenzio (+400)
When the odds in a fight are as one-sided as this one then it is really only interesting if the underdog isn't getting enough respect, or if the favorite is over-inflated. I don't think either is the case here. It would be a serious upset if this one doesn't end in the first round.
Pick: Rousimar Palhares
Edson Barboza (-285) vs. Terry Etim (+225)
The lightweight division could use another star, and Barboza is well-positioned to be that guy with another win or two. He's 9-0 in his career and 3-0 in the UFC. He has been well tested, and he has come out well. This is the biggest test of his career, though, so he'll have to be at his best.
Etim is a hard guy to read. He was off for a year and a half with an injury, but came back in early November with a submission win in just 17 seconds. He's obviously dangerous, but he's hard to trust, and he certainly can't be expected to repeat that last performance.
Etim is dangerous, but Barboza has a reach advantage and is just a little better at everything he'll have to do here. He's ready to take the next step up the ladder.
Pick: Edson Barboza
Erick Silva (-500) vs. Carlo Prater (+350)
This is the only main event fight with two Brazilians facing each other. Prater is a late injury replacement for this one, and he's making his UFC debut. Silva has fought once in the UFC, and is the more-prepared and seemingly better fighter. Prater could have an edge on the ground, but Silva should be able to keep the fight from spending a lot of time down there.
Pick: Erick Silva
Recommended Bet
$500 parlay — Take Palhares, Aldo, Silva. Potential profit of $433.33.