UFC 146 Odds and Predictions: Dos Santos vs. Mir
by Scott Johnson - 5/23/2012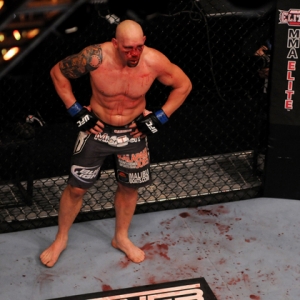 The combined weight of the 10 UFC heavyweight fighters that will comprise the main card of the promotion's next event, UFC 146, is an unearthly 2,446 pounds. Headlining this heavyweight lineup will be the newly-crowned UFC 265-pound champion Junior 'Cigano' Dos Santos (-500 at Bovada). This will be Dos Santos' first title defense and opposing the champion will be Frank Mir (+350), who will be appearing in his fifth UFC title fight.
Mir made his UFC debut in 2001 and seven fights later he defeated Tim Sylvia at UFC 48 to capture the title. Unfortunately for Mir, a motorcycle accident ended his title run and he did not appear in another title fight until 2008 when he defeated Dos Santos's teacher, Antonio Rodrigo Nogueira, to earn the interim title. Mir dropped fights against Shane Carwin and Brock Lesnar the next two times the gold was on the line, and now here he is for potentially his final shot at the championship.
JDS put together an impressive run to the title by defeating heavily favoured Fabricio Werdum in his promotional debut, and six wins later he found himself matched up with Cain Velasquez on the first-ever "UFC on Fox" telecast where he quickly dispatched of Velasquez to take his place atop the division.
Comparing win totals, the champion's striking is the key element of his offensive game with 10 of his 14 wins coming by way of knockout, including KO victories over the aforementioned Velasquez, Gabriel Gonzaga, Gilbert Yvel and Stefan Struve. Against the heavy-handed Carwin, Dos Santos put his impressive hand speed, fast footwork, and damaging combinations on display. Dos Santos out-landed Carwin 104 to 22, bouncing around the cage avoiding Carwin's bombs while peppering him with his own arsenal and leaving Shane battered and bloodied.
Mir has had equally as brutal experiences inside the cage, including a pair of wins by submission in which he left his opponent's appendage badly broken. Overall, the challenger has nine victories by submission (seven in the UFC), and when he won the title he snapped Tim Sylvia's arm after the champ refused to tap when Frank locked in the armbar. More recently, Mir defeated Big Nog in their rematch via kimura, breaking the Brazilian's arm again because of a refusal to tap out.
Mir's striking has been improving and Junior does train with some incredibly talented ground practitioners, but in all reality the champion will want to focus on keeping this fight standing while the challenger's focus should primarily be on taking his opponent to the ground.
The ability of these two competitors to get their opponent to their particular area of dominance is where the disparities begin to appear. Mir doesn't have an elite-level wrestling game, and even though he displayed some excellent throws against Roy Nelson he needed to control his opponent against the cage in order to set them up, something that no one has been able to do with Junior. In fact, JDS has been able to stop all but two takedown attempts in his Octagon career, and on those two occasions he was able to spring back to his feet almost immediately. If Mir is going to be able to implement his ground game he will need to accomplish something that no one else has done against Junior.
Conversely, Mir has had issues with dangerous power strikers. Over his career he has been knocked out five times, and against Nogueira he was clearly rocked prior to taking the fight to the ground. If Mir is unable to figure something out and take Dos Santos to the ground he will join the long list of fighters that have been forced to compete with JDS on the feet, which is not a recipe for success.
For this fight Frank Mir is going to have put together a near-perfect gameplan to both avoid Dos Santos's power and set up his takedowns. Mir is a veteran of the sport and one of the most intelligent fighters in game today, but considering Mir's opponents land an average of 59 percent of their strikes equating to 3.54 strikes absorbed per minute, I struggle to believe the Heavyweight with the best all around boxing skills isn't going to land eventually. As a result, Junior Dos Santos is the pick here to emerge victorious.
From a betting standpoint JDS isn't overly enticing at -500, but there are a few other options. Considering most heavyweight fights rarely go the distance, a bet on the round total to go 'under' is a decent investment. In addition, taking JDS to win by knockout is a solid bet and probably the greatest return would be on the champion to win inside the first round, which is something that he has done on five occasions in seven UFC fights.