UFC on Fox 2 Odds: Evans vs. Davis Predictions
by Scott Johnson - 1/24/2012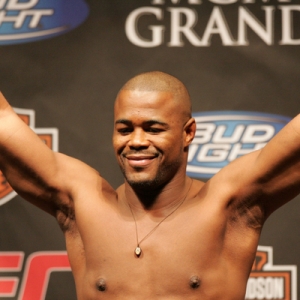 On Jan. 28 the UFC and Fox present the second major instalment of their broadcasting deal with "UFC on Fox 2: Evans vs. Davis". Building upon the success of the first UFC on Fox, this card will feature a main event that could determine the next title contender as former divisional champion Rashad Evans -185 (odds from Bovada) battles undefeated Phil Davis +150 with a shot at the reining UFC 205-pound Champ Jon Jones on the line.
Evans's lone defeat came in his first attempted title defense, but an impressive run has once again re-established him at the top of the division. A long desired matchup with former training partner turned adversary Jon Jones has been in the works for the better part of a year, but injuries to both fighters has prevented the fight from materializing.
Phil Davis, a former NCAA Division 1 wrestler, has dominated his opposition with a 5-0 record inside the Octagon. He submitted fellow prospect Alexander Gustafson with an anaconda choke, tapped Tim Boetsch with a modified kimura, and earned a three-round decision victory over respected veteran Antonio Rogerio Nogueira.
This fight was originally scheduled to take place back in August at UFC 133, but Davis was removed due to an injury. This is a significant point of interest as Davis has been out of action since early 2011, which could impact his performance, especially since he is returning to face the toughest test of his career.
Both men are primarily wrestlers, each completing roughly 50 percent of their takedown attempts. In reality this is the first time that either man has faced a wrestler of this caliber. Davis was the more accomplished collegiate athlete, but Rashad has had more experience using his MMA wrestling against a higher –caliber of opponent.
One considerable difference between the two fighters is that Evans has progressed as a striker, allowing him to mix up his attack, while Davis still relies heavily on his wrestling. Davis' vulnerability was partially exposed in his fight with Nogueira. The Brazilian was able to defend the majority of Davis's takedown attempts, which resulted in the playing field being levelled significantly.
Even though Davis' striking is his weak point, he is an unbelievable athlete who is more than capable developing his stand-up, and we haven't seen him since early 2011 so he has had plenty of time to do so.
Evans' dominant performance against Tito Ortiz showed that leaving Greg Jackson's camp did not have a negative impact on his performance. This will be his second fight training out of Imperial Athletics with the Blackzillians, and it will be interesting to see the game plan that Evans and his camp has devised for a fighter the caliber of Davis.
Both fighters are capable of winning this bout, but this prediction comes down to a matchup of a fighter with fantastic wresting against a fighter with very good wrestling and superior striking. If Evans is able to test Davis's chin cleanly the wrestler could fold under the pressure.
The best bet in this matchup is Rashad Evans at -185 to emerge victorious. When compared to most main event betting favourites, Evan's provides a decent return. The layoff and step up in competition for Davis creates a little too much uncertainty. A small bet at +150 might be warranted if you like the underdog, but don't bet your entire bankroll on him.
There are too many variables involved for a confident prop bet. If Davis' wrestling prevails then a bet on the 'over/under' or the method of victory could be dangerous as Davis could win a five-round decision or earn a second-round submission victory.
Similarly, because there is nothing to help gauge how Davis will react if Rashad's striking proves to be the definitive aspect, the fight could end as early as the first punch or in the later stages as the damage beings to pile up.
Avoid making a bet surrounded by uncertainty and stick with the fighter that has more tools to win the fight. More often than not you will come out on the profitable side of the end result with this strategy.
"The UFC on Fox 2" lineup is loaded with betting potential with a number of live underdogs. Make sure you check out all of the UFC predictions here at Doc's Sports and best of luck this weekend.