Weekly CFB Mid-Major Betting Report: Ohio Bobcats Bowl Game
by Aaron Smith - 12/20/2012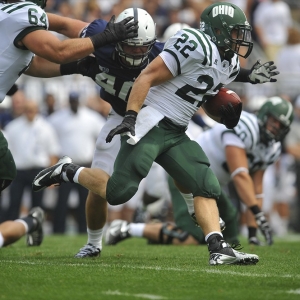 The Ohio Bobcats didn't accomplish the things they set out to do this year. The season started on a very high note with a win at Penn State and a 7-0 start to the year. In the end, the Bobcats would lose four of their last five regular season games to finish at 8-4. There was no MAC title game and no chance of a major bowl game. The Bobcats were selected to play in the Advocare V100 Independence Bowl.
All year long, the mid-major betting report has been focused on the Ohio Bobcats. I've been following players and staff on Twitter, reading reports from team beat writers, and going through all the team's press conferences. This report is designed to show how specialization is a profitable betting strategy.
Last year's mid-major betting report, which followed the Rice Owls, made $100 unit bettors $1,280 in profit based on a record of 7-2-1. At the end of each article this season, I will make a selection for that week's Ohio Bobcats contest. Doc's Sports Unit Betting System will be used for every pick, which should help readers follow along and track the results of these weekly college football picks.
Game Recap
In their final game of the regular season, the Bobcats were beaten 28-6 at Kent State. The Golden Flashes grabbed control of the game early with a 50-yard fumble recovery run back for a touchdown. Kent State pounded the football on the ground all game, and Ohio's depleted front seven couldn't do anything about it. The Golden Flashes ran for 207 yards in the game. In contrast, Ohio's running game only mustered 107 yards on 50 carries. Despite gaining 339 yards, Ohio didn't get into the end zone all game. They settled for two field goals.
Kent State scored two touchdowns directly from turnovers in this game. The second one came in the second quarter when Tyler Tettelton had a pass intercepted and run back for a 33-yard touchdown. The Bobcats were so successful early in the season because they took care of the ball. Ohio fumbled it four times against Kent State (they only lost one of those fumbles), and they have progressively gotten worse about taking care of the ball late in the season. My selection of Kent State -9 for two units was a winner.
Notes of Interest
--One thing to watch closely when betting on college football bowl games is how motivated each team is to be in that particular game. How does that look in this year's Independence Bowl? Louisiana-Monroe is playing in its first bowl game in school history this year. The Warhawks went 8-4 this season, which marked the first time in program history they have ever had a winning season. Ohio won the football program's first bowl last year, so they don't have a ton of bowl experience either. The Bobcats likely are slightly disappointed to be here, but they have to be glad to have one more chance to finish on an up note.
--Injuries are a major concern for the Bobcats. Eleven players are listed as either out or doubtful for this game, and another eight are listed as questionable. The biggest problem for Ohio is that a lot of these guys are starters at their position. The offensive line is in shambles right now, since it appears Ohio could be without at least three starters from that group. The defensive line has been a complete mess all year. Neal Hunyh, Carl Jones, and Tremayne Scott are all listed as questionable for this one. Those guys are the heart and soul of the defense, so the Bobcats really could use their production in this one.
--Louisiana-Monroe plays an interesting 3-3-5 defense. The Warhawks have been terrific against the run all year, but they have been torched by good passing attacks. Opponents average 271.5 yards per game through the air against Louisiana-Monroe. Tyler Tettleton and the passing game better come ready to play, because there should be plenty of opportunities through the air.
Betting Trends
--Ohio is 1-7 ATS in their last eight games overall.
--Louisiana-Monroe is 9-4 ATS in their last 13 games overall.
--The "over" is 6-0 in Louisiana-Monroe's last six nonconference games.
Independence Bowl: Louisiana-Monroe vs. Ohio College Football Odds
At 5Dimes, the Warhawks opened as six-point favorites in this one. The line has steadily moved further toward Louisiana-Monroe. 5Dimes currently lists the Warhawks as a 7.5-point favorite. Some books have the line at a flat seven points. According to BetOnline, the posted total opened at 59 points. It has slowly risen to a current level of 60 points.
Independence Bowl: Louisiana-Monroe vs. Ohio College Football Picks
I've followed the Bobcats very closely all year, but it's extremely hard to get a good read on this game because of the questionable status for this game of many key players. Ohio is still a very good team when they are healthy, but it is clear this team isn't very healthy right now. If some of the linemen on each side of the ball are able to play, then the Bobcats have a shot at winning this game. On the other hand, if most of these guys who are listed as questionable end up sitting this one out, it won't surprise me to see this game over by halftime.
With so many unknowns, I am going to pass on recommending a play in this game. As a bettor, you have to know when to simply pass on a game where there appears to be no value at all. This will be the final installment of this year's mid-major betting report.
Final Season Results: 6 Wins 5 Losses= +1.3 Units ($130 Profit)
You can never complain about a profit, but we did not have the success we had last season. But we will be back next year and we are planning on tracking a team that should be very good against the number.