2013 Breeders' Cup Distaff Predictions and Betting Odds
by Trevor Whenham - 10/29/2013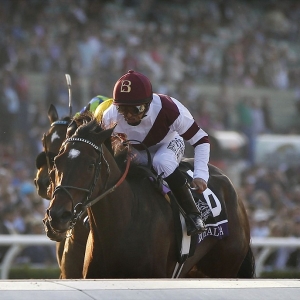 The best thing about the Breeders' Cup Distaff this year is that it is no longer called the Ladies' Classic — the train wreck of a name it went by from 2007 until last year. It's still stuck on Friday where it gets far less attention than it deserves, but at least some of the dignity is restored. The older female division of racing is often the deepest and most impressively talented. This year we see a small field, but it would be hard to make it any better. The reason only six horses are challenging this race is because no other horses thought they had a chance — and they were probably right. This should be, well, a classic. The field and some 2013 Breeders' Cup Distaff predictions with betting odds:
Royal Delta (Post Position 4, 8/5): You can't talk about the Distaff without looking at the two-time defending champion. She won it for trainer Bill Mott in 2011 at Churchill Downs, and then did it again last year here at Santa Anita. The one thing we can be sure of is that Mott knows how to get a horse ready for this race — he has won four in a row and five of the races in total. This mare has won two Grade 1 races this year, so she is still formidable. It has been a tougher year to decode than the last two, though. For the second year in a row she took a shot against the boys in the richest race in the world — the $10 million Dubai World Cup — and for the second year in a row it went really poorly. She was a soundly-beaten 10th. She came back and was beaten by five lengths in the Fleur de Lis — a race she won by eight lengths last year. Then she rebounded and won two races and looked like her old self. In her last prep, though, she took the lead on schedule heading into the stretch, but she couldn't hold off three-year old sensation Princess of Sylmar and wound up second by two lengths. You could argue that that was a scary sign. But then she bounced back with two bullet works. She is a touch below her best, but this is the race she is born to run in. I'm sure I'll go back and forth on this horse right up to post time.
Princess of Sylmar (PP 6, 9/5): Her owner was insistent all year that she wouldn't be in this race, yet here she is — and since she wasn't nominated when she was born, they had to pay an extra $100,000 to supplement her. You don't do that if you aren't confident. Princess of Sylmar was the shocking 39/1 winner of the Kentucky Oaks this spring. Since then, though, she has proven that she was no fluke. She won two big three year old races at Saratoga, and then she made all but certain that she'll be three year old champion by beating older horses — including Royal Delta — in her first try in the Beldame. She's training well, and she's ready. You aren't going to get 39/1 on her here.
Beholder (PP 5, 5/2): The second of the star three year olds. She was a strong second in the Kentucky Oaks this year. She has been lightly-raced since — an ungraded stake at the beginning of September at Del Mar and a nice win in the Zenyatta against a weaker field — albeit a field of older horses. She's not as seasoned or as proven as some others in this one. Her biggest advantage, though, is that she is the lone speed in this field, so she should be able to set the pace she wants — though she will be challenged more than she might like early on. She also loves this track — four of her five wins in races of a mile or longer have come here. She'll be the third choice in this race in all likelihood. It's not often that the third choice is a horse this good.
Authenticity (PP 2, 8/1): This six year old mare is trained by Todd Pletcher this year after previously being trained by Ian Wilkes, and after being out of action for a year and a half. It has been a solid year. In her last two, though, she has finished second to both Royal Delta and Beholder, so she may not be at the same level as the elites here. Pletcher also trains Princess of Sylmar, so there is a good chance that Authenticity will be used at least in part to keep the pace honest for the late-closing filly.
Close Hatches (PP 3, 6/1): This is the second of the two Bill Mott-trained entrants. She was a non-factor in the Kentucky Oaks this year, but she found her form and won two Grade 1 races this summer. She doesn't have nearly as much seasoning as some, and she hasn't faced older horses yet. She is wildly-talented, though, and Mott is a big asset in her corner. Mott is very patient, and it is more likely that he is taking a long-term view here with an eye towards next year and beyond since this is likely the end of the line for Royal Delta regardless of how things turn out here. She might not be good enough to win, but she has to be a major player in exotics.
Street Girl (PP 1, 30/1): This three year old is good, but it is hard to believe that she is good enough. She hasn't faced older horses. She hasn't won since a low-level stakes outing in April. She's only the second-best closer in this field. Her speed figures are on a level far below what is needed here. She probably isn't good enough unless she has been hiding her best up until now. I just hope she doesn't get in the way of what could be a great race — or mess up my exotic tickets.
Doc's Sports has a great offer for new clients. You can get $60 worth of picks from any Advisory Board handicapper for any sport he handicaps. All with no obligation and no credit card needed. Claim your free picks today.
Read more articles by Trevor Whenham