2013 Breeders' Cup Predictions
by Trevor Whenham - 10/29/2013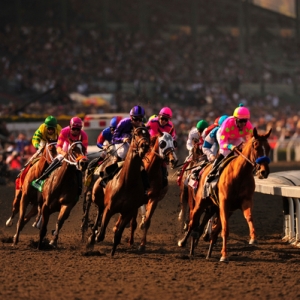 The Breeders' Cup, the best two-day festival of sports excess there is, is now just days away. The cards are set, most the horses are at the track, and all we can do is wait and try to figure out what is going to happen. The last of my handicapping won't be finished until post time, but at this point I am happy to make these five 2013 Breeders' Cup predictions:
The old men will show the youngsters how it is done
Jockey Mike Smith is 48. Gary Stevens is 50. Those two should be heading off to semi-retirement and irrelevance at that age, but instead they are riding as well as ever. Between them they have 21 mounts over the two days of the Breeders' Cup — 12 for Smith and nine for Stevens. The close friends are heading for a couple of huge showdowns, with Beholder and Royal Delta two of the best in the Distaff, and Game On Dude and Mucho Macho Man the class of the Classic. Smith has won a record 17 Breeders' Cup races. Stevens, who came back this January from a seven-year retirement forced by knee problems, has eight. Between them they will add three titles to that impressive tally.
Baffert will break his slump
Last year Bob Baffert looked like he was going to own the Breeders' Cup at his home track. He had nine entrants, and several of them looked all but unbeatable. In the end all he had to show for it was one second and a whole lot of heartache. It was an incomprehensibly bad day. This year his stable isn't quite as deep, but he has eight entrants and plenty of chances for a win. Heavy Classic favorite Game On Dude is the star, but stablemate Paynter could be a factor in that race as well. Secret Circle is the second choice in the Sprint, Fed Biz is third choice in the Dirt Mile, Book Review is third choice in the Filly and Mare Sprint, New Year's Day and Tap It Rich are both big contenders in the Juvenile, and Secret Compass is legitimate in a very wide-open Juvenile Fillies. Every horse is a potential winner, and by the time the dust settles Baffert will have the win that eluded him last year. The horse that most people would point to, though — Game On Dude in the Classic — isn't the most likely winner in my eyes.
The Distaff will meet expectations
There is a whole lot of hype surrounding this edition of the Distaff. Royal Delta has won the race two years in a row, and now she is challenged by two incredible three year olds — Beholder and Princess of Sylmar. On paper, the showdown is about as good as the sport can get. We won't be disappointed. These three horses are outstanding and are ready for a showdown. Close Hatches and Authenticity are forgotten in the six-horse field, but they are more than respectable as well. This could be the race of the weekend.
We aren't going to see a lot of repeat winners
Almost impossibly, we have eight winners from last year back for more this year. One — Beholder — isn't contesting the same race she won last year because she is the reigning Juvenile Champion and has moved on to the Distaff. The rest are back for more glory in the same race, though. Wise Dan in the Mile and Royal Delta in the Distaff remain the horses to beat in their races, and Mizdirection in the Turf Sprint has the best chance in a tough and wide-open race. Fort Larned in the Classic, Trinniberg in the Sprint, and Little Mike in the Turf don't inspire nearly as much confidence, though. They all had their races fall into place perfectly for them last year, and they are not likely to have the combination of form and luck again this year that they will require to win. The final defender, Groupie Doll, is again favored in the Filly and Mare Sprint. She's not the horse she was last year, though, and I would happily take the field over her. At most we will see three defending champions, but two seems more likely.
There won't be a major head scratcher
There are a lot of wide-open races this year and few in which the choice is obvious. Despite that, there is enough reasonable quality that I think there is a good chance that we won't see a winner pay 20/1 or more. There are several horses with double-digit odds that I like, but no true bomb longshots to get behind. I could be wrong on this front, but I am certain that if there is a major longshot — at least according to the morning line odds — I won't be backing him.
Doc's Sports has had a winning tradition for more than four decades? Don't believe us? Try us out for free, and we are convinced you will be a believer. Get $60 worth of free sports picks – members' picks just like our paying clients get – here.
Read more articles by Trevor Whenham