Golf Odds and Predictions: 2014 Major Championship Winners
by Alan Matthews - 12/24/2013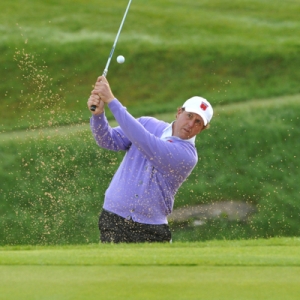 The 2013-14 PGA Tour season is already underway with the new wraparound schedule, but for all intents and purposes it really doesn't kick off until the Hyundai Tournament of Champions next week in Hawaii, and of course I'll be previewing that and all tournaments as usual. Some casual golf fans would argue a typical season really doesn't begin until the Masters in April at Augusta. It's usually northerners who think that way because they are stuck up in the cold and snow and unable to get back on the links until around the Masters.
With that said, Bovada lists a few futures props on major winners in the 2014 season. Of course, the Masters (April 10-13) is always at Augusta. The United States Open (June 12-15) visits Pinehurst No. 2 in North Carolina this year. Phil Mickelson already has said he's gearing his entire schedule to finally breaking through at the U.S. Open to complete the rare career grand slam. It's why you won't see him in action as much. The guy will probably play Pinehurst a few times a month just to be as ready as possible. The British Open (July 17-20) shifts to Royal Liverpool at Hoylake in England this year, and the PGA Championship (Aug. 7-10) is at Valhalla in Louisville.
Tiger Woods continues to look for his first major title since the 2008 U.S. Open at Torrey Pines. Woods is 3/2 to win any major this year. On the exact total prop, "none" is -200, "one" +175, "two" +800, "three" +4000 and the unlikely calendar year grand slam is +10000. If Tiger doesn't win a major this year, I'm really questioning whether he ever will again. Obviously, he has won at Augusta four times, although not since they Tiger-proofed that course. Can you believe his last green jacket was in 2005? Tiger has finished second and third in the two U.S. Opens he has played at Pinehurst. In 1999 he finished +1, two shots behind winner Payne Stewart. In 2005, Michael Campbell was the unlikely U.S. Open winner at Pinehurst with Woods finishing at 2 over and two shots back as the runner-up. In 2006 at Hoylake, Tiger finished at 18-under 270 to win by two shots, his second straight and last Open Championship. Woods won the 2000 PGA at Valhalla with an 18-under 270 score as well. So as you can see, the schedule sets up about as well as it could for Woods. I'd take the 3/2 and one major.
Adam Scott, Mickelson and Rory McIlroy are all 7/2 to win any major. Scott, the defending Masters winner, is -600 to win none, +400 to win one and +1200 to win two. I think he is destined to win the British Open at some point, finishing T3 in 2013 and runner-up in 2014. In 2006, Scott finished a solid T8 at Royal Liverpool. He might contend at Augusta again too as Scott hasn't finished outside the Top 10 since 2010. I would take Scott to win one major. In 2005 at Pinehurst, Scott was T28. I don't think the U.S. Open set up suits him. He didn't play at Valhalla in 2000.
I'm not a fan of McIlroy winning a major this year as I still don't think he's right mentally. He's the youngest of these guys so won't have much history at the courses outside of Augusta (McIlroy wasn't on the 2008 Ryder Cup team when it was held at Valhalla). Take Rory for none at -600.

Mickelson obviously loves Augusta and will always be a threat there. I think his British Open was somewhat fluky, although he certainly deserved it with his closing charge Sunday. In the 2005 U.S. Open at Pinehurst, Lefty was T33. At Royal Liverpool the next year he was T22. Mickelson was T9 in the 2000 PGA Championship. Lefty did play the 2008 Ryder Cup at Valhalla and finished with two points in his five matches. The main question is whether Mickelson will put too much pressure on himself at the U.S. Open because he so badly wants it after an unthinkable six runner-up finishes. I don't think Lefty wins this year, so take none at -700 (one is +450).
The only other player with individual exact major wins options is Lee Westwood. The Englishman is 10/1 to win any major, -2500 to win none and +650 to win one. Westwood, on any short list of greatest players to never win a major, usually contends at Augusta, but I've always felt the British Open is where it will happen. In 2006 at Royal Liverpool he was T31. Westwood has three Top-3 finishes in his past five Open Championships and was in control last year before fading on the back nine Sunday. I'd probably roll the dice on one major for Westwood.
So that means one for Tiger, one for Scott and one for Westwood. The other one? Probably a first-timer as that has largely been the trend in recent years. How about Dustin Johnson at 10/1? He appears over his back troubles as Johnson won the prestigious WGC-HSBC Champions in early November. Johnson has come close to a major a few times but should break through in 2014.
Read more articles by Alan Matthews