2015 Masters Odds with Expert Predictions and Analysis
by George Monroy - 4/6/2015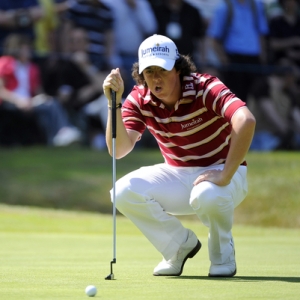 Two names are dominating the 2015 Masters headlines: Rory McIlroy for his shot at making history, and Tiger Woods for announcing that he will in fact play the event. One name is dominating headlines because of what his future might hold, while the other is dominating headlines because of his past. McIlroy has a chance at becoming only the third person in PGA Tour history to win three straight majors while also completing a career grand slam all before his 26 th birthday.
Woods is receiving a lion's share of The Masters talk because many fans and experts do not want to let go of what was once the most spectacular golfing career in the history of the game. The truth, however, is that Woods may never regain his dominant form and at the moment isn't even receiving Top 10 odds for The Masters according to Sportsbook.ag. The once-great Woods has fallen that far. Let's take a closer look at the 2015 Masters odds with predictions and analysis.
The Favorite
Rory McIlroy: +800: McIlroy is receiving +800 odds, which makes him the no-brainer bet for gamblers to wager on. A bettor can get a fantastic price while rooting for history at the same time. Usually when a dominant player or team is chasing an all-time accomplishment the odds are never that enticing. Right before the NCAA tournament began, the Kentucky Wildcats were receiving even-money odds to run the table and end the year undefeated-a horrible price for a difficult accomplishment. McIlroy's +800 feels like a stellar number, and at this point there really is no reason not to throw a bet on the Irish-born golfer.
The Second Tier
Jordan Spieth: +1000
Bubba Watson: +1200
Dustin Johnson: +1200
Jason Day: +1200
Spieth, Johnson and Day are all a part of next core group of players that most golf experts expect to carry the sport over the next decade. Each has already become a regular on the tour with multiple close finishes in majors over the last few years, and at this point it may only be a matter of time before one of these guys breaks through for a career-defining win. Not every player can be a superstar player like McIlroy or Woods, but Spieth, Johnson and Day are expected to a part of that second-tier group of golfers that helps embody the strength of the PGA Tour.
Bubba Watson, on the other hand, is a part of golf's "now," having won The Masters in two of the last three seasons. The two-time major winner already has four Top-10 finishes in 2015 and is currently second place on the PGA Tour's yearly money list. Back-to-back Masters wins would be a huge feat, and if anyone can pull it off it's Watson.
The Value Bets
Adam Scott: +2000
Phil Mickelson: +2000
Tiger Woods: +2000
Phil Mickelson and Woods seem to be on the tail end of their careers, and the unfortunate truth is that neither may ever win another major, yet each player's Masters odds still hold some value at +2000. The truly great players always have one more all-time performance let in the tank, and either could dust it off at Augusta National. Adam Scott, on the other hand, is only two years removed from his 2013 Masters win and only six months removed from his May to August 2014 run as the world No. 1 golfer. Scott has 11 PGA Tour victories and he has one Top-10 finish in four tournaments in 2015.
Conclusion : there is no right answer when it comes to picking a Masters winner. Golf tournaments can be a crapshoot at times, and so many aspects of the game can come down to small variables. The top candidates are receiving up to +2000 odds, while lesser-known, middle-of-the-road players are getting anywhere from +2000 to +10000. Any choice you make will have value, but the easiest analysis is to put down a small wager on McIlroy and root for golf history.
Read more articles by George Monroy