PGA Golf Handicapping: Tiger Woods Returns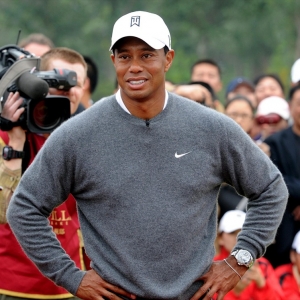 After an absence so long that many people started to think he would never come back, Tiger Woods returned to action last weekend in the Hero World Challenge. Now, it wasn't exactly a return out of a Disney movie - he finished 15th in the 17-player field and had a pretty lousy final round. He survived all four rounds, though, and despite looking like walking a whole round was too much for him - which it probably is because he'd practice with a cart and can't be working out like he used to - he looked mostly fine. For the first time in almost three years it actually felt possible that Tiger could return to action and be competitive again and possibly win his first tournament since 2013 at some point in 2017.
It still doesn't feel like Tiger will ever be Tiger again, or that he will win one more major, never mind enough to set the record. This is progress, though, and that's something. So, what now? As bettors what can we take from this largely meaningless tournament? What does the future hold? Here are six things to consider - some more positive than others - as you look at those questions:
He had the most birdies in the tournament: Woods birdied 24 of the 72 holes he played. None of the other players in the field could match that. Ultimately, birdies are what golf is all about - make a lot of them and limit other mistakes and you are going to win a whole lot of tournaments. It's something very positive to build on. Now, the fact that he had more birdies than anyone else and still finished 14 strokes off the pace obviously said that he had a lot of bad holes, too - he had double bogeys in bulk, for example - and that can't last if he wants to be competitive again. I'd suggest, though, that for a high-level golfer it's easier to eliminate mistakes than it is to go low, so the fact that he is able to get lots of birdies is a reason for optimism.
He was underwhelming on par 5s: When he was at his best Tiger Woods dominated par 5s. He made them look and play like par 3s. The course this weekend was not exactly set up to be challenging, yet that dominance was not like it was on the long holes. He should have owned them, but he didn't. Sure, he had 11 birdies on the 20 par 5s he faced on the weekend - a better rate of success than he had on the other holes. He didn't have a single eagle, though, and he had four bogeys and, most alarmingly, two double bogeys. In all he went just three-under on the 20 long holes. Back in his prime he would have been expected to go more like 20-under - and that's why he won basically everything he played. If he doesn't get sharper on these holes - or at least more consistent - then he will never return to form.
What's next?: As a return to action it was a bit of a tease, because it will be a long time until we see him again. He isn't talking specifics, but his most likely next spot is not until late January or early February. He's talked about wanting to play a full PGA schedule - likely about 20 weeks for him, but his agent has also hinted at playing more in Europe. We don't know where he is really at until we get a sense of what he feels he is ready to play. We also won't really know if we can take him seriously until we see him play back-to-back weeks - something top pros do often and without thinking about it.
He can climb in the standings quickly: Woods entered this event ranked 898th in the world rankings. He is now 650th. If a second-to-last-place finish in a fake event can jump him up that high then obviously he will climb back into a more respectable realm quickly if he is healthy and able to be somewhat competitive. If he were to get a win he'd really take a leap forward. I don't see him getting back to No. 1, but the storylines about his really low rankings - and the ridiculous assumptions and statements that people make because of it - aren't likely to last long.
It's his back: We can't forget that the guy has now had back surgery twice. He's also, and I hate to admit this because I am older than he is, getting old - he'll turn 41 before we see him again. Just ask Larry Bird about how quickly a career can end when the back starts to go. I would be more optimistic about the long-term future for Tiger if it was literally almost any other injury than this one. Or if he was younger and more resilient. Or if he hadn't beat himself up so badly through his career because of his style of play and approach to physical development. Or if his game wasn't so reliant on incredible torque - of a type that hurts my back just watching him.
Will people really care?: The return to action made some waves in the media, but nothing like it was in his prime. If he comes back, makes some cuts, contends on some Sundays, and is a mid-to-high-level golfer, how long will it be until people just don't really care anymore. Bettors used to fawn over Vijay SIngh or Ernie Els when they were at their peak. Now both guys are still playing and no one notices. Will Woods go that way, too, or will the fascination continue even if he's just another guy out there who doesn't scare anyone anymore? Until the fascination dims he will almost certainly be completely unbettable because the value will be bet out of him by bettors who are certain that this is the time that he gets it done. I mean, BetOnline already has him as the eighth choice to win the Masters at +2000. That's absolutely moronic and totally insane, but the public gets the odds they want, and that's what they want.
Read more articles by Trevor Whenham