2017 New York Yankees Predictions and Odds to Win the World Series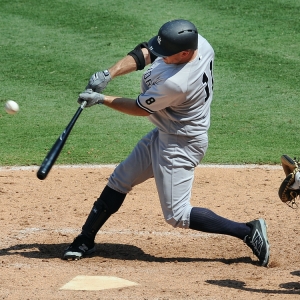 Has there ever been a team with less self awareness, or less of an excuse for ineptness, than the Yankees? They have every advantage - more money than 10 teams could spend, a legacy that everyone wants to be a part of - and yet when was the last time they felt dangerous on the field? When was the last time they had a pitching staff that was even good? I'm not talking about profound, but just quite good.
It's like they are mourning that Derek Jeter got old and they refuse to accept it and move on - even though Jeter seems to be doing just fine in his retirement. For so long this team was the top of the pile. Now I'm not even sure that they know what the pile looks like or where it is. They can't decide what they are. They aren't building a roster to compete right now, but they aren't embracing a rebuild aggressively enough, either. It's sad - like that old guy you have to respect because you've heard how great he used to be but you sure haven't seen it for yourself. It's just plain mediocrity.
Free $60 in Member MLB Picks No Obligation Click Here
If everything goes absolutely perfectly for this team then they might win 83 or 84 games. If everything goes poorly they'll win only 75 or 76. They are nothing. Irrelevant. The last thing you want your hated enemies to be is pathetic. They owe is more than that.
Yankees 2017 Projected Lineup
Let's start with the positives. The team called Gary Sanchez up last year after he had been toiling in the minors for a long time waiting his shot, and he was really good - second in Rookie of the Year voting despite only playing half a year. He probably can't produce offensively at the same level he did last year, but he has a bright future. And Aaron Judge was also a summer call up last year who showed a lot and will be playing in the outfield. The Yankees have a surprisingly strong farm system given how they disregarded prospects when they were rolling, so I only wish they would commit to getting more of the next generation ready. Taking a hit in the short term to be ready in a year or three would be so much better than being totally ordinary now. For example, they got Clint Frazier from the Indians for Andrew Miller, and he could be the center fielder of the future, but he is in the minors so that Brett Gardner and Jacoby Ellsbury can waste everyone's time instead. It's just silly. At least they are giving Greg Bird, a youngster who would have played a lot last year if he weren't injured, the starting role at first.
Didi Gregorius hurt his shoulder in the WBC and will miss at least a couple of weeks. Gregorius is fine, but he's nothing more than that in my eyes. Again, they have a youngster in Gleyber Torres who has massive upside. They would be much better served letting Torres grow into the role instead of playing Gregorius and leaving Torres in the minors. The Yankees are trying to compete and rebuild simultaneously. As the saying goes, when you try to have everything you end up with nothing.
And then there is Matt Holliday. Don't get me wrong, I love Holliday. I just don't know what overpaying a 37-year-old DH who has averaged 91 games a year over the last two seasons is going to accomplish for a team at this stage. He won't hurt them, but he certainly doesn't give them any long-term impact, either. I could look on the bright side and say that maybe he'll teach these youngsters to win, but I'm still not crazy about it.
Yankees 2017 Projected Rotation and Closer
What a mess. Masahiro Tanaka has an elbow that could blow up at any time. He has been very good the last couple of years and should be motivated because he can opt out of his contract after this year, but he's a concern. CC Sabathia is ancient and doesn't exactly take care of himself. He was fine last year, but it's hard both to trust him and to get excited about him. And Michael Pineda is as inconsistent as any talented pitcher in the league. And beyond that there are just questions. They came into camp with no real plan, and they come out of it hoping that guys step up. They have lots of options, but none of them are thrilling or guaranteed. For too long now I have wondered why a team with so much money refuses to buy better pitching. I am asking the same question. If they truly want to compete while they move to the next phase as a team then they need to do better than this.
At least the bullpen is good. With Dellin Betances setting up for Aroldis Chapman, who they brought back in free agency over the winter, they will be just fine if the staff can get them out of the seventh inning. The rest of the bullpen is fairly decent, too. This is far from their biggest concern.
Yankees Futures Odds
Oddsmakers have the Yankees right in the middle of the divisional pack - at +650 to win the AL East at BetOnline they are the third choice among the five teams, though far behind Toronto (+350) and especially Boston (-145). They are the seventh choice to win the American League pennant. That seems somewhat reasonable, but the +1200 price is ridiculous. They are +2500 to win the World Series , which has them well behind the favorites and somewhere in the middle of the pack.
Gary Sanchez (+3300) and Aaron Judge (+8000) are both listed as contenders for the home run crown, but neither are anywhere close to the top challengers. Sanchez, at +2500, is tied as the eighth choice to win the MVP. Masahiro Tanaka (+1600) is deemed as much more likely to win the Cy Young than Michael Pineda (+5000), but Tanaka is still far from a favorite (Chris Sale, for example, is at +200).
Yankees 2017 Predictions
The season win total is set at 82.5. I will happily take the "under". There are things I like about this team, and I am actually quite optimistic about them in three years or so. I just wish they weren't taking the approach that they are. It's a waste of time. And the league is better when the Yankees are a worthy enemy. The pitching is going to be a problem, there are too many dead spots in the lineup, and the top of the division is too strong for them. Not this year, New York.
Check this out! $60 worth of member's baseball picks absolutely free - no obligation, no sales people - you don't even have to enter credit card information. 2 minute sign up for free baseball picks here. Get free baseball picks today at Doc's Sports baseball predictions page .
Read more articles by Trevor Whenham