Golf Picks: 5 PGA Golfers Who Could Win Their First Major in 2020
by Doc's Sports - 1/22/2020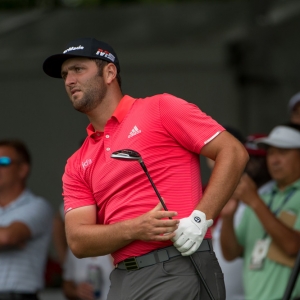 As I write this, the PGA Tour is already two tournaments into its 2020 season with Justin Thomas winning the Sentry Tournament of Champions and Cameron Smith winning the Sony Open , both in Hawaii. I for one am excited about what lies ahead for us golf nuts as we progress through the winter months and arrive at Augusta National in April for what is sure to be another memorable Masters tournament.
Get free golf picks for every event on Doc's Sports free PGA golf picks page.
For those of you who don't remember or who live under a rock, Tiger Woods marked an incredible comeback by winning his fifth Green Jacket and 15 th Major Championship, which puts him just three Majors back of Jack Nicklaus for the most Major tournaments won by a professional golfer. It was a scene I'll never forget, watching Woods raise both hands to the air and let out a monumental yell. Will he be able to defend his title? Only time will tell, but whether or not you're a golf head or just a casual fan, the anticipation will steadily increase with every passing week in the build-up to the tournament.
As for the other three majors, Brooks Koepka collected his fourth Major Trophy as he secured the PGA Championship in May with a two-stroke victory over fellow American Dustin Johnson. With that win, Brooks became the first player to hold the last two titles of two different Majors simultaneously in PGA history (2017 and 2018 US Open Winner). Another American, Gary Woodland, triumphed in the U.S. Open to capture his first Major Title. While across the pond, hometown boy Shane Lowry emerged victorious on home soil by capturing The Open Championship by a full six-strokes over fellow Brit Tommy Fleetwood.
For those of you who are new to the golf betting world or Doc's in general, we offer up a great selection of PGA handicappers that make it their mission to show you a positive ROI throughout the entire golf season. We offer you Outright Tournament winners, Top-5, T-10 or T-20 bets, and H2H matchups across every golf tournament. You can join in on the winning by signing up now.
The purpose of this article is to help you understand which PGA Star is on the verge of breaking out in a big way. The five guys below have in fact won golf tournaments, but never a Major. Based on how the 2019 season went and the form they come into the 2020 season with, we feel as if these players have the best shot at getting that elusive win.
The Venues:
The Masters : August National Golf Club - Augusta, Georgia
PGA Championship : TPC Harding Park - San Francisco, California
U.S. Open : Winged Foot Golf Club - Mamaroneck, New York
Open Championship - Royal St. George's Golf Club - Kent, England
Jon Rahm
Masters: +1200, PGA +1800, The Open +1600, U.S. Open +2000
The fiery Spaniard had himself a 2019 to remember last year despite not winning a Major. Rahm improved on his world ranking, climbing to No. 3 in the world, and he made tremendous strides in both his mental and physical game. Over the last three years, Rahm has won nine times worldwide, including the Zurich Classic, the Spanish Open and the Race to Dubai. He has yet to win a Major but has been knocking at the door for the last two seasons, posting fourth-place finishes at the Master and the PGA Championship in 2018 and a ninth and T3 finish at the Master and U.S Open in 2019, respectively.
Where he stands now in terms of odds, we feel as if the number is still a little on the high side for the Masters and U.S Open tournament as Rahm could potentially make a case for being one of the best players in the world when he's on his game. If we had to lay down a single futures bet, we'd grab the 20/1 at the U.S. Open since the Spaniard can drive the ball with the best of them and just has to refrain from coming unhinged if things aren't going his way early on.
Rickie Fowler:
Masters: +2000, PGA +2200, The Open +2500, U.S. Open +2500

Rickie Fowler is the guy everyone cheers for because he genuinely seems like a nice dude. His peers respect him, and the fans adore him - except for those who bet money on him to win a Major. Fowler is now 31, and the clock is running out for the American to get his hands on one of the elusive Major trophies. Fowler owns nine professional wins, with just five of them coming on the PGA Tour. Across 40 Major appearances, Fowler has accumulated 11 top-10 finishes, eight top-5 placings, and three runner-up medals. He gives himself a shot at every Major because his game is so well rounded that he can adapt to what the conditions demand. The problem is he can't close out tournaments. However, with the PGA Championship in his home state of California, this could be a great way to shake off the burden of being golf's best golfer never to win a Major.

Xander Schauffele:
Masters: +2000, PGA +2500, The Open +2800, U.S. Open +2500
If I'm Schauffele, I'm loving the fact that nobody is talking about me as a potential Major winner because nobody really follows him closely enough to do so. A deep dive into the numbers show that Schauffele has actually contended well at Majors over the last two seasons, posting a T-6 at the U.S. Open and a T-2 at the Open Championship in 2018. He followed up those results with a T-2 at The Masters last year and a T-3 at the U.S. Open. Those are very promising results for a 26-year-old that's essentially flying under the radar. I highly suggest grabbing one of these futures numbers now because if Schauffele continues to play well - lost in a playoff at the SOC a few weeks ago - or wins a tournament between now and The Masters, these numbers will be long gone.
As a California native, I'd look to back X at the PGA Championship along with Rickie Fowler.
Tommy Fleetwood:
Masters: +2800, PGA +3300, The Open +2200, U.S. Open +3300
Tommy Fleetwood enters the 2020 PGA season as the No. 10-ranked golfer in the world despite the fact that he's never won on the PGA Tour. Sure, he has won four times on the European Tour since 2017, but he just can't find the winner's circle on American soil.
Maybe this is his year? Fleetwood has turned in some great performance at Majors over the last three years, posting a fourth and a second and the U.S. Open in 2017 and 2018, respectively. Last year, the Englishman came second to Shane Lowry at the Open Championship and figures to be in the mix once again this year as the Open Championship heads back to the mainland in England. If this is the year for Tommy, you would want to target Fleetwood in every Major but the Master's. The Masters requires putting that Fleetwood simply doesn't have, whereas the other three require far superiors ball-striking abilities.
Bryson DeChambeau:
Masters: +2800, PGA +3300, The Open +4000, U.S. Open +3300
It hasn't been a great stretch of form for the one they call the "Mad Scientist," but Bryson DeChambeau has shown us enough golf over the last few seasons to believe in his game when he's on, and there would be no better time than this season to break out at a Major and stick it to all the haters who deem him an arrogantly slow player on Tour. DeChambeau's track record at the Majors has been far from pristine, with just a T-29 at last year's Masters his best showing.
We like the way DeChambeau meticulously plods his way around a course and at a track like Augusta National; that is the kind of game plan you need to execute. Given that fact, we like his number of 28/1 as it both puts him in the upper tier (not quite the top tier) of the odds boards, which tells us Vegas respects him, but he's not too low whereas there would be no value when backing him considering he's yet to prove anything at a Major.
Get free PGA golf picks on every single event, or if you want our very best bet premium picks by the experts, sign up for your free $60 account with a guarantee.