Doc's Sports Welcomes Costa Rica International Sports (BetCRIS)
While the sports betting industry has always looked to Las Vegas for the opening line ever since the trade was legalized in Nevada in the 1950s, it is now a sportsbook located in Central America that is the worldwide leader in this department.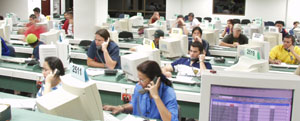 During the mid-1990s, Costa Rica International Sports (BetCRIS) took a risk. Executives from the company decided that putting out the first lines on sporting events could help increase its profile in the international sportsbook scene. The book had been around since the mid 1980s operating a call center out of the Dominican Republic and it had recently relocated to Costa Rica (becoming the first sports betting operation to do so). Releasing the first lines for sporting events would no doubt transform BetCRIS into a major power player in the industry. But the move did not come without danger. Read more about Costa Rica International Sports
Located In: Costa Rica
Started In: 1985
Minimum Deposit: $25
Methods of Deposit: Credit Card, Bank Wire, FirePay, MoneyBookers, Cashiers Check, Direct Bank Transfer, Western Union, NeTeller, Book-to-Book
Bonuses: BetCRIS offers a 10% free play with a 3 time roll over or a 20% free play with a 5 time roll over. This book also offers a Loyalty Program in which customers can earn free plays.
Why BetCRIS? In business since 1985, BetCRIS is one of the longest standing and highest volume sportsbooks in the entire world. This is the book that releases the first lines for games in all sports and the rest of the industry looks to BetCRIS because of its strong oddsmaking team. Bettors looking for value can always find unique lines at BetCRIS because this book has tons of line movement because of its bookmaking policies. The Loyalty Program is one of the best incentive programs in the industry. Customer service at BetCRIS is some of the best you will find anywhere in the industry. If you are a serious bettor and you want to take advantage of bettor-friendly lines, BetCRIS is a must.
---
Past CRIS Articles and Promotions