Belmont Stakes Betting Trends
by Trevor Whenham - 05/29/2009


Get our 2021 Kentucky Derby coverage including Picks and Odds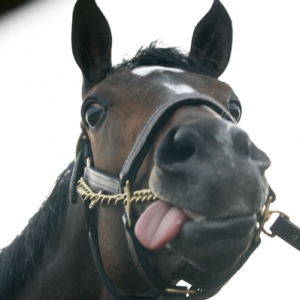 Picking a winner in the Belmont Stakes has become a difficult challenge in the last few years. Three of the last seven winners have gone off at odds of 36/1 or higher. Any time a horse wins at odds like that you either have to be really, really good or really, really lucky to hit a winner. I can't tell you if we are going to have another longshot winner, or who the winner is going to be, but we can look at Belmont Stakes betting trends that have popped up more often than not with Belmont winners. They may or may not be relevant, but at least they are fun to look at. Here are 10 Belmont betting trends to help guide you in your handicapping efforts:
Look for a bay horse - A bay horse is, in layman's terms, one that is brown. That's opposed to a chestnut which is a red horse, or a gray which is, well, gray. Six of the last seven winners have been bay. The only exception is the chestnut filly Rags To Riches. Unfortunately, this trend only isolates two runners - Dunkirk is a gray, and Summer Bird is chestnut.
Colts have a clear edge. Or not. - Rags To Riches, a filly, won the race in 2007. She was the first filly since Tanya in 1905 to win the race. It took 102 years for a filly to return to the winner's circle, so it would be quite the feat for it to happen again. A gelding is a horse that, well, will never be called dad (castrated horse). A gelding hasn't won the race since Creme Fraiche did it in 1985. Before that it was Prince Eugene in 1913. You could read from these trends that Rachel Alexandra and Mine That Bird don't have a big chance of winning. That's not really the case here, though - fillies are rarely subjected to the incredible challenge of this race, and a talented, valuable young colt will only be gelded in exceptional circumstances, so the sample size is small. You could arguably even flip this one around if you wanted - fillies and geldings have both won this race at a much higher rate than colts have.
Big name trainers have big names for a reason - Of the last nine Belmont winners, seven of them have been trained by top trainers - guys with big stables full of blue blood horses owned by blue blood trainers. The two that aren't in that category are still competent and expereinced - Tim Ritchey, who trained Afleet Alex, has been a dominant trainer in Delaware for years, and Ken McPeek, who shocked the world with 70/1 shot Sarava, had had several Triple Crown and Breeders' Cup contenders in the past. This generally has not been a race for upstarts. But then, neither has the Derby been, and this year's version was the first graded stakes race that Mine That Bird's Chip Woolley had ever entered, never mind won.
Look for very good breeding - Of the last 10 winners, nine of them had had either sires or damsires (the father of their mother) that have had one of three distinctions - they have won a Triple Crown race, they have been given an Eclipse Award, or they have won the Breeders' Cup Classic. Several of the winners come from horses who fit into more than one category. The only one of the last 10 who doesn't fit that category is Afleet Alex, and even he has some serious breeding - his damsire, Hawkster, set a world record on the turf at one and a half miles. When it comes to top races like this one, quality begets quantity. Three potential runners this year don't fit this criteria - Brave Victory, Luv Gov and, surprisingly, Rachel Alexandra.
The winner will be a three year old - That would be more helpful, of course, if the race weren't only open to three year olds.
Owning a winner isn't easy - In fact, it's very expensive. Most of the winners of this race are not only owned by very wealthy, recognizable people, but also by people who own many horses, have enjoyed great national and international success, and have tried for years to win one of these races. At least 14 of the last 16 winners would be among the very elite of thoroughbred owners. Horse racing at this level is a rich person's sport. The one notable exception to this trend this year are the owners of Mine That Bird, the cowboys that have rocked the horse racing world this spring. They have had more experience owing quarter horses than thoroughbreds and are very new to racing at this high level. In a short time, though, they've obviously shown that they belong.