2009 British Open Predictions
by Trevor Whenham - 07/15/2009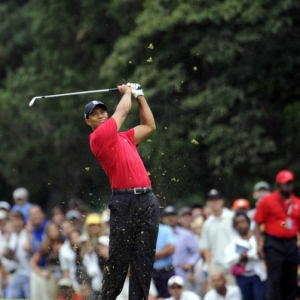 Let me be up front with one thing - I don't like the British Open. I hate watching guys hack it out of the ridiculously long grass on the ugly links-style courses. Watching them cope with the rain and ever-present wind bores me. The time difference puts it on at awkward times. I'm normally a fan of tradition in sports, but even the tradition of the Open is too much for me much of the time.
I know this is not a widely shared opinion, but the Open runs a distant fourth of the four majors to me. Still, it's a major, so that means the world's best are all in one place (with one obvious exception this time around, unfortunately). That makes it something worth betting on. I'll probably even watch it, too - I'll just complain about it to my wife as I do. And I will probably bet on it, as I offer up some British Open predictions to my readers.
Some of my general grumpiness from this tournament comes from the prospect of handicapping it. I'll admit that I am getting more than a little frustrated by the Tiger Woods storyline this year. This is the third time now that he has won his last tournament before a major this year. On the previous two occasions he has subsequently been disappointing (for him, anyway) in the major. Still, though, you can't rule him out this time because he obviously has the game to win at any time, but you can't really justify betting on him because the odds are so ridiculously low and totally robbed of value - he's at 2/1 to win while the next lowest odds are on Sergio Garcia at 20/1.
I don't even know where to begin dealing with that 2/1 price. This is a course he has never played before. He hasn't won the Open since 2006, and he didn't even play in it last year. Turnberry absolutely tortures players who don't hit the fairway, and Tiger isn't exactly the most accurate golfer out there. He also hasn't exactly been the model of consistency since his return. It would seem easy given all of that to count him out. There's just one problem - when I close my eyes and picture the Claret Jug on Sunday, Woods is holding it. I can't count him out, and there are reasons not to trust pretty much every other one of the likely contenders. I guess what I'm saying is that I have no idea how to deal with Tiger, so you can figure it out for yourself.
Sergio Garcia as the second choice? At 20/1? This must some kind of joke. If it is, then I don't get it. Garcia hasn't won all year, and he has lacked spark and focus over that time - reportedly because of a broken heart. He's not the golfer he has been in the past right now, and even if he was I'd be hard pressed to trust him in the face of the adversity he is sure to face here. I'll pass, thanks.
Padraig Harrington - now there is a tough problem for us. On one hand, you'd have to think that getting 22/1 on a guy who has won the last two versions of this tournament would be a historic steal. On the other hand, Harrington has been so bad this year that it's almost impossible to consider him at any price. He missed the cut in the U.S. Open, hasn't made the weekend in his last two European Tour events, and has generally looked like a shadow of himself. The lone bright spot recently was a win at the Irish PGA Championship last week. That's a meaningless tournament not sanctioned by any major tour, but he has now won it three years in a row, and it's on a lnks course, so there is at least a glimmer of hope. Still, I feel safe with ignoring him this time around. Of course, I think I said pretty much the same thing last year.
Since I have discounted two of the bigger European hopes I should be kind to the hosts and say nice things about someone. Rory McIlroy is a young golfer with a ton of hype. He's in good form, and more familiar than most people his age (20) with links golf. He got his first professional win this year, and was Top 10 at the U.S. Open. At 22/1 he's a much better value than Garcia or Harrington right now in my eyes. Martin Kaymer is another young guy that has to catch your eye. The 24 year old German is scorching hot, having won the last two events on the European PGA Tour. He has had limited major experience, and no real success, but no one comes to Turnberry in better form. 28/1 probably isn't quite as high as his price should be, but he'll be fun to cheer for. Lee Westwood and Ian Poulter both look pretty good at 28/1 as well.
There is some nice potential value in the midrange prices. I think Sean O'Hair is at a more than fair price at 50/1. He has won this year, he has never missed the cut at the Open. He's certainly good enough to win a major at some point. Steve Stricker has been Top 10 at the last two Opens and has two wins this year, so he looks solid at 33/1. Adam Scott is in a bit of a slump in relative terms, but he's still Adam Scott. That means that 40/1 is more than noteworthy. Zack Johnson has been terrible at majors this year, but he obviously knows how to win them, and he's otherwise had a very good year. He's sitting at 66/1. So is Vijay Singh, a guy who you can never totally count out.
How about a couple of big longshots to round things out with my British Open predictions? Colin Montgomerie is way, way past his prime, but he was supposed to win this tournament at some point, and if Greg Norman can make a charge last year then why can't he this year? He's at 175/1. It's been a long time since Darren Clarke has done anything of note at a major, but he won twice last year, and he's only 40, so there are surely worse bets than him at 150/1. And if you are being honest you can't say that at least a part of you wouldn't love to see John Daly capture lightning in a bottle again at 250/1.