2009 US Open Golf Odds and Predictions
by Trevor Whenham - 06/17/2009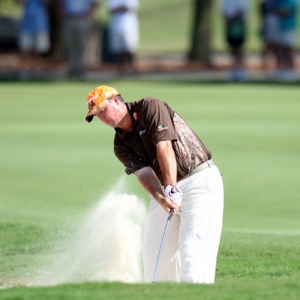 Scroll to the bottom of this page for a full listing of US Open golf odds.
The U.S. Open gets underway at Bethpage Black, the legendary public course on Long Island, tomorrow. Handicapping this tournament is essentially the same as most majors have been for the last five years or more - two guys against the world - but there are a few twists that make this one even more interesting to consider. Let's have a look at my U.S. Open golf predictions (all US Open golf odds are from Bodog):
Tiger Woods - He's the heavy favorite here - he's the only guy in the field under 12/1, and at 3/2 he is way, way under. That price is as ridiculous as every price on Tiger over the last decade has been, but there is no denying that he is a deserving favorite. He likes the course - he won the U.S. Open on it in 2002. He can perform under the pressure of the U.S. Open - he's won it three times, including last year, and has three more Top 3 finishes. He's in top form - he won the Memorial last time out with a ferocious charge on the final day that served notice that he is back once and for all. It's hard to say if any player justifies a price like this in a field this big packed with top golfers, but I'd be far more surprised if Tiger isn't in one of the final couple of pairings on Sunday than if he is. Deal with betting on him as you will, but totally ignore him at your own peril.
Phil Mickelson - He's the second choice at 12/1. He's also the biggest handicapping headache there is. He's wildly popular in the New York area, and he has performed very well for his adoring fans there over the years - he has been second at three U.S. Opens in the area, and won the 2005 PGA Championship in nearby New Jersey. When you add in the personal challenges he is facing with his wife Amy's breast cancer diagnosis you know that the public attention is going to be truly insane. That will help his game, but the Amy situation will have downsides as well. First, she won't be there, and it seems possible, and even likely, that he'll be more distracted than normal as a result. He also hasn't played nearly as much as he normally would leading up to the Open. He returned to action last week for the first time since the situation began, and he was underwhelming. Mickelson will be the story of the week, and anything could happen in a situation like this, but my personal hunch is this price has been driven way lower by the public adulation than value would suggest it should be. I'll be looking elsewhere.
Geoff Ogilvy - He's the third choice at 16/1. I'm not buying it. He has won a U.S. Open before - in 2006 - and he has a high-profile win this year in the Match Play. He hasn't played particularly well since then, though, and he doesn't come in in the kind of strong form that would justify a price like this. There always seems to be a guy or two who comes from nowhere to contend in each major, and it could certainly be Ogilvy, but the chances of that are far less than the price suggests.
Sergio Garcia - Sooner or later Sergio is going to win a major. It's just not going to be here. He's tempting at 40/1, but he doesn't have a Top 10 in the U.S. this year, and he missed the cut last weekend. I'm staying a long way away from him.
Brian Gay - At 50/1, Gay is worth a look. He won last weekend in the St. Jude, and that was his second win in five weeks. It was a dominating win, too - he led from start to finish. He's playing very well, and his confidence can't be higher. As longshots go, things could definitely be worse.
Padraig Harrington - Harrington is playing terrible golf, having missed the cut in each of the last two weeks. At 33/1, though, he's definitely worth a look. He made the majors his personal playground last year, and though he looks like a different golfer it might not take him much to find his form again when the pressure is cranked up.
Camilo Villegas - Villegas has been decent this year, but not nearly as good as he was last year when he won two weeks in a row in September. He's a huge talent, and he has the game to win multiple majors in his career. At 40/1 he offers the best value of any of the young gunners in the field. Anthony Kim at 50/1 should present even more value, but he's just not playing nearly well enough to justify a risk this year.
The ultra-longshot - Every so often a guy comes from out of the blue to win a major - Todd Hamilton, Michael Campbell, Rich Beem and so on. If I had to predict one this year it would be Boo Weekley. He's back in action after an injury caused him to miss a month, he was playing well before he was hurt, and he has already shown that he can win. He's got a huge personality, and the fans will support him like crazy if he gets off to a good start. At 125/1 he's a nice value.