How Live Sports Betting Works: In-Game Wagering Expert Advice and Tips
by Chris Vasile - 5/16/2018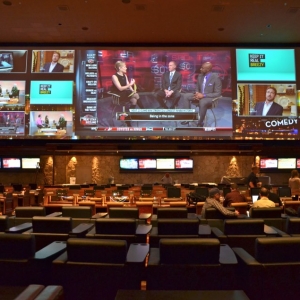 Back in the old days, when bookies were taking bets via phone calls and updating their odds on chalk boards, the only way to get some good information was by reading the local newspaper, and mostly sports betting was comprised of the "pre-game" bet on the outright winner, the point spread or the total. There was no such thing as "in-game" betting because people didn't have the capacity to set lines in real time and avoid losing a fortune.
Thanks to advanced technology today, sportsbooks rely on super computers to figure out the probability of everything that could occur at any given moment in any given game and then spit out a betting line for bettors to wager upon.
When it comes to pre-game wagers, there is only so much studying, trends and factors that a bettor can entertain before placing his or her bet. Once the game starts, the factors change and so could any edge you thought you found. I've been doing this long enough to declare a bet a losing play minutes into a game for a number of different reasons. I wasn't always right, but on several occasions the ability to place a live in-game wager helped limit the damage to the bankroll.
Since you can bet on almost any sport imaginable, there are countless opportunities to wager live. You can wager on the in-game money line, point spread, total, next team to score, next play, quarter totals, quarter lines, team totals, exact goals, odd or even total, next set, total games, and everything in between. You can even live-bet a golf tournament before the final round gets underway on Sunday. Yet, even after listing all those in-play options, I've barely scratched the surface.
But now that you have more of an understanding of the kinds of lines that are offered once the game gets underway, let me explain how a few of them work.
How Live Betting Works
If you are looking at an NFL game between the Denver Broncos and Dallas Cowboys, and the Cowboys are listed as 10-point favorites with the total set at 48, your traditional pre-game options would be Denver +10, Dallas -10, "Over" 48 or "Under" 48. If you were to wait until the game started to get your wagers in, you would be looking at a slew of different options based on how the game is playing out.
Let's say the Cowboys got into an early 10-0 hole in the first quarter. The sportsbook's in-play team might spit out a line that either shrinks the Cowboys to much smaller favorites -perhaps -2.5 - or they could even turn them into an outright underdog if they have the right data to back it up.
Alternatively, if the score after the first quarter was 0-0, the pre-game total of 48 would be long gone. As the time passes and the teams fail to score, the total will lower to a number that will attract action on both sides. I've seen games with a pre-game total of 48 shrink to as low as 31 if there are no scoring opportunities in the first quarter.
Another aspect of in-play betting to consider is the 'prop' betting side. Sportsbooks will consistently put out in-play props such as "result of next drive" or "next team to score".
Bettor Beware
Live in-play wagering is not for everyone. If you are not watching the action closely enough to have a feel for the game, aimlessly throwing your money around on props like the "result of next drive" will burn your bankroll quicker than you can realize. Sure, a few winning bets at plus odds will have your bankroll booming, but you must realize that you are going against a super computer that is able to spit out a million algorithms per second. The chances of you consistently beating it is slim to none.
If you do want to make a living off of in-play betting, I suggest you devote your time to one specific game per night and meticulously watch every second of it. You will find one or two prime spots that you absolutely must take advantage of if turning a profit is your main goal.
Get free picks from any Doc's Sports handicapper - there is no obligation for this offer and no credit card required. Just sign up for an account, and you can use the $60 in free picks for any Doc's Sports expert handicapper and any sport. Get $60 worth of premium members' picks free .