2014 Kansas Jayhawks Predictions and NCAA Basketball Futures Odds
by Aaron Smith - 11/11/2014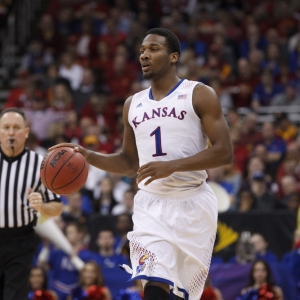 The standards are set extremely high for the Kansas basketball program. With guys like Andrew Wiggins and Joel Embiid, last year's team was considered one of the favorites to win the title midway through the season. When the Jayhawks lost in the Round of 32, there is no doubt it had to be considered a major disappointment. To be fair, though, Kansas was playing without Embiid in the NCAA Tournament, and that definitely made a big difference.
Bill Self had his worst season at Kansas last year in terms of wins and losses. Self has set the bar ultra high, though. Kansas had won 26 games or more in every one of his 10 years at the school before last season. They won 25 last year. The Jayhawks have won an astounding 10 straight Big 12 regular-season championships. They have lost only nine games at home during that 10-year span. Bill Self's teams haven't been seeded any lower than a No. 4 seed in the NCAA Tournament since 2000. Needless to say, Self is one of the most consistently successful coaches in the country.
Expectations don't lower at Kansas no matter what kind of talent is gone, and that holds true this year.
2014 Kansas Key Losses & Additions
When you lose the Nos. 1 and 3 picks in the NBA Draft, you know you lost some elite talent. Andrew Wiggins went first overall. Wiggins was highly scrutinized all of last year, primarily because he came to school with such tremendous accolades. Wiggins did average 17.1 points and 5.9 boards per game, so it was clearly a highly-successful season overall. Wiggins was inconsistent, though, and his poor performance in the Round of 32 loss to Stanford was particularly harmful to the team. Still, Wiggins is ultra-talented, and it's tough to lose a guy like him. Embiid looked like the best player in the nation when he was completely healthy last year. There's no doubt that Kansas would have gone much farther (possibly all the way) if Embiid stayed healthy last year. He probably would have been the top draft pick if there weren't concerns about his health. Naadir Tharpe was probably blamed too often last year when the Jayhawks had problems. The coaching staff would have liked to have him back this year.
Kelly Oubre and Cliff Alexander are the headliners for a very talented recruiting class at Kansas. Oubre is still developing his shot, but he has all the athleticism and he defends extremely well. Self believes Oubre will immediately be one of the team's top defenders. Alexander is probably the most ready to dominate at the college level. In high school, Alexander put up monstrous numbers on a consistent basis. He averaged 24 points and 15 boards per game last year in high school. Alexander will need to play without fouling, and if he does he'll be a major force in Lawrence right away. Devonte Graham initially signed at Appalachian State and wasn't granted his release when he wanted out, but he has finally been allowed to leave. He'll be happy to get back on the court.
2014 Kansas Backcourt
Frank Mason and Graham will fight for the starting point guard job. Graham has the higher upside, but Mason knows the offense better right now. Mason sometimes shoots a little more often than he should for a point guard, but his aggressiveness makes him hard to defend. Graham is great at controlling the tempo and seeing the whole court. He is the more prototypical point guard. These two might even play on the court at the same time occasionally. Wayne Selden Jr. took a bit of a back seat to Wiggins and Embiid last year, but he'll be a go-to guy in the backcourt this year. Selden was banged up much of last year, but Self was impressed by his toughness. Selden feels like he is the main man for this team, and the coaching staff likes his confidence. Brannen Greene is expected to see the floor a lot more in his sophomore season. Greene is a good outside shooter who can pile up the points in a hurry.
2014 Kansas Frontcourt
Perry Ellis is probably the most talented player on this team. Ellis played in the LeBron James Skills Academy in the offseason, and he looked like one of the players who had improved most from last season. Ellis showed how good he is at scoring around the basket last year, but he has gotten much better from the midrange in the offseason. Self wants him to be better on the defensive end and on the glass this year. Look for Ellis to lead this team in scoring. Alexander will start at center spot right away. Watch out for his amazing agility and strength to be a combination that is tough to guard. Oubre will start at small forward, and he has the potential to a super star in the future. Jamari Traylor got a lot of playing time when Embiid went down last year, and the coaching staff loves his motor. Hunter Mickelson transferred over from Arkansas, and he is an elite shot blocker. Self said in the offseason that Mickelson was the best 15-foot jump shooter on the team. He'll get plenty of minutes as well. This frontcourt is absolutely loaded.
2014 Kansas Futures Odds
Kansas is always one of the favorites . The Jayhawks are listed at +1,400 to win the NCAA Championship at BetOnline. Current odds from Sportsbook.ag have the Jayhawks listed at +1,700 to cut down the nets.
2014 Kansas Jayhawks Predictions & NCAA Basketball Picks
There's a good chance Kansas will be a better team than they were last season. The Jayhawks frontcourt depth and talent is unmatched. If there is a question mark, it's at the point guard spot. If Kansas gets quality play at the point, watch out for a deep run from this team. This team should be better on the defensive end as a whole. They might struggle a bit early on, but they'll be very good at year's end. I think Kansas wins the Big 12 again this year.
College basketball season is probably the biggest cash cow as far as handicapping profits here at Doc's Sports year after year. Read more about our Advisory Board results here. Doc's Sports handicappers can spot weaknesses in the odds and strike when the number is right. And now, for new members, you can get $60 worth of picks for free. That is two days of service for the same picks our paying members enjoy. Click here for the signup - no credit card needed - and you can see today's picks in minutes .
Read more articles by Aaron Smith
Get all of this Weeks Free College Basketball Picks
Get all of this Weeks Expert College Basketball Picks