2014 Kentucky Wildcats Predictions and NCAA Basketball Futures Odds
by Aaron Smith - 11/10/2014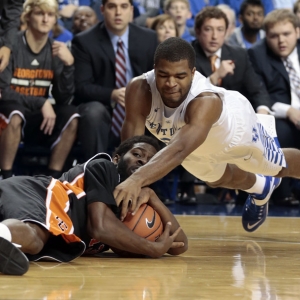 The Kentucky Wildcats came up just short last year, but don't expect anyone to feel sorry for them. Kentucky went into last season as the favorite, but they struggled for much of the season. It was such a struggle for Kentucky at one point that there was even a little bit of debate about whether the Wildcats would make it into the NCAA Tournament. They ended up getting in as a No. 8 seed and making a historic run to the NCAA Finals, where they lost to the UConn Huskies in a hard-fought game. It didn't click until late in the season, but once it did the Wildcats had a lot of success.
Why won't anyone feel sorry for them? First, because they are the Kentucky Wildcats, and they have done their fair share of winning over the years. Second, John Calipari continues to bring in ridiculous recruiting classes, and this year's Kentucky Wildcats team is expected to be much better than last season's team. The question that has been posed by many as we head into the 2014-2015 season is: Can anyone stop the Kentucky Wildcats from cutting down the nets this year? Let's take a closer look at this team.
2014 Kentucky Key Losses & Additions
One of the main reasons Kentucky is expected to be so good this year is the Wildcats didn't lose near as much talent as they were expected to at the end of last year. Julius Randle was the biggest loss as he left school after one year. He excelled right from the get go for the Wildcats. Randle set Kentucky freshman single-season records for rebounds and double-doubles. He had 24 double-doubles over the course of the year. He was the seventh pick in the NBA Draft. James Young also left after one season, and his outside shooting and playmaking ability in the lane will be missed. He will be remembered by many for his amazing dunk in the title game, but Young was most consistent from beyond the arc, where he hit 82 three-pointers last year.
Kentucky brings in four highly-touted freshmen this year. At the top of the list is Karl-Anthony Towns. Towns was an early signee for Kentucky, and he averaged 13 boards and six blocks per game in his senior year of high school. Towns is 6-foot-11, but he has 7-foot-4 wingspan and a great shooting touch. He'll need to become more physical because he won't be able to dominate everyone in college, but Towns is going to be special with his size and athleticism. Trey Lyles is a 6-foot-10 power forward, and he reminds some of Randle. His toughness on the inside is going to help this Kentucky team immediately. Expect Lyles to get a lot of offensive rebounds and get to the line a lot. He is a good free throw shooter as well, so that's a big bonus. Coach Calipari calls Freshman Devin Booker, "a scoring machine." He can play three different positions, and his confidence is something that Coach Cal loves. He's a high-IQ guy who can shoot the lights out. Tyler Ulis is a 5-foot-9 speedster who can harass opponents with his defensive intensity when guarding the ball. He's a pass-first type of guy who will get his teammates lots of open looks because of his ability to penetrate.
2014 Kentucky Backcourt
The Harrison twins will start in the backcourt for Kentucky. Andrew struggled at times last year, but he was very good in the NCAA Tournament. He needs to be more of a facilitator for this team to excel. Aaron was the big shot maker in the Big Dance for Kentucky last year. In three straight games, Harrison hit shots that brought the Wildcats back from a deficit to win in the final minute. He's clearly a clutch player, and his strength gives him a matchup advantage over most, too. Booker and Ulis are both going to play a lot in their freshman seasons. Dominique Hawkins was the team's best perimeter defender last year. If he can develop a solid shooting stroke, he'll see the floor plenty as well. This backcourt has a lot of athleticism, and it's likely that this Kentucky backcourt will work better together than last year's did. The upside here is huge.
2014 Kentucky Frontcourt
Willie Cauley-Stein was hitting his stride when he got injured last year and missed the NCAA Tournament. The fact that Kentucky made last year's run without one of their best players is all that much more impressive. Many at the program were shocked that Cauley-Stein came back for his junior season, but they are thrilled to have him. Cauley-Stein has unlimited upside as a player, but he must be more aggressive and not sit back and wait for things to happen. He knows this, and I think he'll have a big year. Towns will probably start at the four, but Lyles should play a bunch at that spot as well. Dakari Johnson is a tremendous backup center. Johnson has lost weight, and he's moving better than ever. His increased mobility will make him a weapon. Marcus Lee can't be overlooked at the center spot either. He's a shot-blocking machine, and he played some key minutes in the tournament for the Wildcats. Alex Poythress will start at the small forward. Poythress is a tough guy to match up with for opponents because of his size and athleticism. The Wildcats frontcourt depth is unmatched in college basketball.
2014 Kentucky Futures Odds
Kentucky is the favorite to cut down the nets this year , and it isn't even close. Bovada lists the Wildcats chances of winning the title at 7/2. Bookmaker has the Wildcats listed at +320. BetOnline even has a special "Kentucky vs. The Field" prop bet available. For that bet they have Kentucky to win the NCAA Championship at +300 and The Field at -400.
2014 Kentucky Wildcats Predictions & NCAA Basketball Picks
Kentucky is going to be much better than they were last season. Their amazing depth is really what sets them apart. They will throw waves of players at the opposition until they wear down. If the Wildcats have one weakness, it could be their perimeter defense. Even that is stretching it a bit, though. Kentucky is the best team in the nation. The best team doesn't always win the NCAA Tournament, but I like Kentucky's chances of cutting down the nets this season.
College hoops season is the most profitable time of the year for our Advisory Board of expert basketball handicappers. Find out how we beat the oddsmakers each and every season here. And now you can try our service for free. Click here for $60 worth of free college hoops selections.
Read more articles by Aaron Smith
Get all of this Weeks College Basketball Picks
Get all of this Weeks guaranteed Expert College Basketball Picks