2014 Dallas Stars Predictions and NHL Futures Odds
by Trevor Whenham - 9/30/2014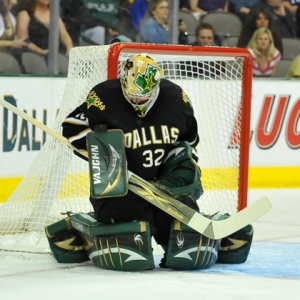 Jim Nill became the GM of this team in April of 2013 after nearly 20 years in the Detroit organization. Just a couple of months later he took a major gamble when he paid a massive price for Tyler Seguin, the second overall pick in 2010, who Boston had given up on primarily because of off-ice maturity issues. It was a brilliant move - easily the best deal of the season in the NHL. He developed instant chemistry with Stars' captain Jamie Benn and scored 84 points in 80 games - fourth in the NHL. In short, he became an instant superstar, and he's only 22 years old.
Nill had already traded for Sergei Gonchar and hired Lindy Ruff to coach the team - two other very good moves. Add it all up, and a team that had underwhelmed for far too long was suddenly a playoff team. It was a rapid and impressive step forward for the organization.
Dallas Stars Offseason Moves
Nill wasn't willing to rest on his laurels and stay with the same team he had last year. The team made the playoffs, but they lost to Anaheim in six games in the opener, and it wasn't exactly a shocking upset. This team needed more depth to compete in the massively-tough Western Conference, and now they have it.
Jason Spezza was the captain of the Ottawa Senators, but he requested a trade last year after the season. He was in demand, but it was Dallas that made the best offer. The cost was predictably not cheap, but it was fair. Spezza is only 31, and he's an elite offensive talent who plays center - the most important forward position by far. He can lead the second line behind Seguin, and he instantly provides the Stars with among the very best one-two punches in the league.
That wasn't the only addition the Stars added from Ottawa. Ales Hemsky was a trade deadline acquisition from Edmonton, and he found strong chemistry with Spezza. On the same day that Spezza was traded to Dallas, Hemsky signed a three-year deal with the Stars. He could rejoin his Ottawa linemate, or he could plug in beside Seguin and Benn on the top line. Either way, these two pieces make a team that was already 10th in the league in scoring potentially much more dangerous offensively.
Beyond those two, the most noteworthy addition is backup goalie Anders Lindback. Kari Lehtonen was solid as the starter last year, and Lindback is a functional backup, though he will need to be better than he was in relief the last two years in Tampa Bay.
This year's first-round choice in the NHL Draft, Finnish defenseman Julius Honka, has had a strong camp, but still seems likely to be returned to junior for more seasoning.
Dallas Stars NHL Outlook
It's hard not to get excited about this team. Their already-solid offense has been improved significantly. They have some young talent that could contribute in an increasing way. Defensively they aren't world class, but they are solid, and the same goes for between the pipes. The coaching is excellent. Add it all up and this is a team that should be better - and more experienced - than they were last year.
This is absolutely a playoff-capable team - a dangerous one. The biggest challenge for the team, though, is that they play in an absolutely brutal division. Chicago is the best team in the league. St. Louis is excellent. Colorado is young and talented - and they were the surprise winners of the division last year. Minnesota is talented and improved. That is five very good teams - and only a maximum of five teams from a division can make the postseason, and that's only if everything falls together just right. Still, I'm optimistic about the path of this team this year.
Dallas Stars Schedule
We get two very good chances to evaluate this team and where they are at in the first week of the season. They open with a home game against the Blackhawks - a chance for both teams to set an early tone for the year. One week later they travel to Pittsburgh - the final game of a three-game trip - to play the second favorites in the Eastern Conference. Two wins there and the public would certainly take more notice of this squad than they already have.
Dallas Stars NHL Futures Odds (from Bovada)
Dallas sits at 20/1 to win the Stanley Cup. That price seems unremarkable, but they are only the 13th favorite by the odds, so at least in relative terms there is some value here. They are the eighth choice to win the Western Conference at 11/1 and the fifth choice in the Central Division at 15/2.
2014-15 Dallas Stars Predictions
I'll be more specific here than I have been for some of these predictions. The Stars are going to finish third in the division behind Chicago and St. Louis, and they are going to win a playoff series - at least. Seguin will be a Hart Trophy finalist as well.
Doc's Sports has had a winning tradition for more than four decades. Don't believe us? Try us out for free, and we are convinced you will be a believer. Get $60 worth of free sports picks - members' picks just like our paying clients get - here .
Read more articles by Trevor Whenham
Get all of Tonight's Free NHL Picks.
Get all of Tonight's Expert Expert NHL Picks.