2014 Los Angeles Kings Predictions and NHL Futures Odds
by Trevor Whenham - 9/30/2014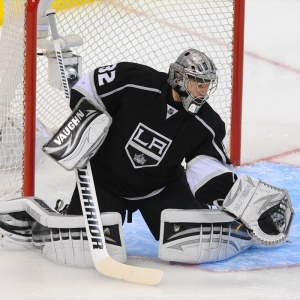 Hiring Darryl Sutter to coach this team was a risky move in 2012. After all, he was fresh off of running the Calgary Flames into the ground as general manager. Turns out there was no need to worry. He won the Stanley Cup in his first season with the team, and then he did it again last year.
In doing so the team has clearly illustrated that championships are not won in the regular season. They were only third in the Pacific Division and made the playoffs more due to a couple of hot streaks than due to consistent excellence. Once things matter and the lights got bright, though, the team found another gear and refused to lose. They fought back from a 3-0 deficit in their opening series against the Sharks, fought off elimination two games in a row against Anaheim, and needed seven games to get past Chicago. Only having played the maximum numbers of games getting to the finals did they finally get a break in that beating the Rangers took only five games, and the series wasn't particularly challenging.
I have to admit that I misjudged a midseason move that the Kings made as badly as I have ever misjudged one. When Marian Gaborik was added from the Blue Jackets I was sure it was going to go poorly. He's offensive-minded to a fault, and that just didn't seem like it would mesh with Darryl Sutter's approach. Gaborik also isn't Canadian, and Sutter clearly prefers players from his own country. Turns out, though, that it was a match made in heaven. He led the league in playoff goals, was outstanding paired with Anze Kopitar, and was a huge reason why the team made the playoffs and ultimately won the Cup. Oops. The team was so impressed with his play that they gave him a new seven-year deal. It's a good deal for both sides - the Kings lock him down at a reasonable price (less than $5 million a year on average), and Gaborik likely gets to finish his career off on a contender.
Los Angeles Kings Offseason Moves
There was little reason to change a lot on this team, so they didn't. They shuffled a couple of role-playing pieces, with only defenseman Willie Mitchell, who is with Florida now, being a noteworthy departure. He is on the decline, so he won't be hugely missed. Locking up Gaborik long term was the offseason focus.
The Kings first-round pick in the 2014 NHL Draft, Swedish center Adrian Kempe, is playing another year in Sweden, so he does not factor into the immediate plans.
Los Angeles Kings NHL Outlook
The team has a deep-and-talented corps of forwards. Jonathan Quick is the best goalie on the planet for my money, and Martin Jones proved to be a very capable backup. Drew Doughty is as good as any defenseman in the league, and he keys a very solid defensive corps. Young talent like Tanner Pearson and Tyler Toffoli gained massive experience last year as rookies and will only be better with time. This is a team that isn't going to change. They are built to win the Cup, focused on doing so, and fully capable of that. They likely aren't going to dominate the regular season, but that's not what they are about. They only care about doing enough to be ready when things matter.
Los Angeles Kings Schedule
The Kings play seven of their first eight games at home , getting to enjoy better weather than they will find anywhere else in the league. That's a nice way to build some early momentum, though they will obviously pay for it later on as the schedule evens out. The game that stands out most, though, is the first one - a rematch with the Sharks, who will surely be out for revenge after the way their season ended last year.
Los Angeles Kings NHL Futures Odds (from Bovada)
The Kings are tied with the Bruins as the second choice to win the Stanley Cup at 10/1, which puts them behind only Chicago at 13/2. Logically, they are the second choice to win the Western Conference at 5/1 and the 7/4 favorites to win the Pacific Division.
2014-15 Los Angeles Kings Predictions
The last two years the Western Conference final has been between the Kings and Blackhawks, with the winner going on to hoist the Cup. I would not at all be surprised to see the two squads meet in the playoffs again, and the winner will be tough to beat the rest of the way. This team will be in the mix in the Pacific, though I would not bet on them to win it. They are so tough and determined, though, that they will not go down easily in the playoffs. The West is just brutally tough, but the Kings are absolutely in the mix - and near the top of the pile. I don't expect them to win another Cup, but I wouldn't at all be shocked if I was wrong here.
Doc's Sports has a great offer for new clients. You can get $60 worth of picks from any Advisory Board handicapper for any sport he handicaps. All with no obligation and no credit card needed. Claim your free picks today .
Read more articles by Trevor Whenham
Get all of Tonight's Free NHL Picks.
Get all of Tonight's Expert Expert NHL Picks.