2014 New York Islanders Predictions and NHL Futures Odds
by Trevor Whenham - 10/6/2014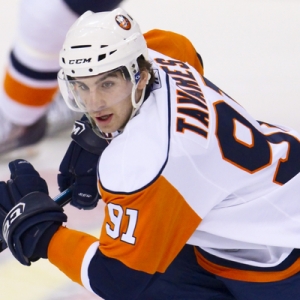 It's funny how quickly things can change. A few days ago I was thinking about writing this preview because it was next on the list. At that time I had two things I was going to touch on. First, after a truly horrible start in the job, Garth Snow has quietly grown into the role of GM and has done a pretty good job of what I thought could be a playoff team here. What my biggest concern was, though, was the defense - especially the depth.
Well, in one stunning day on Saturday Snow reaffirmed one opinion by definitely and emphatically addressing the other. Like every other GM in the league, he knew that the Bruins and Blackhawks both had salary cap issues and that they were going to have to shed a good player - likely a defenseman in both cases - to get into cap compliance. Remarkably, Snow was able to take advantage of both situations, landing Johnny Boychuk from Boston and Nick Leddy from Chicago. Boychuk is 30 and adds both leadership and offense. He's a big upgrade. Leddy is the gem, though. He was a first-round pick in 2009 and has played every game for the last three years despite being only 23. The price wasn't low for him - they gave up a couple of good defensive prospects - but he's a proven commodity. Most significantly, both guys have played for winners and have won Stanley Cups, so despite being much better than what the Isles had, they will also be a huge improvement in the attitude of the team. These are incredible deals for Snow - and for a young team that should finally be ready to realize the potential of so many prospects gathered over the years.
New York Islanders Offseason Moves
Leddy and Boychuk were stellar pickups, but they were far from the only moves that the team made. Goaltending was an absolute disaster last year. Really, it mostly has been as long as Snow was around. It cost the team any shot at maintaining the momentum of their playoff appearance two years ago, and the team wasn't going anywhere without improvement on this front. First, Snow traded for Jaroslav Halak's negotiation rights and then signed him for four years and $18 million. He alone would be a significant upgrade, but Snow wasn't done yet. They also added Chad Johnson, who was excellent last year as the backup for Tuukka Rask in Boston. He appears ready for a step up in responsibility and has a chance to really emerge as a solid goalie this year. Halak and Johnson are an excellent pairing for the squad - especially compared to what they have had.
The Isles also made an attempt to recapture some past magic when they reunited center Mikhail Grabovski and winger Nikolai Kulemin. The two had excellent chemistry playing together in Toronto in 2011 - 59 goals and 115 points between them. After playing for separate teams last year they are happy to be back together, and they will be a nice addition to the top six of this team.
The team had two first-round picks this year in the NHL Draft. With their own pick they added forward Michael Dal Colle fifth overall. He has a ton of upside but has already been sent back to junior for more conditioning. They also picked up the 28th choice in a trade and used it to grab controversial Joshua Ho-Sang. He has talent to have been picked much higher, but concerns about his attitude saw him drop. He had a strong camp but has also been sent back for one more year in junior.
New York Islanders NHL Outlook
John Tavares is a truly elite talent, and he is at the forefront of a top nine that is going to be able to score some goals. The defense is suddenly really solid provided that Leddy and Boychuk can find chemistry with partners. Goaltending isn't a particular concern. They also play in a conference that is far more wide-open and manageable than the West is right now. Add it all up, and this is a team that has the chance to make the playoffs for the second time in three years - a very good chance.
New York Islanders Schedule
Oct. 18-23 is going to be a very interesting stretch of games for this team - the fifth, sixth and seventh they play. They start out at Pittsburgh - a very good measuring stick of where they are at, and they will play a team they certainly weren't intimidated by in the playoffs two years ago. Then they host the Maple Leafs - a game they need to win and good motivation for Grabovski and Kulemin as they face their former squad. Finally, they travel to Boston - another great measuring stick and a homecoming for Boychuk, who will be eager to prove that they got rid of the wrong player. If they come out of that stretch well then they could really be ready for a nice statement.
New York Islanders NHL Futures Odds (from Bovada)
The Islanders have 66/1 odds to win the Stanley Cup . There is value there compared to the other teams around them, but they aren't going to win it all, so it's not a great bet. They are the 12th choice to win the Eastern Conference at 33/1 and tied for sixth in the eight-team Metropolitan Division at 16/1.
2014-15 New York Islanders Predictions
I like this team more than the oddsmakers do, and I have less general respect for the East overall than they do. I am not convinced that there is a truly elite squad in the division - at least not right now - and the bottom half of the playoff race in particular is wide-open. Tavares will take a step forward, he has talent around him, the coaching is strong, and the aggressive summer and fall by the team will have set a tone for this squad. They are going to be a playoff team.
Want free NHL betting picks? Doc's Sports is offering $60 worth of picks - any handicapper from Doc's Sports expert stable of NHL hockey experts - and this offer contains no hidden fees and no credit card is required. Just sign up for a free account and start using your free $60 credit today ! Also, for a limited time get three hockey handicappers for the price of one! Click here for our 3-for-1 NHL picks offer.
Read more articles by Trevor Whenham
Get all of Tonight's Free NHL Picks.
Get all of Tonight's Expert Expert NHL Picks.