Baseball Predictions: Angels at Blue Jays Odds and Picks
by Alan Matthews - 9/11/2013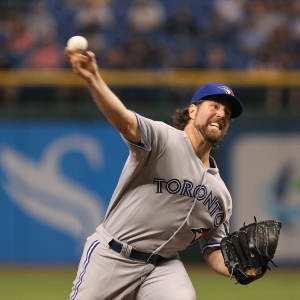 When will teams learn that "winning" the offseason rarely translates to winning in the regular season? Ask any Washington Redskins fan. They spent and spent on high-profile free agents like Albert Haynesworth and Deion Sanders with Dan Snyder dying to make an impression. All it did was empty Snyder's wallet (not that he's hurting for money), and the team didn't get good until it made a daring trade to draft Robert Griffin III.
Arguably the two winners of baseball's past offseason were the Toronto Blue Jays and Los Angeles Angels -- at one point both were the World Series betting favorites. The Jays pulled off that big trade with the Marlins, sending prospects to Miami for Jose Reyes, Mark Buehrle, Josh Johnson, Emilio Bonifacio and John Buck. It has been a flop, with the Jays taking on nearly $200 million in payroll. Reyes has been good but missed more than two months earlier this season and has always been injury-prone. Buehrle has been about what the Jays expected numbers-wise but started terribly, and the Jays dug a hole they couldn't get out of. Johnson has been wretched and is done for the season, and Bonifacio and Buck are now on other teams.
The Jays also traded for R.A. Dickey from the Mets and threw $8 million a year at Giants outfielder and known cheater Melky Cabrera. Dickey is showing his 2012 Cy Young was a fluke, and Cabrera wasn't the same player he was last year and is now out for the year with a knee injury; he also recently had a benign tumor removed from his lower back. The Jays will finish last in the AL East, but I think GM Alex Anthopolous and Manager John Gibbons will be back next year -- if Toronto struggles early again, the two are goners.
The Angels, meanwhile, perhaps a bit spooked by how much money the Dodgers were spending and wanting to keep some market share, threw $125 million at Josh Hamilton a year after "winning" the offseason by signing Albert Pujols (disaster) and C.J. Wilson. Hamilton is hitting just .239 with 19 homers, 63 RBI and a whopping 140 strikeouts (entering Tuesday) and is clearly a shell of himself. Of course, Pujols is done for the year.
How can I not preview Wednesday's Angels-Jays game as the "Disappointing Classic," especially with Wilson (he's actually been pretty good) and Dickey facing off?
Angels at Blue Jays Betting Story Lines
The Blue Jays' lineup is gutted right now. Cabrera is done for the year, and so is star Jose Bautista. He sustained a left hip bone bruise in August, and there's really no reason to push him through it. Outfielder Colby Rasmus was having a solid season but hasn't played since Aug. 11 due to an oblique injury and is unlikely to play again in 2013. The Jays can get a look at some young players, although their farm system is a lot weaker now following those trades with the Marlins and Mets.
In addition to Pujols being ruled out for the year, so is Angels' outfielder Peter Bourjos. He was hoping to play through the pain in his right wrist but will undergo surgery. He fractured his wrist when he was hit by a pitch June 29 and missed seven weeks. Bourjos wasn't the same upon returning, batting.109 in 15 games on the rare times he did play. The Halos were set to activate second baseman Howie Kendrick from the DL for Tuesday's series opener. He had been out since Aug. 6 due to a strained left knee. Kendrick likely will be used off the bench for a little while. He was having a terrific season, batting .311 with 11 homers and 47 RBI. Don't be shocked if L.A. trades him this offseason for badly-needed starting pitching.
As for Wilson (15-6, 3.42), the Angels have won five of his past six starts. He's one of those guys who pitches to contact and relies on his defense. He faced Toronto on Aug. 4 in Anaheim and allowed four runs and eight hits in 7.1 innings in a no-decision. Edwin Encarnacion has had some career success against Wilson, going 4-for-12 with a home run and two RBI. Adam Lind is 5-for-13 with one homer and three RBI.

Dickey (12-12, 4.29) has been solid since the all-star break with a 4-2 mark and 3.56 ERA. He has had three straight quality starts, and the Jays have won each of them. He has not faced the Angels this year and only a few current players have seen him. Erick Aybar is 1-for-6 with an RBI, and Hamilton is 2-for-3 with a double.
Angels at Blue Jays MLB Betting Odds and Trends
At BetOnline, the Jays opened at -118 and the Angels at +108 with a total of 8. All trends entering Tuesday: Los Angeles is 78-61-4 "over/under" (36-29-3 on road) and 68-75 on the runline. Toronto is 72-69-2 O/U (35-33-1 at home) and 73-70 on the runline.
The Angels are 4-0 in their past four against right-handed starters. L.A. is 0-6 in its past six Wednesday games. It is 4-0 in Wilson's past four road starts and past four Wednesday starts. The Jays are 5-2 in their past seven against lefty starters. They are 2-5 in their past seven at home against lefties. Toronto is 4-1 in Dickey's past five starts against the AL West. The over is 22-2-2 in Wilson's past 26 road starts. The over is 8-2-1 in Wilson's past 11 road starts against teams with a losing record. The under is 9-1 in Toronto's past 10 home games. The under is 4-0 in Dickey's past four Wednesday starts. The over is 8-0 in the past eight meetings.
Baseball Predictions: Angels at Blue Jays Betting Picks
Dickey doesn't like pitching at Rogers Centre, apparently, as he is 6-6 with a 5.21 ERA at home, nearly two points higher than his road ERA. Despite both teams having nothing to play for, both are playing well entering this series: The Angels have won 12 of 17 and the Jays nine of 12. Both lineups are pretty ravaged, but I like what the Angels have left more than what Toronto does. Take L.A. and the over.
We would like to give you $60 worth of member's baseball picks absolutely free –Sign up for free baseball picks today.
Read more articles by Alan Matthews