Baseball Predictions: Blue Jays at Red Sox Odds and Picks
by Alan Matthews - 9/20/2013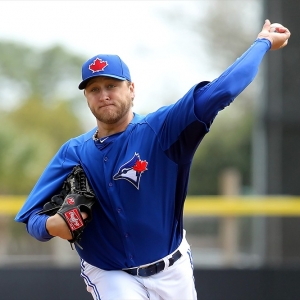 I'm not saying to bet against Boston for Saturday night's game against Toronto, but be prepared to for at least a few games next week. Why? The Sox have already clinched a playoff berth for the first time since 2009. Boston is about to clinch the AL East (might Friday) for the first time since 2007, their last World Series season. They entered Friday's opener with the Jays holding a 2.5-game lead over Oakland and three-game lead over Detroit for the best record in the AL and the playoff top seed; the A's and Tigers do have one game in hand.
Obviously, getting that top seed is important for home-field advantage through the playoffs -- the AL won the All-Star Game, and thus will have it in the World Series. It also means playing the one-game wild-card winner, and the beauty of that is each team (Texas and Tampa Bay?) might have to use its ace in that game.
Thus, I expect full effort from Boston to clinch the best record and then rest some guys and get that rotation in order. You know the Sox have no interest in wanting to play very hard -- or have to use DH David Ortiz in the field -- when they visit Colorado for two games starting on Tuesday. Boston then closes with three at the Orioles, who may or may not have something to play for. Go ahead and mark down a Tigers-A's ALDS as Boston should be able to clinch.
When the 2013 schedule was released, this weekend's Jays-Sox series looked like it might be important for the AL East race, but for Toronto. They have flopped, yet not too long ago GM Alex Anthopolous confirmed that manager John Gibbons would return in 2014. On any list of first manager to be fired in 2014, Gibbons will be at the top.
Blue Jays at Red Sox Betting Story Lines
There are many reasons why Toronto was such a disappointment this season, but certainly starting pitching is at the top as the Jays rank ahead of only Minnesota in MLB with a starters' ERA of 4.78. The projected starting five entering the season was Mark Buehrle, R.A. Dickey, Josh Johnson, Brandon Morrow and J.A. Happ. Dickey started terrible but has been solid recently. Johnson was an utter failure. Morrow has been out since June 1 with a forearm injury, and Happ missed almost three months after getting hit in the head by a line drive in early May.
Buehrle, meanwhile, just does what he does. The lefty gives up hits and doesn't strike out many but lets his defense do the work. Buehrle (11-9, 4.17) starts Saturday. Two starts ago he was blasted for eight runs and 12 hits in four innings but otherwise has been excellent since Aug. 20. He allowed two runs in five innings last time out as the Jays lost his third straight start. Buehrle is 1-1 with a 3.71 ERA in four starts this year against Boston. Daniel Nava, who has been a huge surprise for Boston this year, is 4-for-9 with a homer off Buehrle this season. Stephen Drew and Mike Napoli have also homered. Dustin Pedroia is 5-for-12.
Boston counters with Clay Buchholz (11-0, 1.51), who looks to be the only big-league starter to finish unbeaten this year with at least 10 starts. In fact, he would make baseball history with a win on Saturday by tying the Yankees' Tom Zachary (1929) for the most wins in a season without a loss (presumably Buchholz will start once more). Zachary was 12-0 with a 2.48 ERA, but he was used in both relief and the rotation. Currently Buchholz, who has been limited to 14 starts, is tied with Toronto's Dennis Lamp, who went 11-0 with a 3.32 ERA in 1985. Lamp made 53 appearances that year, just one as a starter. Buchholz is 1-0 with a 1.20 ERA in two starts against Toronto in 2013.
The Sox pitcher will face a Jays lineup that is missing its two best players as Jose Bautista and Edwin Encarnacion are done for the year. Bautista has been out a while, and Encarnacion was recently shut down to have left wrist surgery. He finished hitting .272 with 36 homers and 104 RBI. Thus, not many active Jays have faced Buchholz this year. Colby Rasmus, who recently returned from a long DL stint and has been hitting well, is 1-for-4 with an RBI off Buchholz. Adam Lind is 2-for-5.
Blue Jays at Red Sox MLB Betting Odds and Trends
There is no opening line on this game as of deadline for this article because of Boston having the chance of clinching the division on Friday. The Sox should open around -180 with Toronto at +160 and a total of 8.5. All trends entering Saturday: The Jays are 74-75-3 "over/under" (37-36-1 on road) and 78-74 on the runline. The Sox are 68-79-7 O/U (33-41-4 at home) and 79-75 on the runline.
The Jays are 6-1 in their past seven road games. They are 1-5 in Buehrle's past six road starts against teams with a winning record. Toronto is 1-6 in Buehrle's past seven against the AL East. Boston has won eight straight Saturday games. The Sox are 10-1 in their past 11 against lefty starters. Boston is 7-1 in Buchholz's past eight home starts and against AL East. The under is 6-0-1 in Toronto's past seven. The under is 10-2 in Buehrle's past 12 road starts. The under is 5-1-1 in Boston's past seven Saturday games. The under is 5-1 in Buchholz's past six against Toronto.
MLB Predictions: Blue Jays at Red Sox Betting Picks
I honestly don't think it matters whether Boston clinches the East on Friday night or not -- it's a done deal. Boston's playoff-clinching celebration Thursday was quite muted compared to what the Dodgers did in Arizona. I'm sure the Sox will want to win the East at home, so that gives them even more motivation to do it on Saturday if they couldn't Friday. It's also the final home night game of the regular season, so I'm sure Boston will want to reward the fans while getting one step closer to that top seed. Take the Sox and the under.
Read more articles by Alan Matthews