NBA Predictions: Denver Nuggets Futures Odds
by Aaron Smith - 9/30/2013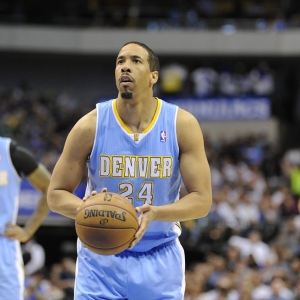 George Karl led the Denver Nuggets to a 57-25 record last year. He was named NBA Coach of the Year last season. What did he get in return? He was fired at the end of last season after the Nuggets decided they weren't willing to give him the contract extension he was asking for. Karl did a lot of good things for this franchise, and losing him was just the start of a very tumultuous offseason for the Nuggets. Stephen Curry and the red-hot Warriors knocked off Denver in the first round of the playoffs, and apparently the front office decided it was time to move in a different direction.
Denver's 57-25 record last year was the best in franchise history, but their team will look a whole lot different heading into this season. Will the Nuggets still be able to compete in the difficult Western Conference? They won't be one of the favorites in this conference anymore. Let's take a look at the 2013-14 Denver Nuggets.
Brian Shaw New Head Coach
Brian Shaw was hired by the Denver Nuggets in June to become the team's next coach. Shaw has been considered a top candidate for many jobs in the past few years, and he'll finally get his chance to lead a team this season. He has been a top assistant for the past few years, and Shaw is seen as a coach who will relate very well to his players.
Shaw is focused on putting together a team that can win in the playoffs. Denver's first-round exit in last year's playoffs really left a bad taste in the mouth of a lot of Nuggets fans. Shaw recently said that player development is the biggest key to the Nuggets success in the next couple years.
I believe Shaw will be a good NBA coach, but it's hard not to consider him a downgrade when the team had a veteran coach who was the NBA Coach of the Year last season. Shaw definitely has big shoes to fill.
Offseason Player Moves
You could make a good argument that the Denver Nuggets had the worst offseason of any team in the NBA. In fact, I think it is essentially a no-brainer. The loss of Andre Iguodala in the offseason really crushed this team. Iguodala was reportedly offered more money by the Nuggets, but he chose to move on in and go to Golden State. Iguodala was a guy who made the Nuggets much better on the defensive end, and he was a playmaker on the offensive end as well with his excellent ball-handling and passing skills. Iguodala was the Nuggets most versatile player, and losing him was a massive loss. Corey Brewer and Kosta Koufos are gone from last year's team as well.
Denver had a need for reliable outside shooters, so they picked up both Nate Robinson and Randy Foye during the summer. Robinson was a great spark for the Bulls late in the year last year, and the team didn't have to pay too much for his services. Foye did shoot 41 percent from long range last season, but he did also shoot only 40 percent from his inside the arc. J.J. Hickson was paid $16.1 million for three years. Hickson puts up decent statistics, but the Blazers didn't do well with him on the floor last year. What about the draft? Denver isn't expected to get any contributions from guys they drafted this season, because both Erick Green and Joffrey Lauvergne are going to play overseas.
NBA Prediction: Denver Nuggets Futures
The Denver Nuggets are listed at 50/1 to win the NBA title in 2014, according to odds from Bovada. What about their chances in the Western Conference? BetOnline lists the Nuggets at +1,700 to win the West.
I don't like what the Nuggets did this offseason at all. Denver was a team that managed to win despite not having a superstar on the roster. They won games with great chemistry and a top-notch coach. Shaw will do a good job here, but that chemistry just won't be the same. Losing arguably the team's top player in Iguodala is going to make this team far less dangerous.
Denver went from a 57 win team last year to a team that could be in a fight just to get to the playoffs this season. In the end, the Nuggets will likely be part of the postseason again, but they won't around for long. Sometimes change isn't a good thing!
Read more articles by Aaron Smith