NHL Predictions: MVP and Regular Season Awards Odds
by George Monroy - 9/19/2013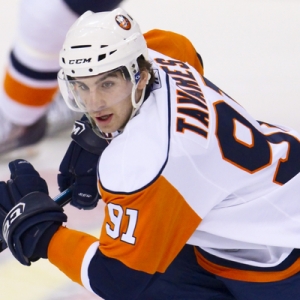 The NHL has its own set of awards that bettors unfamiliar with the sport might not know about. Hockey has the traditional most valuable player award like every other sport, but they also have a top defenseman award, a top goaltender award and a points leader award. Wagering on NHL futures is a great way to learn the sport and dip your toes into understanding how to bet hockey. The season is set to begin in under a month, so now is the perfect time to figure out which NHL futures bets have the most value and place a timely bet or two that you can follow throughout the entire season.
Let's take a closer look at the regular season awards and go over the odds. All lines come from Bovada.
2014 MVP Award
Sidney Crosby (PIT): +300
Alexander Ovechkin (WAS): +600
Steven Stamkos (TB): +800
John Tavares (NYI): +1200
Evgeni Malkin (PIT): +1200
Henrik Lundqvist (NYR): +1200
Claude Giroux (PHI): +1600
Henrik Sedin (VAN): +1600
Patrick Kane (CHI): +2500
Jonathan Toews (CHI): +2500
The NHL MVP award is a more inclusive trophy than that of other sports. In the NFL, Peyton Manning usually dominates the award, and in the NBA LeBron James wins it just about every year. However, in hockey there have only been two back-to-back winners of the award in the last 25 years (Ovechkin and Dominik Hasek). Wayne Gretzky did win the award for eight straight years in the 1980s, however, but that was a different era. This year's favorite is Crosby, while Ovechkin and Stamkos are a distant second and third, respectively.
Crosby is expected to be completely healthy this year, and the Pittsburgh Penguins are one of the top teams in the league, so it is fair that he would be the favorite for the award. The trouble with Crosby's candidacy is that he plays alongside last year's winner and another MVP favorite, Malkin. Crosby is the better player of the two, but both men might cancel out each other's chances at winning the award. Ovechkin is showing value at +600, but Washington is not expected to be a title contender this season. Tavares of the New York Islanders is showing excellent value at +1200 and could be an MVP sleeper.
Best defenseman award
Erik Karlsson (OTT): +400
P.K Subban (MON): +450
Kris Letang (PITT): +650
Shea Weber (NAS): +700
Ryan Suter (MIN): +1000
Subban won the James Norris award for best defensemen last season and is again a top candidate for the award. Karlsson won the award in 2012 and is the top candidate to win his second trophy this season. The rest of the Top-5 candidates are newcomers to the award and would need spectacular seasons to overcome the two incumbent winners. The favorites probably have the most value, so expect either Karlsson at +400 or Subban at +450 to win the award this year.
Top goaltender award
Lundqvist (NYR): +400
Jonathan Quick (LA): +500
Tuukka Rask (BOS): +700
Pekka Rinnie (NAS): +750
Sergei Bobrovsky (CLB): +900
Bobrovsky won the Vezina trophy for top goaltender last season, while Lundqvist won it the year before. Quick is also expected to have a bounce-back year after last season's poor performance and could be a major player for the award. The Boston Bruins will be look to repeat its successful season last year, and there could be excellent value on Rask at +700.
Points leader award
Crosby (PITT): +225
Stamkos (TB): +550
Ovechkin (WAS): +600
Malkin (PITT): +650
Tavares (NYI): +800
Last season Martin St. Louis became the oldest player in NHL history to win the points leader award. St. Louis was 37-years-old and scored 60 points last year, which was three more points than his nearest competitor, Steven Stamkos. This season Crosby and Stamkos are the favorites for the award as each scored over 55 points last season. Most experts are expecting a big year for Crosby, who played only 36 games last year and still managed to put up some of the best stats in the league.
Read more articles by George Monroy