In Kansas City, Running Back by Committee is a GOOD Thing
by Dallas Jackson - 09/16/2005

Running back by committee. Four words that just typing gives me a full body shiver. Visions of Travis Minor and Sammy Morris creep up on me. It's scary, truly scary. In recent years we've had numerous disasters when the RBBC (I can't type it twice) situation occurs. I need only to flashback one season to illustrate this point: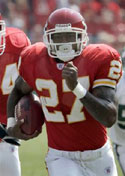 The Cleveland Browns used Lee Suggs and William Green; to amass a measly 3.6 yards per carry average. The Miami Dolphins used Sammy Morris and Travis Minor, who combined did not have 1,000 yards, in place of Ricky Williams. The Minnesota Vikings used Michael Bennett, Onterio Smith and Mewelde Moore -- whoever was healthiest and in the least amount of trouble -- to run the ball. While last and certainly least were the Oakland Raiders using Amos Zereoue, Zack Crockett, Justin Fargas and Tyrone Wheatley, none of the four amassed more than 450 yards.
Committee situations hurt me deep inside.
I say all of that as a preface to my next point, the 2005 Kansas City Chiefs DO NOT have a running back by committee. They have a "one-two punch." That's right, there are clever clichés when the situation is a "good problem." For this one we chose "one-two punch," you can use "two headed monster" or "thunder and lighting" if you prefer. If you want me to assign labels I will. Priest Holmes, he is the one, the lightning, while LJ, the two, is the thunder. The reason this is not a RBBC is simple: BOTH running backs are good. A committee situation occurs when none of your running backs step up, the Chiefs have two that can scare the "bajezeers" out of a defensive coordinator, hence a monster.
Skeptics and naysayers will raise questions about whether LJ can unseat Holmes? Or whether Dick Vermeil can hand off enough times to keep both backs happy? The truth of the matter is, it doesn't matter!! The Chiefs will score, (30.2 ppg in 04) as well as move the ball on the ground (143.1 ypg in 04), so both will be plenty happy. The split after week one was Priest 22, LJ 9. This 2-1 split is something that Dick Vermeil likes, and a trend I look to continue for the next six weeks, if not the entire season. The Chiefs schedule is rough. Their non-division schedule is tough against the run. They will welcome the Eagles and Redskins to Arrowhead, while traveling to run-stuffing Miami, Dallas, Buffalo, Houston and NY Giants. This schedule makes it imperative that the Chiefs find a happy medium, as they need both backs to be healthy, if they plan on making a serious playoff run in 2005.
All of the "who scores more touchdowns," "who gets more carries confusion," will all go by the wayside if the Chiefs win. Winning is the one thing that is the cure to any and all problems. If Kansas City goes 12-4 you will not hear one word all season about who got this and that, however if they scrape and grind to another 7-9 or worse record this year there will be plenty of finger pointing and ego trips to be had. Ultimately, Johnson is younger, stronger and healthier than Holmes, and will force him out the door as early as this offseason. But, as for the here and now, if splitting carries keeps LJ and Priest healthy they both can and will have a successful season.
However, (and there is always a catch) the way you bet on the Chiefs this season will have little to do with LJ/Priest or anyone else on the offense. Once again, it is the defense that has the heavy lifting to do. A 27.2 points per game average (29 of 32 teams) and a next to last 377.9 yards per game allowed in 2004, leaves the defense wanting. Defensive Coordinator Gunther Cunningham does have some new toys to play with this season, by adding Kendrell Bell, Patrick Surtain, Sammy Knight, and Carlos Hall via free agency and drafting LB Derrick Johnson they should look to improve upon last season's abysmal defensive year. Please, do not expect them to transform into the Ravens, Buccaneers or Patriots anytime soon.
Division games can turn into shootouts regardless of venue and weather, as Denver, Oakland and San Diego all have big play offenses to go with their Swiss cheese defenses. This will, unfortunately, put your TOTAL plays around 50+ each and every time, but can keep game lines close, making KC a great home play. The rest of the schedule does not allow the Chiefs to really settle in anywhere, as they alternate two home and two away most of the season. We see the key to this season, aside from Holmes' health, being the month of November. The Chiefs will be playing must win games each week versus AFC bubble teams and the two-time defending Super Bowl champions. A four-week stretch that includes home games against Oakland and New England and road contests at Buffalo and Houston will determine the difference between 11-5 and 8-8.
I anticipate the Chiefs being in it until the end, while 12-4 is a stretch it is not impossible, of course neither is 8-8. Whatever the final tally one thing is for certain, the Chiefs will be fun to watch. Don't be surprised if they become the first team in history with two- 1,000-yard rushers (Johnson and Holmes) as well as 2 1,000-yard receivers (Kennison and Gonzalez) and that may be enough to make a coach cry… oh … wait…
Doc's Sports Recent Articles:
Super Bowl 2006
Offshore betting information
2006 Super Bowl Predictions