This Week in Betting, A-Z
by Trevor Whenham - 8/3/2009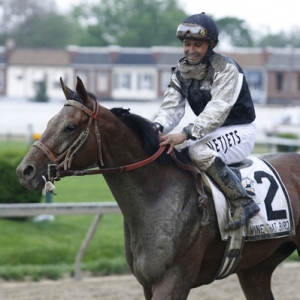 A - Andrew McCutchen. As unlikely it seems, Pirates' fans actually had something worth watching this weekend. Rookie Andrew McCutchen became just the 10th player in the 122-year history of the team to hit three home runs in a game. He was an unlikely hero, but then that's all Pittsburgh has these days. The 22 year old only made his major league debut at the start of June, and the three home runs doubled his career total.

B - Big Papi. It's hard to believe that David Ortiz is a drug user, isn't it? I mean, where were the signs? Sure, he saw a dramatic increase in his power stats upon joining the Red Sox after years of mediocrity in Minnesota, that same power has now disappeared, and he was long associated with another high-profile drug cheat; but what else was there besides that? There are only two kinds of people who could have been even a little surprised by the revelations of Ortiz' drug use -- the blindly loyal Red Sox fans, and the incredibly stupid.

C - Catriona Matthew. Tiger Woods has gotten all sorts of credit for his wins that have come months after knee surgery, so Matthew certainly deserves her due for what she pulled off this weekend. The 39-year-old Scottish golfer won the Women's British Open on Sunday just 10 weeks after giving birth to her second child. It's a true family affair for Matthew - her husband is also her caddy, so her family obviously travels everywhere with her.

D - Deja vu. Stop me if you have heard this one before - Jake Peavy has been traded to the Chicago White Sox. The only difference is that the former San Diego Padre ace hasn't used his no-trade clause to veto the move. Over the long term the deal makes sense for the White Sox if they are willing to commit to the pitcher, but it seems a bit odd that they would make this move now instead of another one that would help them catch and stay ahead of the Tigers who they trail by just 1.5 games.

E - Exodus. The Pirates have taken yet another pathetic step towards ensuring that they will never be competitive - they have traded away essentially their entire team. This week alone they have traded away two non-pitching starters, two starting pitchers and a reliever. Over the last year everyone with a pulse has been shipped out of town. I guess you could argue that they are rebuilding, but they have been doing that for 15 years now, and they didn't exactly get a boatload of blue chip prospects in return, so it seems that they have just continued to show how truly incompetent they are as a franchise.

F - Favre. What a freaking idiot. After months of stringing along the Vikings and the obsessed national media, Brett Favre has decided to stay at home in Mississippi and cut his lawn instead of playing in Minnesota. That's probably the right decision, but it's one he should have made months ago before causing so much confusion and wasting so much time. I'll make a vow now and you can hold me to it - I will not spend a second talking about his next comeback attempt. Or the one after that.

G - Giants. San Francisco has been impressively competitive this year, but it hasn't been because of the team's ability to score runs. The offensively challenged squad took a couple of nice steps towards resolving their issues at the trade deadline. They added a former batting champion in Freddy Sanchez from Pittsburgh, and they brought in Ryan Garko from the Indians as well. Sanchez is the better player, but Garko is a good teammate and a fierce competitor, and he should fit in well with the team.

H - Hansbrough, Tyler. Psycho T should be ready for the start of the regular season, but he'll have missed a whole lot of valuable preparation time before then. The former national player of the year and Indiana Pacers rookie is expected to miss about two months with a shin injury. The team isn't disclosing the type of injury or the exact cause, though something interesting has come out - it seems that Hansbrough was dealing with the same issue to some extent last year.

I - Indians. Cleveland isn't competitive right now, and they have come to the obvious realization - they aren't going to be competitive again any time soon. Given that, the team did a pretty good job of extracting value from their two best assets - Cliff Lee and Victor Martinez. They got a good haul of prospects for both players, and are now much better positioned to be competitive down the road. The Red Sox must be thrilled with their part of the Martinez deal - the catcher had five hits and four RBI on Sunday.

J - Jim Johnson. The Philadelphia Eagles suffered a serious blow with the death of long-time defensive coordinator Jim Johnson this week. Johnson had been with the team since 1999, and had consistently crafted one of the top defenses in the league. The team had already made plans since Johnson had taken a leave of absence, but this will be a blow to both the defensive unit who has lost their immensely popular chief, and the psyche of the team overall.

K - oKafor. The Charlotte Bobcats and New Orleans Hornets made a trade this week, but it was one that didn't make a lot of sense. They traded away Emeka Okafor, their defensively gifted center who has struggled with injuries and can't score consistently. In exchange they got Tyson Chandler, a defensively gifted center who has struggled with injuries and can't score consistently. There are some minor salary cap considerations involved for both sides, but it still certainly isn't the most logical move ever made.

L - Late innings. The Dodgers still have the best record in baseball, but they also have a bullpen that is teetering on the brink of exhaustion. Their starting pitchers aren't lasting as deep into games as they should, and the bullpen is suffering as a result. Though the team didn't make the big deadline deal that many thought they should, they did improve their late-inning potential significantly by picking up Baltimore closer George Sherrill. If Sherrill adjusts to the change in leagues well then he could be a potent setup man for all-star Dodgers' closer Jonathan Broxton. Early signs are positive - Sherrill struck out the side in his L.A. debut.

M - Mine That Bird. The Kentucky Derby champion returned to the track for the first time in eight weeks after finishing third in the Belmont on Saturday in the West Virginia Derby. It did not go well for him. After a typical slow start, Mine That Bird made his standard late charge, but it wasn't enough on this day, and he finished third. The upset winner was Soul Warrior, a previously undistinguished colt who is trained by Steve Asmussen, the trainer of Mine That Bird's biggest rival - Rachel Alexandra.

N - NHL. The NHL has seen a lot of contracts signed this offseason that look like something out of the NFL – long-term deals with years that are never intended to be honored, but which spread out the salary cap impact of a deal. Unlike the NFL, though, the NHL is trying to do something about it. They are reportedly investigating deals signed by Marian Hossa and Chris Pronger, and seem determined to close the loophole if they can prove that something shady has gone on.

O - Odom. After flirting with other teams and playing hard to get, Lamar Odom has done the only thing that really makes sense for him and rejoined the Lakers. He gets more than enough money over the course of the four-year deal, and he gets to stay with a team that has to be considered the favorite to repeat as champions after returning the core that made them so dominant this past year. Odom could have been a starter and perhaps more of a star elsewhere, but there is nowhere where he can make more of a contribution to a winner.

P - Phillies. The good news is that the Philadelphia Phillies added a Cy Young winner to their staff to help in their efforts to defend their World Series title. The bad news is that they got the wrong Cy Young winner. Unwilling to pay the high price for Roy Halladay, the best pitcher in baseball in my mind, they settled for Cliff Lee. Lee will provide a needed upgrade to the rotation, but Halladay would have made the team a strong favorite to make the Series again.

Q - Quick return. Derrick Mason handled retirement in a way that made Brett Favre look strong-willed in comparison. The Baltimore receiver announced his retirement on July 13, and it lasted all the way until August 1 when he announced his comeback. Teams never like this kind of drama, but the Ravens are so lacking in receiving threats that they will welcome back their best receiver with open arms.

R - Rachel Alexandra. The filly is absolutely a monster. She faced the boys again in the Haskell Invitational, the biggest race since the Belmont, and she made them look ridiculous. She sat just off an early pace set by Munnings and Summer Bird, the Belmont winner who typically sits much further off the pace. As the horses rounded the final turn Rachel launched her move, and it was immediately clear that it was over. She finished a long way ahead of Summer Bird, and she could have won by much more if she needed to. Incredibly impressive.

S - Scoreless. It can be hard for a guy to follow up a big outing, but for a long while it looked like Mark Buehrle was going to follow up his perfect game with another one. Buehrle retired the first 17 Twins' batters on Tuesday to set a major league record by retiring 45 batters in a row. The wheels fell off, though - Buehrle allowed five earned runs while recording just two more outs, and his team lost. Those late struggles carried over to Sunday, when Buehrle was pounded relentlessly by the Yankees.

T - Tigers. Detroit is in a fight for its playoff life, and it's going well – the team is sitting a game and a half up on the White Sox in the AL Central. To try to maintain that lead, and hopefully build on it, they have made a move that I quite like - they picked up starter Jarrod Washburn. Washburn is only 7-6 this year, but he's been better than his numbers and has been a victim of inconsistent run support. He's a major improvement to a Tigers rotation that lacks bottom-end depth.

U - UFC. Fedor Emelianenko just might be a coward. Yet again he has been offered a lucrative contract to join the UFC, unquestionably the top MMA organization in the world. Yet again, the world's top heavyweight has refused. With the demise of Pride and now Affliction there is really nowhere significant for Fedor to fight other than the UFC, and all of the fighters worthy of challenging him are under contract to the UFC. It's hard to think of a good reason why the Russian wouldn't want to prove himself on the biggest stage.

V - Vikings. Either Tarvaris Jackson has the worst luck on the planet or karma has a seriously twisted sense of humor. In his first practice since learning that Brett Favre wasn't joining his team and he was in line to be the likely starter, Jackson sprained his MCL. The injury isn't serious, and he could miss as little as a couple of days or as much as a couple of weeks, but it's another disruption for a team that has had more than enough of those on offense already this year.

W - Willingham, Josh. It's not often that a Washington Nationals player makes it into this article, but then it's not often that any player does what Willingham did on Monday. Willingham hit a grand slam in Milwaukee, and he liked it so much that he hit another one in the same game. It was the first time since 2003 that a player had two slams in one game, and the first time I can remember that Washington fans had something to cheer about.

X - eXplosive. Tiger Woods was far from perfect at the Buick Open, but even when he's pretty good he's too good for everyone else. The win was his third in his last five starts dating back to the beginning of June. Unfortunately, the two losses were both in majors. With every win in a secondary event it becomes harder and harder to understand why he has looked so decidedly average in the events he has traditionally owned. He'll be very interesting to watch in the PGA Championship, but then he's always very interesting to watch.

Y - Yikes. Something made a total mockery of the World Swimming Championships in Rome this week. These days we have come to expect drugs to do that, but this time it's something more innocent but no less disruptive - swim suits. A couple of years ago the full body LZR Racer suits from Speedo came on the scene and promptly made swimmers much faster and world records all but meaningless. Now two new suits have again caused world records to get shattered at an astounding pace. The ridiculous part is that all of the swimmers who jumped at the offer of Speedo endorsements when the suits emerged were now left in the proverbial dust.

Z - Zero. That's the number of injury free days Beanie Wells has had since signing his first contract. Wells signed a five-year deal with Cardinals on August 1. Later that day he was carted off the field with an ankle injury. First indications are that it isn't terribly serious, but it will still hurt his chances of passing Tim Hightower on the Cards' depth chart to become the starting running back. Wells struggled with injuries last year at Ohio State, so this setback can't come as a total surprise - it came sooner than expected, but an injury was probably inevitable.